Cooler temperatures are moving back into the region today behind a cold front that passed through overnight. This cooler weather will persist for several days as an upper-level trough builds over the Prairies, driving the jet stream southwards.
Winter will gradually slump back into Winnipeg as cooler weather slowly pushes southwards through the Prairies, although temperatures will be moderated by an extensive area of low-level clouds that will likely take their time in breaking up.
Today will be the warmest day of the next few with temperatures topping out near 0°C, although a northerly wind at around 20 km/h will be tapping into cooler air to the north. Skies will remain cloudy, though, and a few remaining morning flurries will exit the region early, leaving behind a slight chance for some freezing drizzle. The chance for freezing drizzle will continue overnight as temperatures drop to a low near -8°C.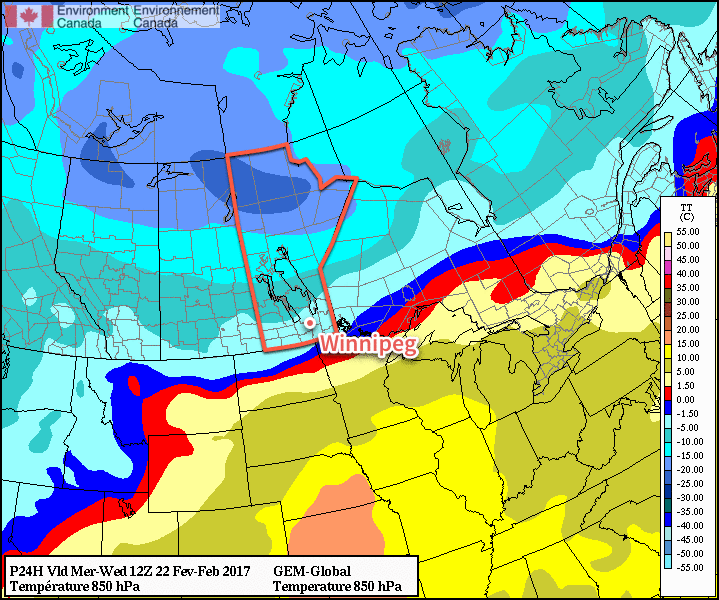 Thursday will continue with fairly cloudy skies; there's some uncertainty as to how much clearing will manage to occur through the day but in general, expect skies on the cloudier side through the day. Temperatures will climb to a high near -4°C with light northerly winds continuing. Skies may clear a bit in the afternoon, but I'm leaning towards cloudier conditions. We'll have to see how/if the low cloud begins breaking up over the northern Prairies today as to how much clearing we may see on Thursday. Temperatures will drop to around -11°C on Thursday night with mixed skies.
Friday will bring partly cloudy skies, relatively light winds and a high near -7°C. Not much to say about it! Expect a low near -16°C on Friday night with partly cloudy skies.1
Long Range
Temperatures will continue at near-seasonal values with not too much in the way of snow. Some guidance hints at a system that would bring 2-5 cm of snow to the region on Sunday, but there's still disagreement on that. After that, it appears that there may be another chance for snow mid-week next week. All in all, though, fairly quiet weather ahead!
Winnipeg's seasonal daytime high is currently -6°C while the seasonal overnight low is -17°C.
---
While -16°C is our best bet at the moment, guidance suggests a low somewhere between -14 and -20°C. ↩