After a stretch of weather that brought record breaking temperatures, record breaking dew points, and new daily rainfall records[1] before shifting into a weird weather pattern that brought moderate-to-heavy snow to much of southern Manitoba (with a rather beautiful aftermath, pictured above), the weather over the coming days will be downright dull as a benign pattern brings seasonal temperatures to Winnipeg.
In a rather nice change of pace, there isn't too much to talk about regarding this weekend's weather. Near-seasonal temperatures will be in place throughout the weekend with daytime highs hovering in the 0 to +2°C range while overnight lows hover between -6 to -8°C. Skies will progressively become more cloudy with a sunny day today, a few clouds tomorrow, and mixed skies on Sunday, but no precipitation is expected. Winds will remain quite calm throughout the weekend with the strongest winds on Sunday at just 20km/h or so.
Long Range: More Active Week Ahead
Next week is looking a little more active with a storm system expected to move through on Monday night & Tuesday. It's too early to try and pin down too many specifics, but overall it appears that it will spread 5-10cm of snow across Southern Manitoba followed by some gusty northerly winds that may produce some local blowing snow.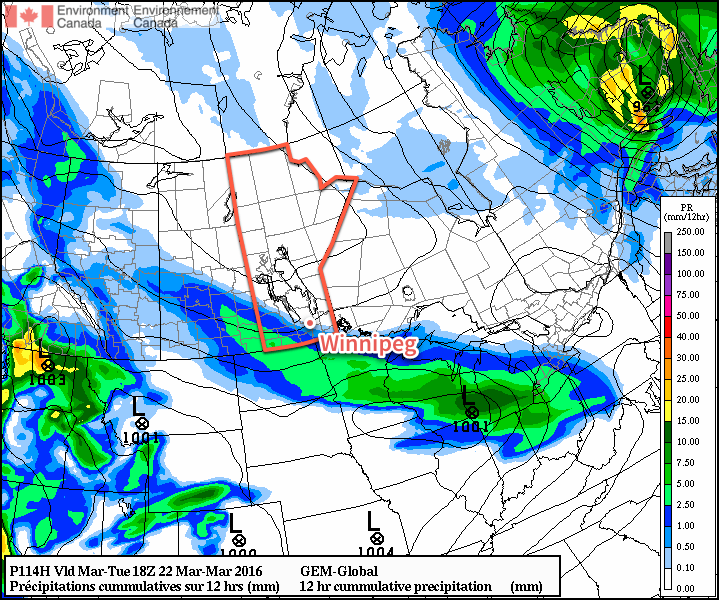 Towards the end of next weak it also appears that we may see another weak disturbance produce some light snow over the region.
Temperatures will be fairly consistent next week with daytime highs and overnight lows expected to be near-seasonal.
Winnipeg's seasonal daytime high is currently 0°C while the seasonal overnight low is -10°C.