Decidedly un-summer-like weather lies ahead for Winnipeg as an outbreak of cooler air from the north entrenches the Red River Valley in below-seasonal temperatures under cloudy skies.
Daytime highs will be nearly 10°C below seasonal for late June today and tomorrow as Winnipeg sits under the influence of a large cold trough slowly rotating across Manitoba.
Today, Winnipeg will see highs struggle to reach just 14°C with breezy northwesterly winds at 30 gusting 50 km/h. The cool and windy weather will be accompanied by cloudy skies, making for a bit of a lousy end to the work week. While no significant rain is expected, there's a small chance of some scattered light showers through the day.
Temperatures will dip down to a low near 9°C tonight with winds continuing at 20-30 km/h. A more organized band of showers will slump southwards into the Red River Valley early- to mid-evening and then persist for much of the night. Amounts will be relatively light, however, with just 2-5mm expected in the valley.1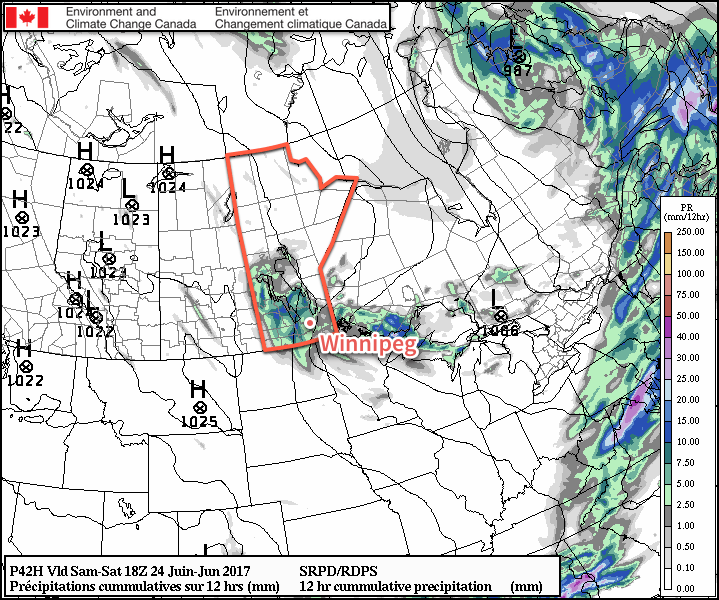 Saturday will bring more cloudy skies as the showers taper off in the morning. There may be another light sprinkle or two through the day afterwards, but it should remain fairly dry. Temperatures won't improve much compared to Friday; highs are only expected to reach around 16°C with winds strengthening back to 30 gusting 50
km/h
. Skies will being to clear late Saturday into Saturday night as temperatures head to a low near 8°C.
Sunday will bring some sunshine back to Winnipeg, particularly in the morning. For the afternoon, we expect more cloud to build back into the region with a chance of some afternoon/early evening showers. Temperatures will be warmer with highs reaching about 20°C and the winds will be lighter, at around 20 km/h. Expect clear skies on Sunday night with a low near 10°C.
Long Range
More seasonal warmth returns for Monday & Tuesday, but then it appears things turn unsettled again mid-week and then below-normal temperatures spread southwards again for the end of the week.
Winnipeg's seasonal daytime high is currently 24°C while the seasonal overnight low is 12°C.
Higher amounts closer to 10mm will be possible if any locally heavier showers develop. ↩