A low pressure system over the American Plains will bring widespread showers and thunderstorms to southern Manitoba tonight.
More unsettled weather is on tap for southern Manitoba tonight as a warm front lifts northwards through the Northern Plains. Under increasing or mostly cloudy skies today, the Red River Valley will see temperatures climb to a high near 18°C. Winds will persist out of the northeast near 15-20 km/h.
The main event will begin this evening and persist through the night. As the warm front approaches the province this afternoon, showers will blossom over the Red River Valley and southeastern Manitoba. As the night progresses, the activity will organize along a southwest-northeast line parallel to the warm front, gradually shifting eastwards. Most areas in the Red River Valley will likely see showers and/or thunderstorms through the night. Given the convective nature of the rain, accumulations may be highly variable, but most1 areas should see 10-20 mm with the potential for over 40 mm in areas where thunderstorms linger for longer. Some gusty winds are possible in thunderstorms but will otherwise remain in the 10-20 km/h range. Temperatures will dip to a low near 14°C this evening then slowly rise to around 16°C on Thursday morning.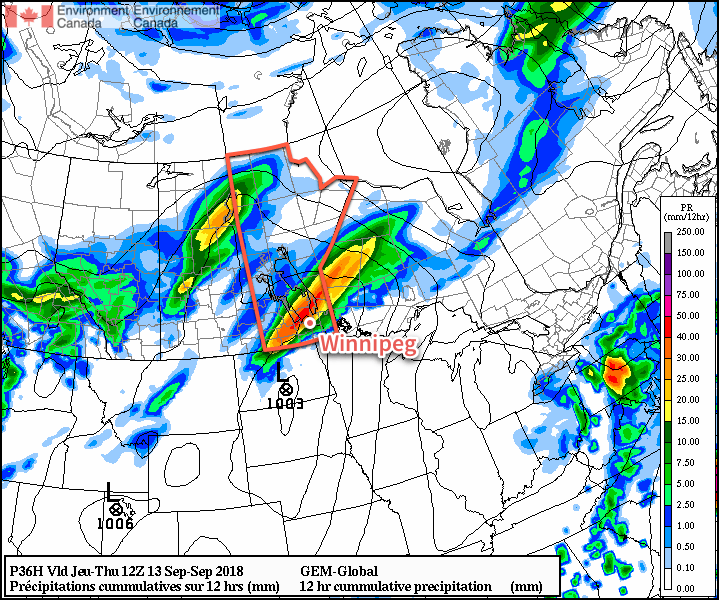 As this system departs on Thursday, it will leave behind abundant cloud cover with winds shifting out of the northwest at 15 to 25 km/h. Winnipeg may see a bit of light rain or drizzle in the morning, but things should dry out for the afternoon. Temperatures will be near-seasonal with a high near 19°C in Winnipeg. There's a slight chance of some more showers or thunderstorms on Thursday afternoon and evening, but it will likely to remain in southeastern Manitoba and the southern Red River Valley. Skies will remain mostly cloudy on Thursday night with a low near 9°C.
Friday will bring a bit of sunshine as skies become mixed in the afternoon. Temperatures will be a tad warmer with a high near 21°C. Wind will remain light, making for a pleasant afternoon. Temperatures will dip to a low near 9°C on Friday night with mixed skies.
Long Range Outlook
Looking ahead to the weekend, another low pressure system is forecast to develop over the northern Plains. This system will will spread more cloud cover into to the region alongside a couple more chances for showers or thunderstorms.
Winnipeg's seasonal daytime high is currently 19°C while the seasonal overnight low is 6°C.
Again, given the variable nature of the precipitation, some areas may see nothing while nearby areas receive heavy rainfall. ↩