Winnipeg has seen an abundance of sunshine lately, but it comes to an end on Tuesday as extensive cloud cover moves into the region ahead of a low pressure system that will bring unsettled weather to the region.
Before the cloud moves into the region, Winnipeg will get another beautiful day today with plenty of sunshine and highs approaching the 30°C mark. Winds will remain light through the day and the humidity will still be quite comfortable. All in all a great summer day.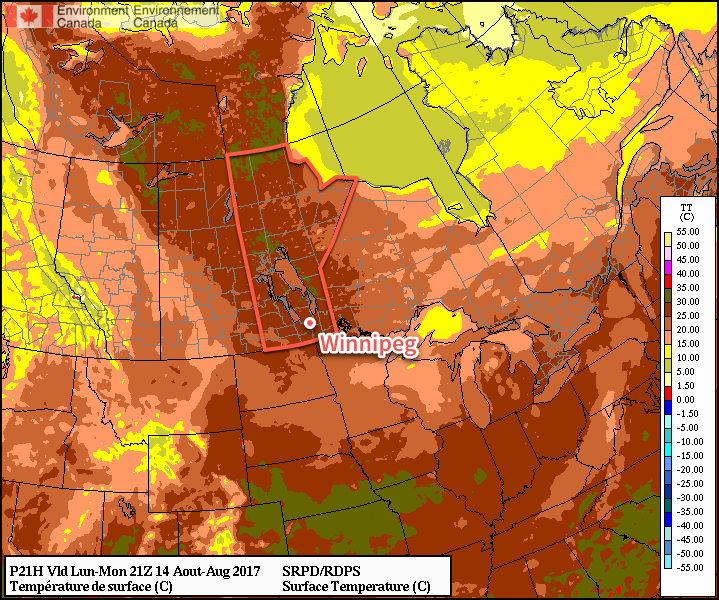 Clouds will move in on Monday night as temperatures dip to a low near 15°C and the winds become light out of the south.
Tuesday will bring mostly cloudy skies to Winnipeg with winds picking up out of the south to 20-30 km/h. Scattered showers or thunderstorms are likely over the southwest corner of the province, but things should stay dry in the Red River Valley. Expect cloudy skies on Tuesday night with a low near 17°C and a slight chance of showers.
Wednesday will bring slightly cooler temperatures to Winnipeg as highs reach just around 23°C under cloudy skies. There will be a good chance of showers, particularly through the morning hours. Winds will be out of the east at around 15-25 km/h. Conditions will slowly settle through the afternoon and there may even be a few sunny breaks. Expect the clouds to clear out on Wednesday night as temperatures dip to a low near 15°C.
Long Range
Once this system moves out, it looks like another long stretch of warm and dry conditions. Thursday through next Tuesday looks warm with highs around the 27 or 28°C mark with plenty of sunshine. A couple disturbances will move through over those days and bring a low chance for some thunderstorms, but at this point models disagree significantly on their placement and how much, if anything, they'll be able to produce. We'll be keeping an eye on it and have more details in Wednesday's forecast post.
Winnipeg's seasonal daytime high is currently 25°C while the seasonal overnight low is 12°C.