Daytime highs will head back into the 30's early this week as a low tracking across the northern Prairies spreads well above seasonal temperatures eastwards.
In the wake of a cold front that moved through yesterday evening, today will bring temperatures cooler than Sunday but still well above-seasonal. A weak ridge of high pressure will keep skies clear with winds out of the west at 20-30 km/h as temperatures climb to a high near 26°C. With dew points falling to just 1-2°C, it will also be bone dry out there. Expect a low near 16°C tonight.
A low pressure system tracking across the northern Prairies on Monday night will begin drawing a very warm air mass eastwards out of Alberta and across the Prairies. This warmer air will arrive in Winnipeg on Tuesday with a southwesterly winds of 20-30 km/h pushing temperatures up into the low 30's. Skies will be cloud-free as well, making for a scorcher of a day. The winds will ease in the afternoon as a weak low pressure system tracks across the valley, and then pick up out of the northeast to around 15 km/h in the evening. Temperatures will dip to a low near 15°C under clear skies.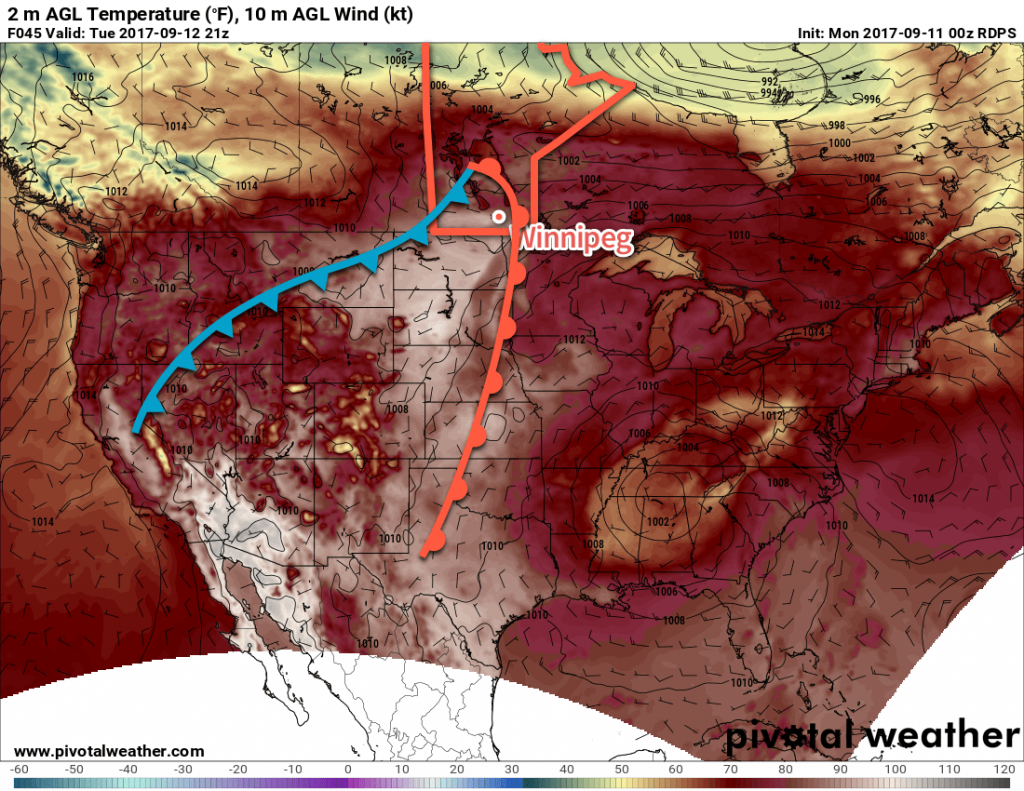 Lastly, Wednesday will bring another day with highs warmer than seasonal, but it may be the last for quite a while. Temperatures should climb to around 25°C with some increasing cloud late in the day. Overnight there will be a decent chance for showers or thunderstorms across much of southern Manitoba as temperatures head down to a low near 14°C.
Long Range
A fairly substantial pattern change will occur for the second half of the week as a deep trough develops over the Rocky Mountains and brings a south to south-westerly flow aloft to the region. This will result in numerous systems moving through in the second half of the week, each capable of bringing a round of rain and/or thunderstorms. Some areas of Manitoba may see the most rain they've seen all summer through the second half of this week, including Winnipeg.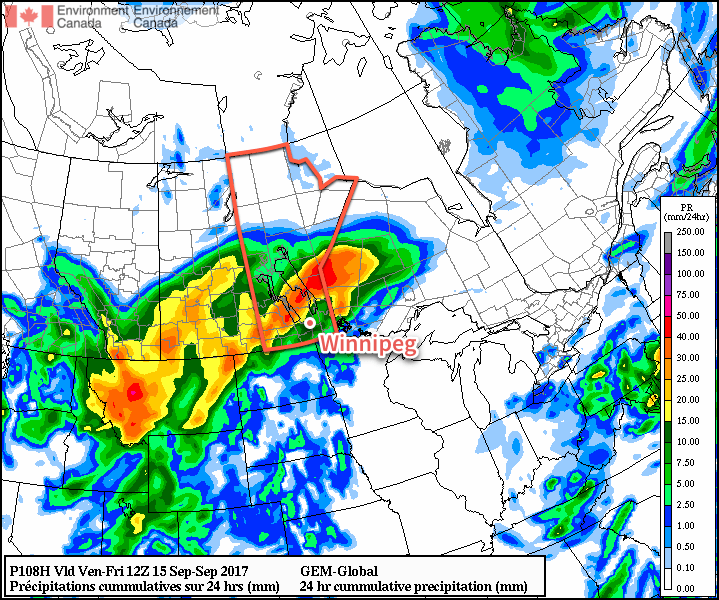 So wet, unsettled, and cooler weather is on tap for the second half of the work week. At this point it looks like the chances for rain drop off on the weekend, but cloudy(ish) and cool conditions will continue through the weekend with highs in the mid-teens.
Winnipeg's seasonal daytime high is currently 19°C while the seasonal overnight low is 7C.