The coldest weather Winnipeg has seen this winter is on the way. A cold front slumping southwards through the province will usher bitterly cold Arctic air into the region and bring Winnipeg its coldest Christmas Day in 20 years.
Winnipeg will see mostly cloudy skies today with the light snow that moved in overnight gradually tapering off as the trough of low pressure creating it moves off to the southeast. Temperatures will rise just slightly to a high near -11°C this morning before cooling slightly behind the trough as winds pick up out of the northwest to 20 to 30 km/h. Clouds will break up tonight as temperatures head to a low near -19°C with light winds.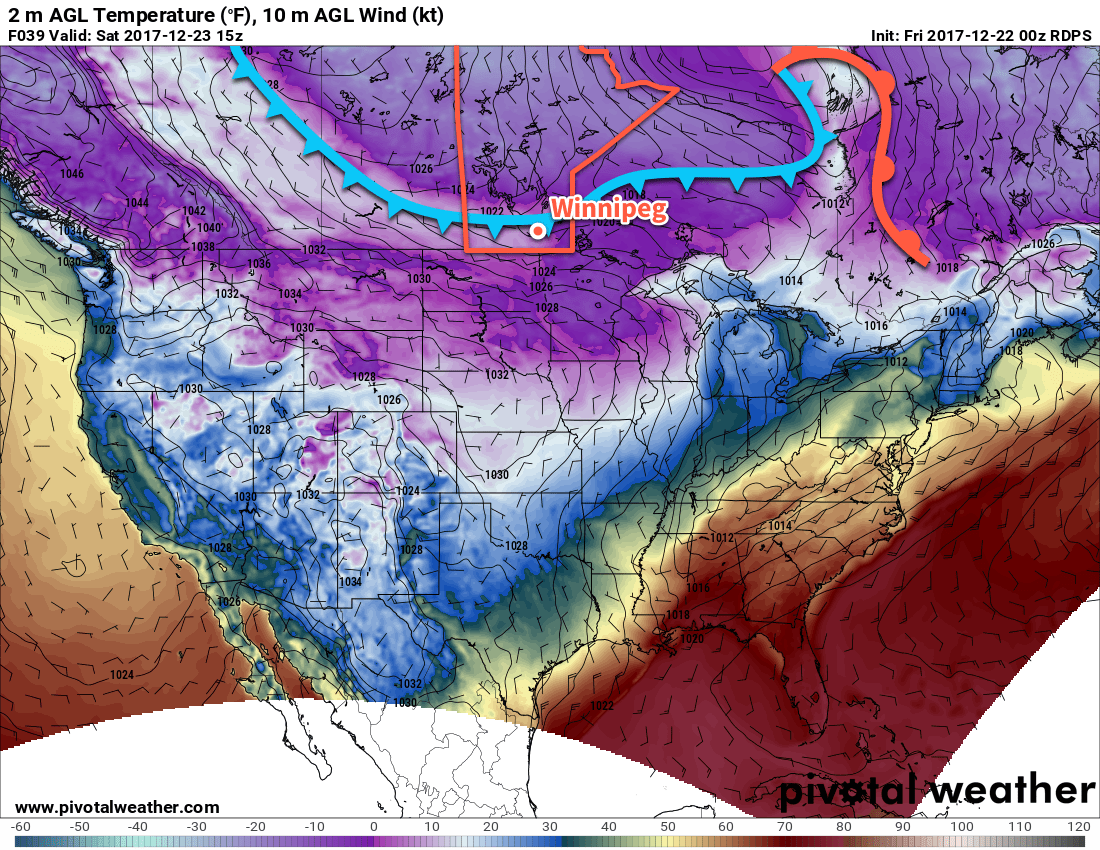 Saturday will see that Arctic cold front slowly slump southwards towards Winnipeg. Ahead of it, skies will cloud back over with flurries while temperatures once again climb to a high near -11°C. The cold front will push south of Winnipeg and the Trans-Canada corridor late in the afternoon, gradually clearing out the cloud cover and ushering in the significantly colder air mass. Temperatures will dip down to a low near -26.
Sunday will be the first day of significantly below-seasonal temperatures in Winnipeg as the daytime high barely recovers from the overnight low, reaching just -22°C with light winds. Skies will likely be mixed, but its worth noting that models are struggling to find a consensus on how much cloud will linger behind the cold front. It shouldn't be cloudier than a mixed sky, but there is a chance that it may end up sunnier than that. Temperatures will then dip to a low near -29°C under mainly clear skies on Sunday night.
Long Range Outlook
The deep freeze locks in for the long haul on Christmas Day, kicking it off with an expected high of only -24°C. This would be the coldest Christmas Day in Winnipeg in 20 years, since the mercury topped out at -27.8°C in 1996.
Top 10 Coldest Christmas Day Highs in Winnipeg, MB
| Rank | Daily Max Temp (°C) | Year |
| --- | --- | --- |
| 1 | -30.0 | 1892 |
| 2 | -28.9 | 1933 |
| 3 | -28.3 | 1883 |
| 4 | -27.8 | 1996 |
| 5 | -27.4 | 1990 |
| 6/7 | -26.7 | 1917/1882 |
| 8 | -26.4 | 2017 |
| 9 | -26.1 | 1903 |
| 10 | -25.6 | 1934 |
While this year won't likely break into the top 10 coldest Christmas Day highs, it won't be far off. If Winnipeg sees a high of -24.0°C, it would be the 13th coldest high temperature on Christmas Day in Winnipeg's 145 year climatology.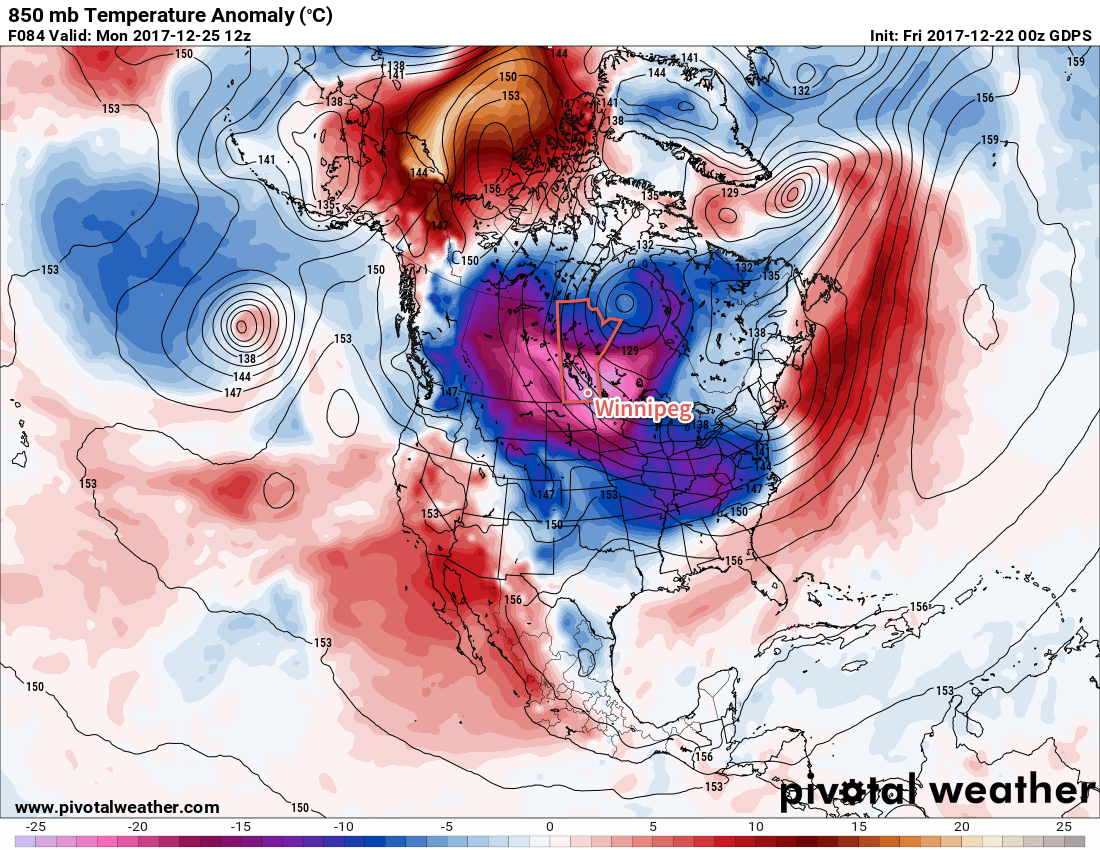 The cold weather will then remain entrenched over the region for the remainder of the week, with daytime highs in the -20's and overnight lows near or colder than -30°C.
Bundle up and have a safe and happy holiday! We'll be taking some time off for Christmas, so there will be no forecast issued on Monday. Depending on how the 12 days of Christmas go, we'll be back either next Wednesday or Friday with your forecast heading towards the end of 2017! In our absence, we recommend you check out ECCC's forecasts and monitor for any warnings that may be issued due to the cold.
---
As ECCC mentioned in the special weather statement issued on Thursday afternoon, extreme cold can be deadly. Even moderate exposure, if not adequately prepared, can leave you with frostbite or hypothermia. If your holiday plans involve travelling on area highways, make sure you bring warm clothes and ensure that you've created an emergency car kit in case you encounter unexpected disruptions. Additionally, review the cold weather health information compiled by Manitoba Health for tips on how to recognize danger signs of extreme cold and advice on how to protect yourself and others.
Winnipeg's seasonal daytime high is currently -11°C while the seasonal overnight low is -22°C.