Monday will kick off Winnipeg's week with some bitter cold, but a major warm-up is on the way mid-week, sending temperatures well above seasonal values.
Winnipeg's Monday morning is starting off with bitter cold entrenched in the Red River Valley as temperatures near -27°C combine with winds near 30 km/h to produce wind chills near -40. That biting cold will stick around much of the day with temperatures only expected to reach a high near -22°C and that northerly wind at 30-40 km/h persisting until midday before tapering off this afternoon. Skies will gradually clear through the day as an Arctic ridge builds in from the northwest. Tonight will be another cold one as temperatures dip down to around -29°C, but winds will be much lighter, making everything a little more palatable.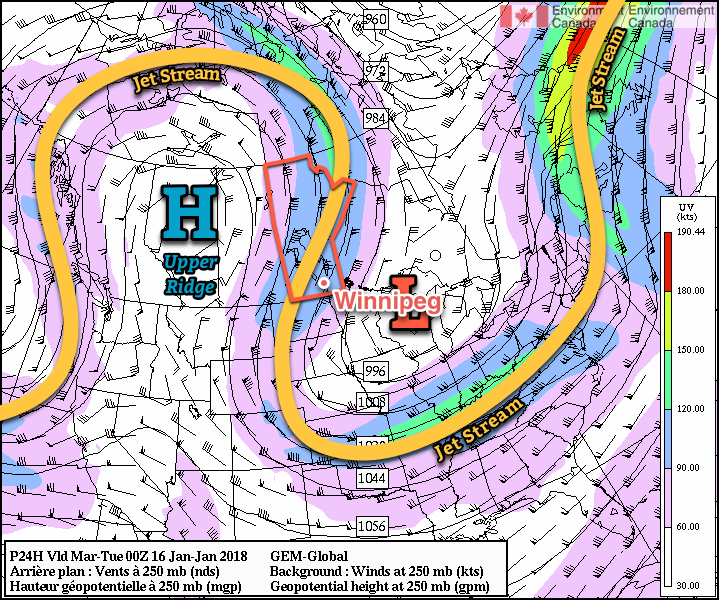 Everything begins changing on Tuesday, though, as a warm front pushes southeastwards across the province behind the departing Arctic high. A major swell of milder Pacific air will be sweeping eastwards across the Prairies as and upper-level ridge builds across the region. The incoming milder air will bring with it a fair amount of cloud, but temperatures will climb to a high near -16°C with winds out of the south at around 30 km/h. Temperatures will remain relatively mild overnight as more warm air pushes eastwards, bottoming out around -18 or -19°C.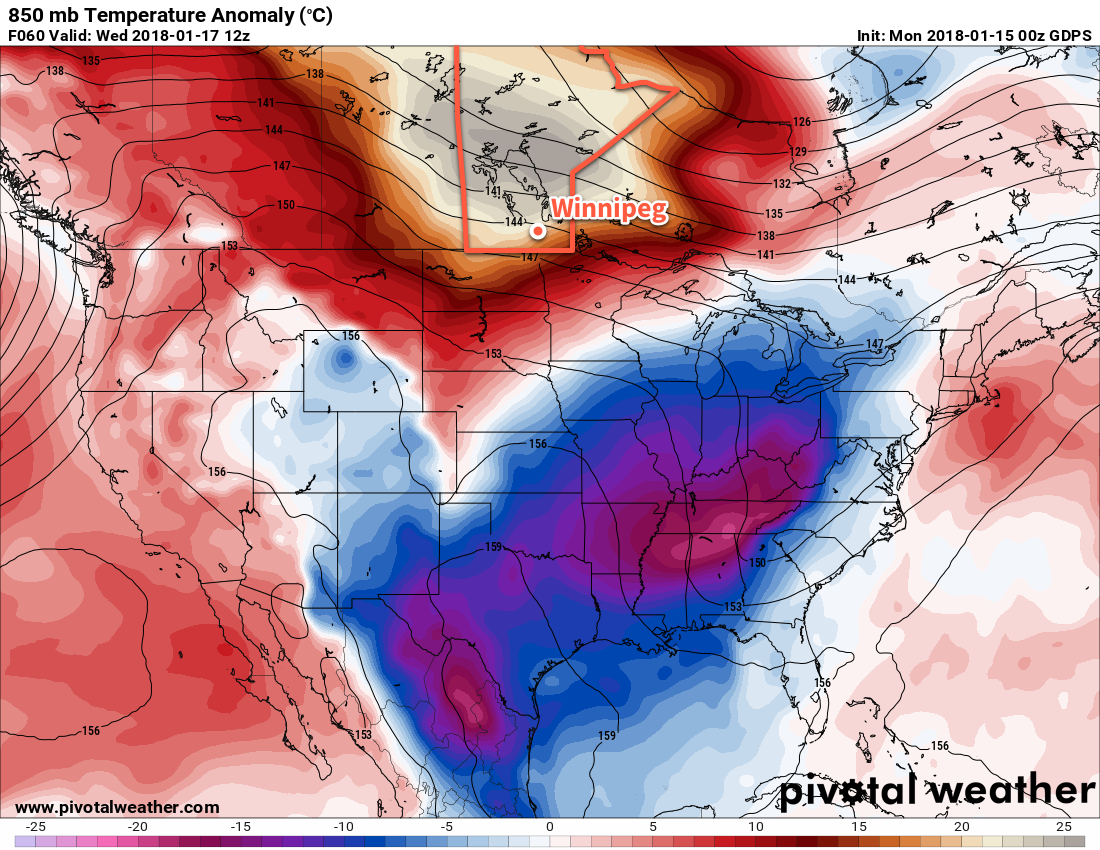 The warmth arrives in full on Wednesday as skies clear out, winds taper off, and temperatures climb to a high near -6°C. Wednesday night's low near -10°C will even be warmer than the seasonal daytime high of -13°C!
Long Range Outlook
The mild weather will continue for the remainder of the week with highs in the -8 to -4°C range and lows near -10°C.
Temperatures are expected to return towards seasonal values for the weekend with cloudier skies and a chance for some light snow.
Winnipeg's seasonal daytime high is currently -13°C while the seasonal overnight low is -24°C.