Winnipeg will see cold conditions right through weekend, punctuated by light snow midweek.
Winnipeg will continue to see periods of light snow and seasonably cool conditions this week. Today, light snow will gradually taper off over the city this morning leaving behind cloudy skies with some occasional flurries. Temperatures will top out around -18°C today, but a breezy northerly wind of 20 to 30 km/h will keep it feeling cold. The chance for flurries or light snow will continue tonight with a low near -25°C.
Thursday will be a cold day in Winnipeg. Temperatures will only climb to a high near -21°C while a northerly wind near 30 km/h produces wind chill values in the -30 to -35 range. The upper trough moving through will continue to produce a chance of flurries or some organized light snow. The isn't forecast to receive much snow; one will likely need to head into south-eastern Manitoba to see more than 2 cm fall on Thursday. Skies will begin to clear out on Thursday evening with temperatures plummeting back down into the -30s overnight. Winds will continue at 20 to 30 km/h for much of the night before diminishing early Friday morning.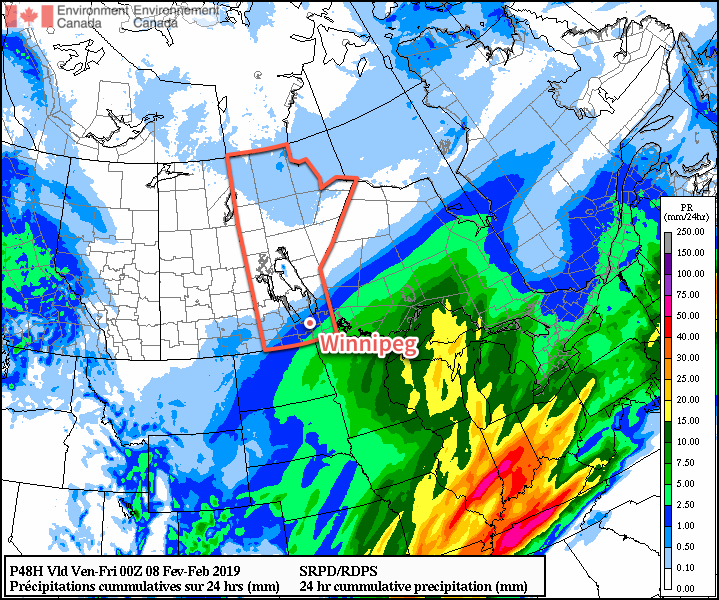 Friday will be a fairly sunny and cold day through the Red River Vally as an Arctic ridge moves through. Under light winds, the temperature will climb to only around -23°C. The city may see some cloud push in overnight, but not before temperatures dip down to around -30°C again.
Long Range Outlook
Cloudy skies return to the city on Saturday while below seasonal temperatures stay right through the weekend. Forecasts show a moderation in temperature to only slightly below seasonal values to start next week, but no significant warming trend is on the horizon.
Today's seasonal daytime high in Winnipeg is -10°C while the seasonal overnight low is -21°C.