After dodging much of yesterday's storm, Winnipeg will see a relatively pleasant weekend with near-seasonal temperatures.
Winnipeg will settle back into a benign weather pattern in the wake of the major winter storm that clipped the southeastern corner of the province. Today will bring the most sunshine of the next few days, but temperatures will be the coolest. The city will see northwesterly winds near 30 km/h this morning, but they will diminish this afternoon as a ridge of high pressure arrives. Temperatures will reach a seasonably cool high near -5°C. The city should see mostly clear skies tonight with temperatures heading to a low near -16°C.
Saturday will bring increasing cloud to the region as a weak warm front pushes eastwards towards the Red River Valley. Temperatures will be a bit warmer with a high near -1°C with light southerly winds developing. There will be a slight chance of some snow flurries later in the day as the warm front pushes through. Mostly cloudy skies will continue Saturday night as the temperature dips to a low near -6°C.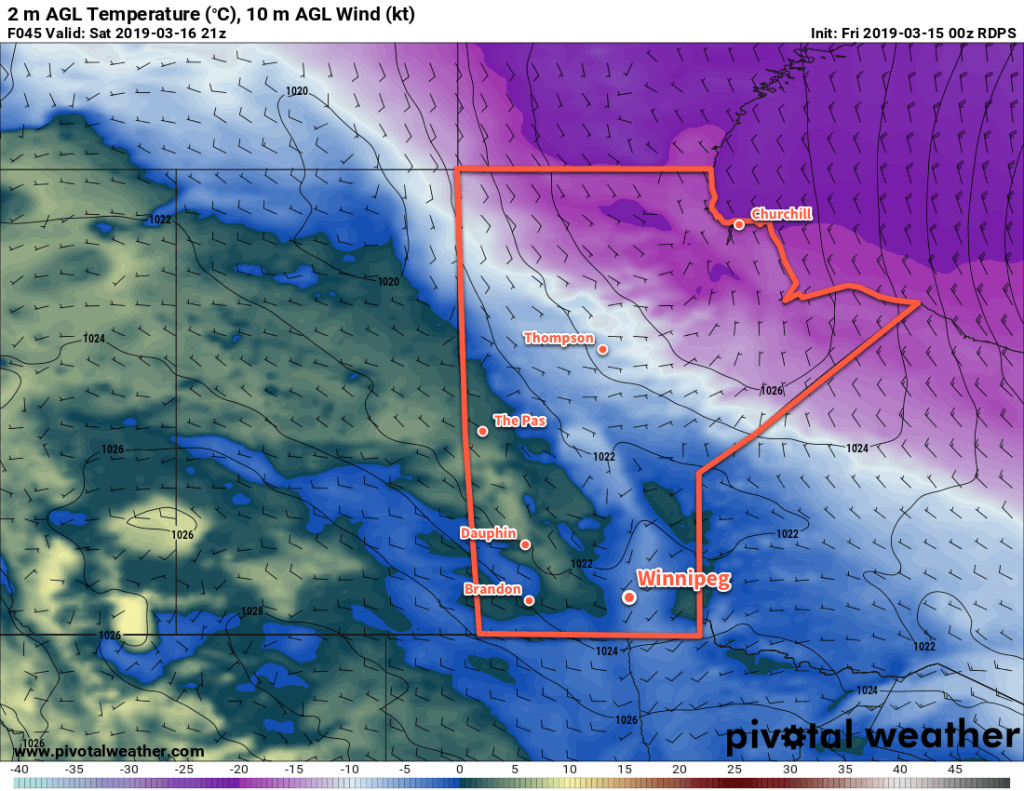 Winnipeg will continue to see mostly cloudy skies on Sunday as more warm air slowly pushes eastwards into the Prairies. The city should see a high near +1°C with light winds. Sunday night is forecast to bring mixed skies and a low near -6°C.
Long Range Outlook
Long-range forecasts show significant confidence in a large upper-level ridge gradually building into the Prairies. This would bring a quiet week weather-wise with variable cloudiness and temperatures gradually warming. It looks likely that next week will result in a notable amount of melt as it progresses.
Today's seasonal daytime high in Winnipeg is -1°C while the seasonal overnight low is -11°C.