Winnipeg will continue to see seasonably cold temperatures through the first half of the work week.
A persistent north-northwest flow aloft will sustain the cold weather in the region through the upcoming work week. To start the week, an Arctic ridge will move into the province. This will keep temperatures cool in Winnipeg with a high of just -11°C. Skies should stay mainly sunny today with westerly winds near 20 km/h. Temperatures will head to a low near -18°C tonight with clear skies and light winds.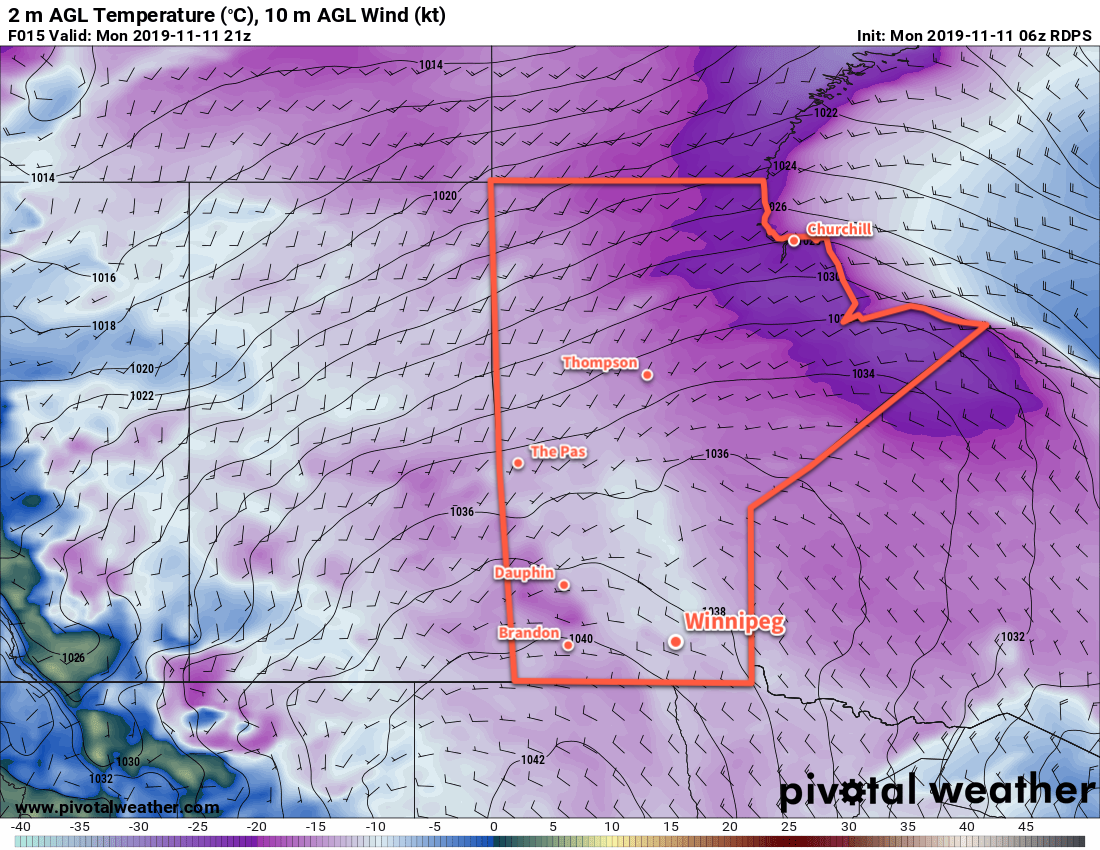 Temperatures will warm slightly on Tuesday as the Arctic ridge moves off to the east, but it may end up feeling colder. A moderate southerly wind will develop, increasing to 40 gusting 60 km/h by midday. Skies will become increasingly cloudy later in the day as warmer air grazes the region. Temperatures will climb to a high near -7°C, then fall to a low near -12°C with mostly cloudy skies on Tuesday night. The winds will ease in the evening followed by a chance of flurries overnight.
Wednesday will bring mixed skies to the region as a cooler northwesterly flow develops again. Temperatures will climb to a high near -5°C with northwest winds around 20 km/h. A weak ridge moving through on Wednesday night will bring mainly clear skies and light winds as temperatures drop to a low near -11°C.
Long Range Outlook
A warm-up will begin in the second half of the week as the stagnant upper air pattern begins to break down. Thursday may bring highs back towards the freezing mark, followed by cooler temperatures again on Friday.
Heading into the weekend, a major shift may be in the cards back towards milder temperatures. Highs back near or just above 0°C look likely this weekend and into the first half of next week. That warmth will likely come with more cloud and a chance of a wintery mix of precipitation at some point early next week.
Today's seasonal daytime high in Winnipeg is -1°C while the seasonal overnight low is -9°C.