After showers move through on Friday, Winnipeg will see a seasonably cool weekend with more sunshine.
A low pressure system sliding across the province will bring cloudy and unsettled weather to Winnipeg today. Temperatures will be mild as southerly winds near 30 gusting 50 km/h send the high back up to around 20°C. The city will see a chance of showers through the day, but the most likely time will be as a cold front sweeps through later in the afternoon. An organized band of showers will sweep across the Red River Valley by the evening, bringing generally 2 to 5 mm of accumulation. There will be a slight chance of an embedded thunderstorm or two with this line, but there will be no organized threat of severe weather.
Winds will strengthen out of the northwest to 30 gusting 50 km/h tonight behind the cold front. By Saturday morning, temperatures will have dropped to a low near 6°C with some clearing pushing into the Red River Valley.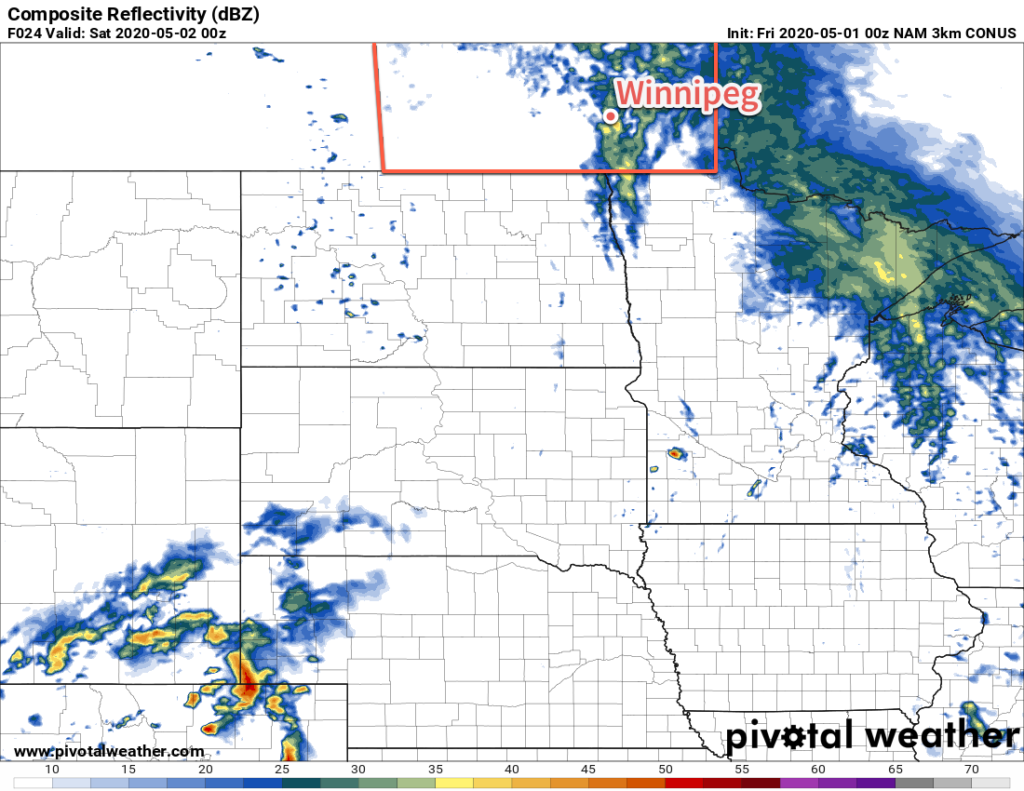 On Saturday, skies will continue to clear while the moderate northwesterly wind continues. Temperatures will be cooler with a high of 13°C. A ridge of high pressure moving in on Saturday night will send temperatures to a low near -1°C with northerly winds of 20 km/h.
The winds will gradually ease on Sunday as Winnipeg heads to a high near 9°C with light northeasterly winds. The city will see plenty of sunshine with just a few clouds around. On Sunday night, a bit of cloud will push towards the region ahead of the next low pressure system heading this way. Temperatures will dip to a low near +1°C.
Long Range Outlook
Some cloudier, unsettled, and warmer weather will return to start next week, then looks like Winnipeg will settle into a slightly cool pattern for the rest of the week with variable cloudiness. No major rain is in the forecast.
Today's seasonal daytime high in Winnipeg is 16°C while the seasonal overnight low is 2°C.