While we often try to be optimistic about the forecast, there's no getting around it. This weekend's weather will be lousy.
A persistent vortex over eastern Canada combined with a stationary upper ridge over the west coast will keep Manitoba locked into a regime of cool temperatures.
Today will be the "nicest" day of the next few with sunny skies and a high near 9°C. This is almost 10°C below seasonal averages and it's going to get even cooler yet. Winds will be out of the north at just 10 to 20 km/h. A low moving through Saskatchewan will spread cloud into southern Manitoba tonight as Winnipeg's low dips to around -2°C.
Saturday will be a cloudy day in Winnipeg with northerly winds strengthening to 30 gusting 50 km/h. Conditions should stay dry in the Red River Valley with any rain showers or snow associated with the low moving out of Saskatchewan remaining over southwestern Manitoba. Temperatures in Winnipeg will climb to around 9°C, then to near -2°C tonight as the cloud begins to break up. The winds will ease this evening.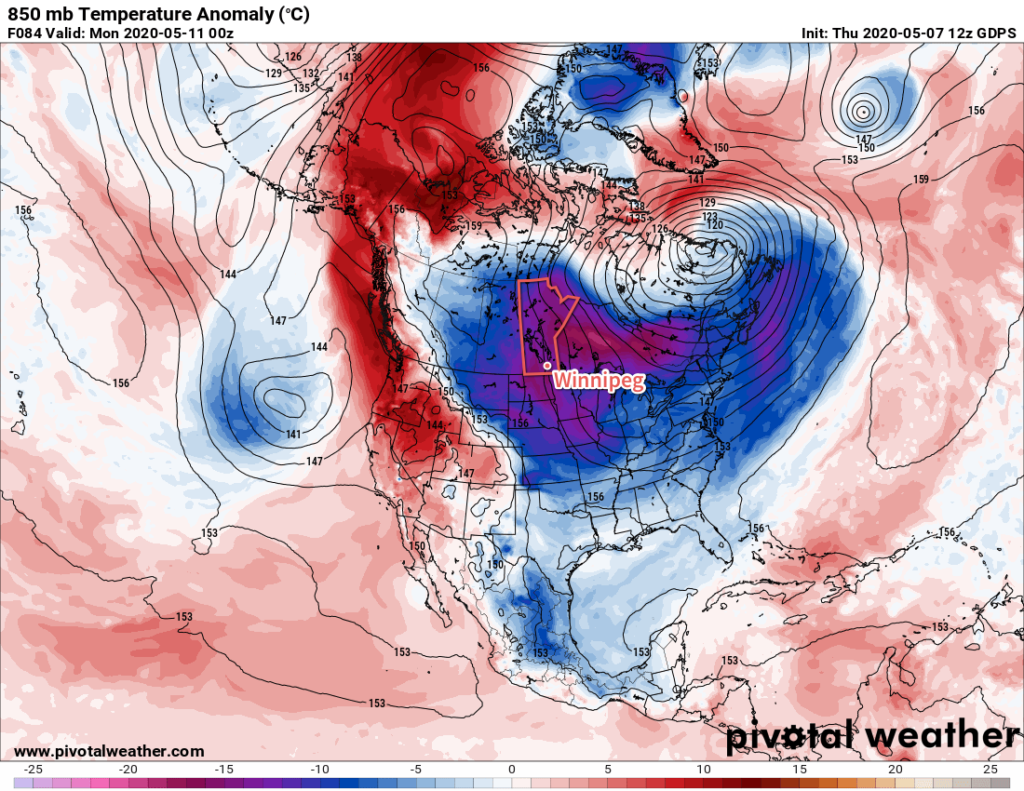 Sunday will bring mixed skies to Winnipeg with north winds increasing back to 30 gusting 50 km/h and a high near 6°C. Skies will clear out on Sunday night with a low near -6°C.
Long Range Outlook
Anyone hoping to see more seasonal, spring-like weather is going to need patience. The cool conditions will persist through much of next week. Temperatures should return to the teens by mid-week, then continue warming to seasonal values by the end of the week. No major precipitation events are in the forecast.
Today's seasonal daytime high in Winnipeg is 18°C while the seasonal overnight low is 4°C.