Winnipeg will see one more warm and humid day before cooler, drier air sweeps into the region.
Winnipeg will see temperatures, and the humidity, climb to start the work week. Skies will mix out this morning as a warm front pushes northwards through the region. Behind the warm front, temperatures will climb to a high near 28°C; with the humidity that arrives today, that will end up feeling more like the mid-30s. A cold front will begin to push across the Red River Valley this afternoon and be the focus for another round of thunderstorms. While a majority of the activity will likely develop over southeastern Manitoba, there is still a slight chance for a few showers or thunderstorms Winnipeg and areas south. Any thunderstorms that develop today will have the potential of producing severe weather with primary threats of large hail and/or damaging wind gusts.
Drier air will push into the region tonight as winds pick up out of the northwest to around 30 km/h overnight and temperatures drop to a low near 12°C. Skies will see increasing cloud through the night.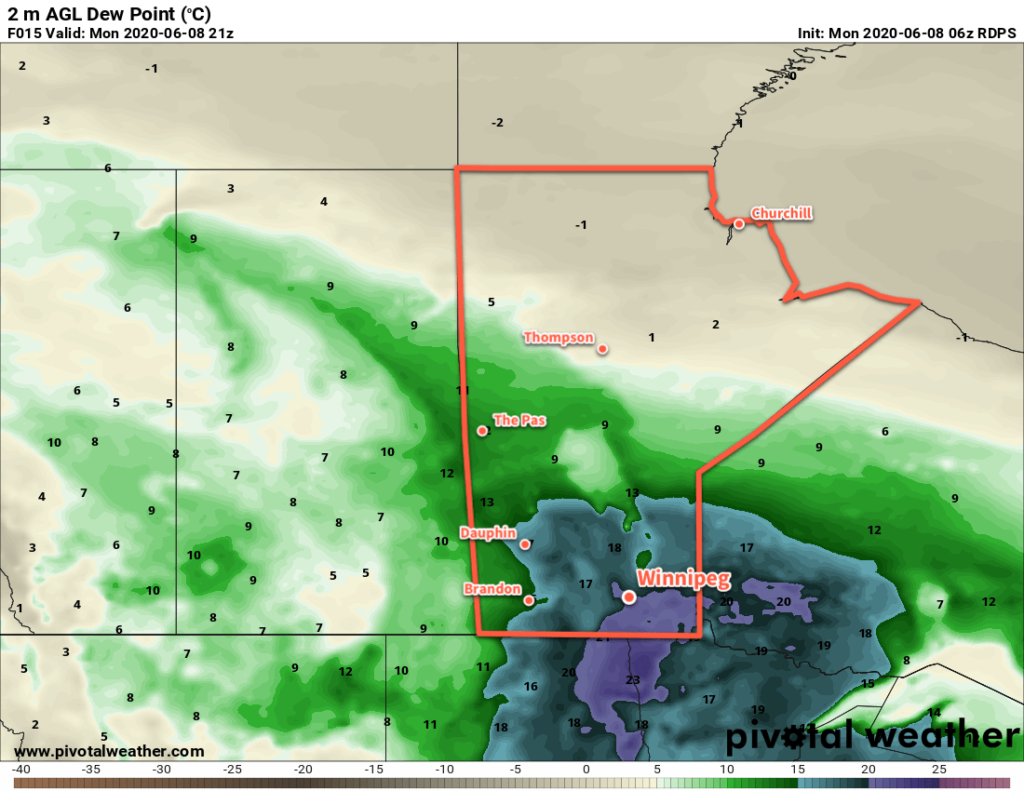 Tuesday will bring mainly cloudy skies to Winnipeg as an upper trough pushes across the region. Temperatures will climb to a high near 20°C with northwesterly winds of 20 to 30 km/h. Some rain is likely over the southeastern sections of the province, but things should stay dry in Winnipeg. Temperatures will dip to a low near 10°C on Tuesday night with cloudy skies and light winds.
On Wednesday, the city will see mixed skies again as slightly cooler air continues to filter into the region. There may be a slight chance of showers as temperatures climb to a high near 20°C again. Winds will pick up out of the northwest to 30 gusting 50 km/h, making for a bit of a cooler, breezy day. Skies will stay partly cloudy overnight as temperatures dip to a low near 9°C with easing winds.
Long Range Outlook
The rest of the work week will bring seasonably cool temperatures to the city with skies on the sunnier side. For the weekend, seasonal temperatures will return with variable cloudiness.
Today's seasonal daytime high in Winnipeg is 23°C while the seasonal overnight low is 10°C.