The warm temperatures will continue in Winnipeg right through the weekend, but a couple disturbances moving through will bring several chances of showers or thunderstorms to the region.
Temperatures will soar back into the low 30s in Winnipeg today with slightly humid conditions. Mainly sunny skies this morning will give way to increasing cloud this afternoon as a disturbance approaches the region this afternoon. By mid-afternoon, the Red River Valley will begin to see a chance of thunderstorms spreading eastwards. Today's storms could produce severe weather across the region; the main threats will be torrential rainfall and large hail, but isolated severe wind events will also be possible. While a tornado is possible today, it will not be a primary threat.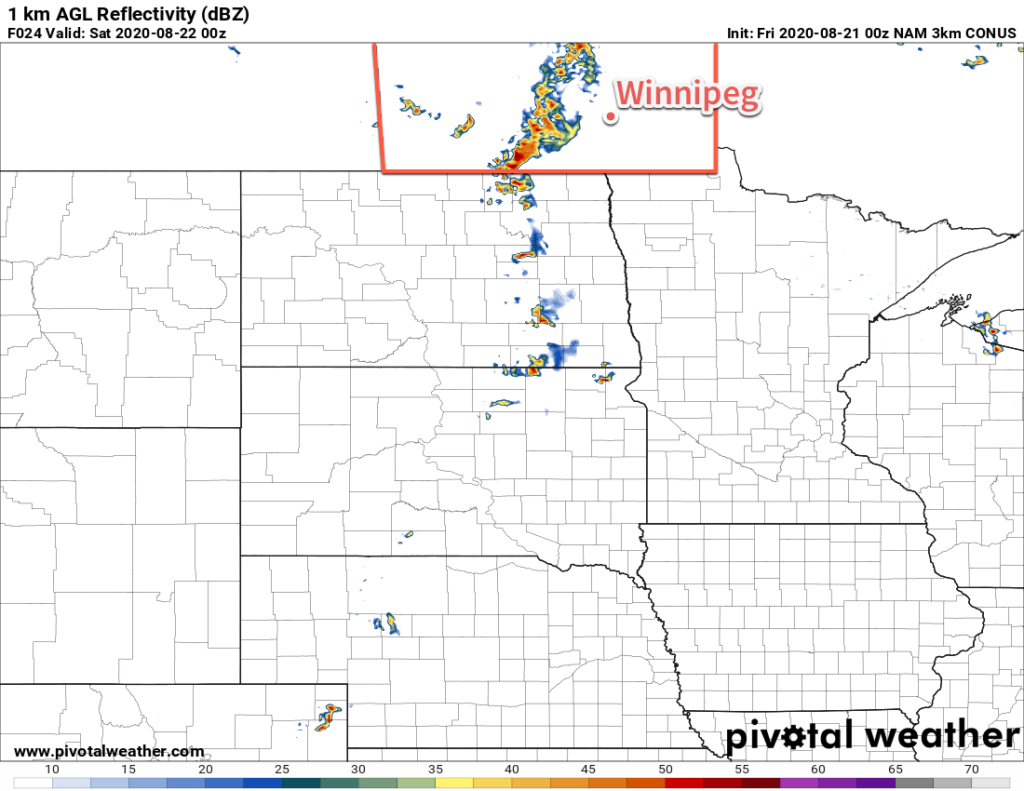 Showers or thunderstorms will continue to be possible into the night, although the chance is significantly less after midnight. Temperatures will dip to a low near 18°C.
Severe Weather Setup
Friday will pose a notable severe weather threat over southern Manitoba. The triggering weather feature will be a trough of low pressure pushing eastwards through the region. The thermodynamic environment will be favourable for severe weather. Surface dew points in the 17–18 °C range will support MLCAPE values near 2000 J/kg. There is a bit of uncertainty with the moisture depth, but mid-level drying between 700 and 500 mb will also support storm development.
Dynamics are a little less favourable, though, with a disjointed veering hodograph with relatively light winds. Bulk shear (0–6 km) values are forecast to sit around 25 knots, marginally supportive for severe storms. Thunderstorms will struggle with weak mid-level winds, though, and will have to rely on broader synoptic support to get organized.
Precipitable water is forecast to sit in the 30–40 mm range, high enough o support torrential rainfall. Fortunately, storm motion is forecast to be 25 to 40 km/h. Thunderstorms won't likely be sitting over any one location for too long.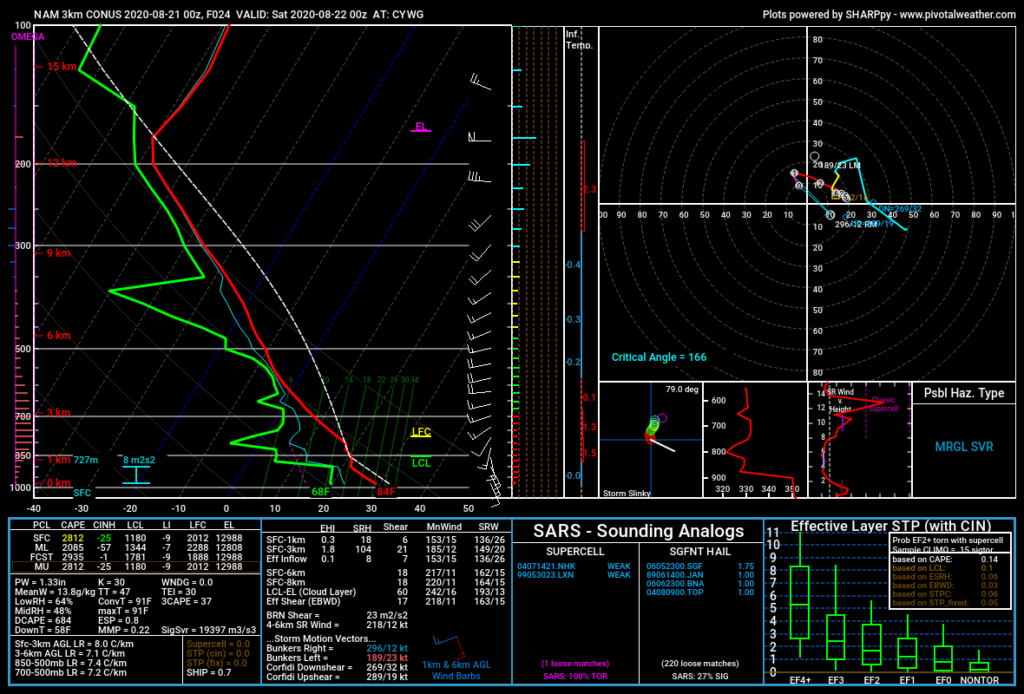 All this combines to produce a primary threat of damaging hail, supported by large MLCAPE values, marginal shear, and the potential for a favourable dry layer in the mid-levels. Torrential rainfall is also a threat but thunderstorms will likely be moving quickly enough that any one location won't see problematic accumulations.
Damaging wind gusts will be a secondary threat, but will only be possible if thunderstorms are able to organize enough to produce upscale growth into some sort of MCS. In that case, wind profiles would support the potential development of bow echoes and the associated damaging winds. Lastly, a tornado is possible but would require extensive local-scale modification to the dynamics by a strong thunderstorm. The synoptic support resembles something that could support tornadoes, but a lot of the details aren't entirely right. That said, be sure to keep watch for any alerts issued by Environment and Climate Change Canada later today for any potential severe weather.
The Weekend
Aside from the chance of an early morning shower, Saturday should be a dry day. Skies will start out fairly cloudy then gradually clear midday into the afternoon. By the evening, Winnipeg should see plenty of sunshine with temperatures in the upper 20s. The city will see a low near 16°C on Saturday night with mainly clear skies.
On Sunday, another surge of warmer air followed by a cold front will move through the region. Winnipeg should see a high back near 30 °C with partly cloudy to mixed skies. As the cold front pushes into the region in the afternoon, a chance for showers or thunderstorms will spread into the Red River Valley and persist into the evening hours. The cloud cover will break up overnight with a low near 16°C.
Long Range Outlook
Next week will bring a return to near-seasonal temperatures. Daytime highs will hover in the mid-20s with overnight lows cooling to the low teens. A zonal flow aloft will develop, meaning the region will see a fair amount of sun, but occasional disturbances bringing showers and thunderstorms will be possible.
Today's seasonal daytime high in Winnipeg is 24°C while the seasonal overnight low is 11°C.