A large-scale pattern change will bring an end to the prolonged summer heat alongside cloudier conditions.
Winnipeg will see a cloudy start to the day with northwest winds around 20 km/h. After a cloudy morning, the sun should make an appearance for the afternoon, helping it warm up to a high near 25 °C. Winds will diminish tonight as an area of high pressure builds across the province. The city should see a low near 11 °C under clear skies.
On Thursday, Winnipeg will enjoy a sunny start to the day, but an approaching low will begin to spread cloud into the region in the afternoon. Temperatures will reach a seasonal high near 24 °C. On Thursday night, the Saskatchewan low will push into Manitoba. Its arrival will keep skies mostly cloudy through the night and bring rain through WestMan and the Interlake. For Winnipeg and the RRV, it will bring a chance of showers after midnight. Temperatures will dip to a low near 15 °C.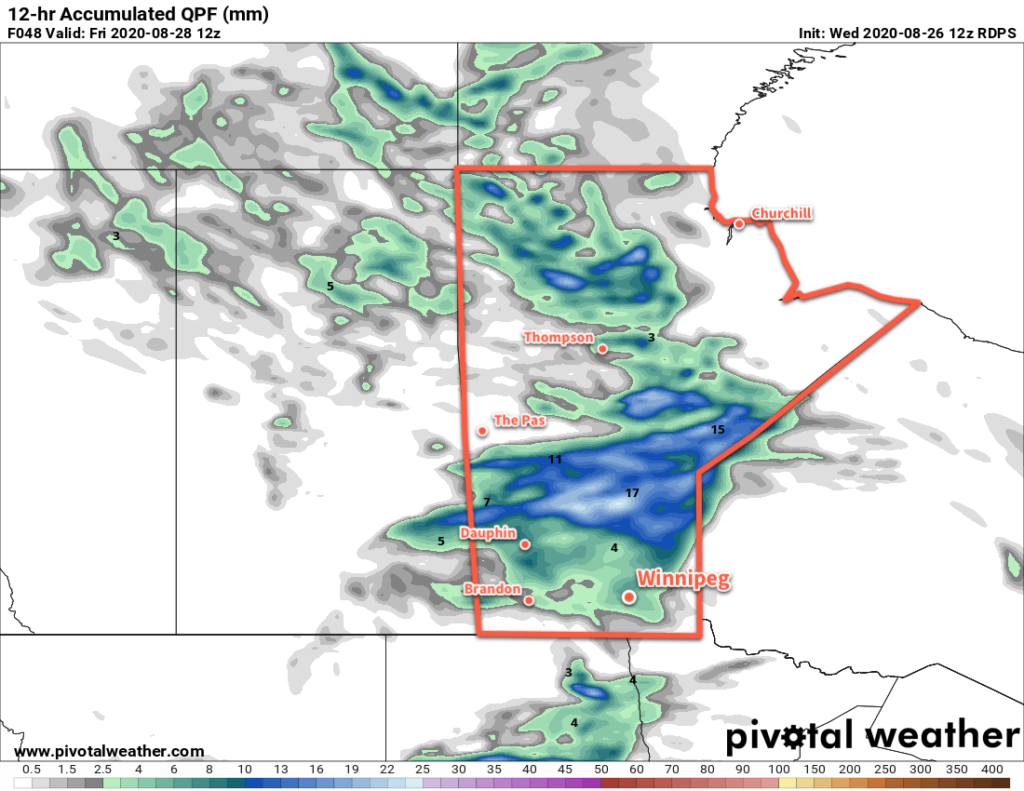 On Friday, a few showers are likely in the morning as a cold front pushes through the region. In its wake, northwest winds will strengthen to 30 gusting 50 km/h as skies clear. It will mark a return to seasonal temperatures in Winnipeg with a high near 22°C. Temperatures will dip to a low near 11 °C on Friday night with the winds easing off.
Long Range Outlook
The weekend will bring a mixed bag to the region with near seasonal temperatures. Winnipeg will see highs in the low to mid-20s both days with overnight lows of 10–15 °C. Saturday should bring mainly sunny skies to the region, but another low moving through on Sunday may bring rain and/or thunderstorms to the region into Monday. Next week will bring variable cloudiness and highs near 20 °C.
Today's seasonal daytime high in Winnipeg is 23 °C while the seasonal overnight low is 10 °C.