There's no relief in sight for Winnipeg as bitter cold stays entrenched over the region this week.
Dangerously cold conditions will stay this week for the Prairies, including Winnipeg. Temperatures will be dangerous today with a high near -26 combining with westerly winds increasing to around 30 km/h. This will produce wind chill values of -45 to -50 this morning and -40 to -45 this afternoon. Temperatures will drop back towards -30 °C tonight.
Tuesday and Wednesday will offer a semblance of "relief" from the cold; the coldest core of temperatures will shift towards the Rockies and some modified Arctic air will move into Manitoba. It's not going to be that much of a change though; tonight's low rising to -29 °C is the start of it and Tuesday and Wednesday will both bring high around -23 °C.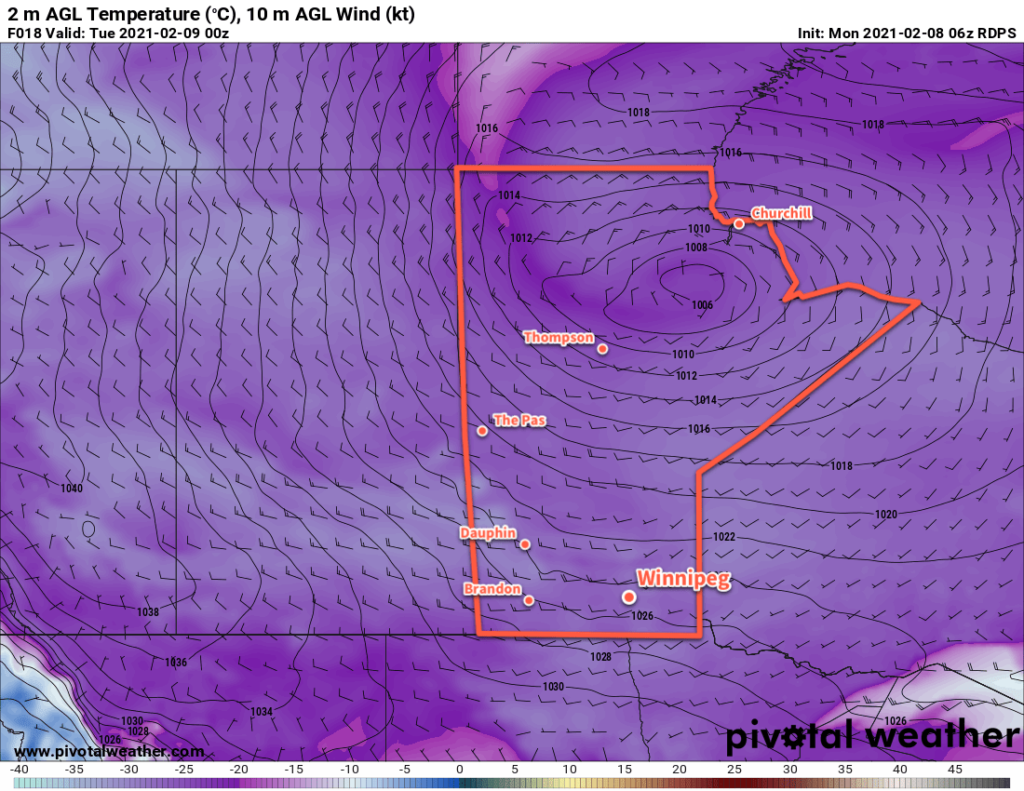 Winds on Tuesday will again hover in the 20–30 km/h range, producing wind chills near -40 early Tuesday morning that climb only to around -35 in the afternoon. Wind chills dip back into the -35 to -40 range on Wednesday night before beginning to ease on Wednesday as the winds let up. The return of "pure" Arctic air will begin on Wednesday night, with lows dropping back below -30 °C.
Long Range Outlook
Bitterly cold temperatures persist through Thursday, Friday, and Saturday. By Sunday, a shift in the upper air pattern will begin to break down the entrenched lobe of the polar vortex over the region. It will start moving off to the east and milder temperatures will begin to move in. Below seasonal temperatures will continue through the first half of next week, but highs should climb into the -15 to -10 °C range with lows eventually rising above -20 °C.
Today's seasonal daytime high in Winnipeg is -9 °C while the seasonal overnight low is -20 °C.