Winnipeg will see spring warmth spread into the region this weekend, but along with it comes several days of windy weather.
A developing low pressure complex over the Canadian Prairies and northern Plains of the United States will bring moderate southerly winds and spring warmth to southern Manitoba. Winnipeg will see temperatures climb to a high near 13 °C today with southerly winds strengthening to 40 gusting 60 km/h. Fortunately, there will be plenty of sunshine today with nary a cloud in the sky. Skies will stay clear tonight with southerly winds continuing near 30 km/h and a low near 2 °C.
It'll be another mild one on Saturday with temperatures climbing into the mid-teens with mainly sunny skies. Those southerly winds will persist, again climbing back up to 40 gusting 60 km/h. Some cloud cover will begin pushing into the region late in the day, bringing cloudy skies for Saturday night. The winds will finally taper off overnight as a low pressure complex moves into the province. Temperatures will dip to a low near 5 °C on Saturday night.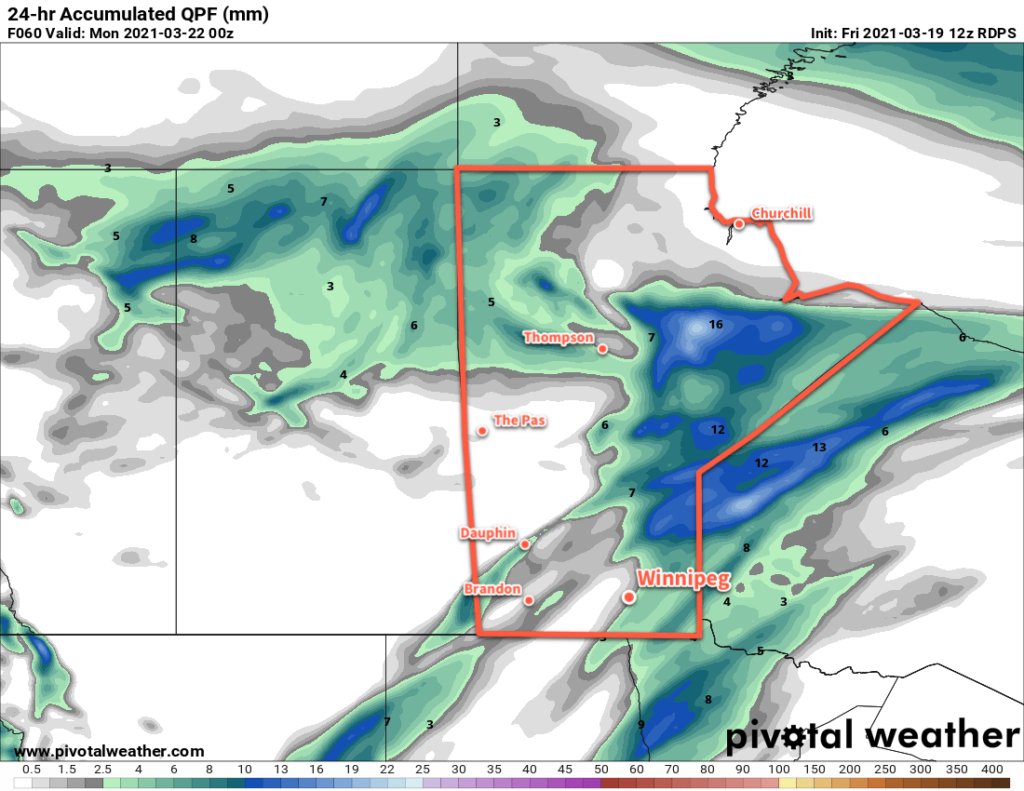 Winnipeg will see mostly cloudy skies on Sunday as the low pressure complex works through. A band of showers will push across the province ahead of a cold front. Most areas will see a good chance of getting some rain, but amounts won't be too substantial. Most areas will see just a trace of some rain but some spots — mainly south and east of Winnipeg — may see 2–5 mm. Temperatures will climb to a high near 13 °C, then a cold front passes and ushers in northwest winds of 30–40 km/h. Skies will clear lat in the day followed by easing winds and temperatures heading to a low near -4 °C on Sunday night.
Long Range Outlook
Spring weather continues next week with variable cloudiness and highs in the upper single digits. Overnight lows will dip a couple degrees below freezing most nights.
Today's seasonal daytime high in Winnipeg is 0 °C while the seasonal overnight low is -10 °C.