Winnipeg will see mild temperatures turn seasonal mid-week with variable cloudiness over the next few days.
A mild Pacific flow aloft will keep seasonably mild temperatures in Winnipeg for a couple more days. Temperatures will stay cool through the first half of the day as a high quickly slides across the province. Winds will pick up out of the southeast to 15–25 km/h later today with temperatures popping up to around 7 °C. The city will see a low near +1 °C tonight with increasing cloud.
Tuesday will bring mostly cloudy skies to the region as cloud streams northwards from a potent low crossing the northern Plains. Temperatures will climb up to a high near 10 °C with light winds. None of the organized rain from this system will reach southern Manitoba, but a few light rain showers or flurries may be possible in the evening as a cold front pushes southeastwards. That cold front will bring northwest winds up to 30 gusting 50 km/h on Tuesday night with a low down to around -6 °C.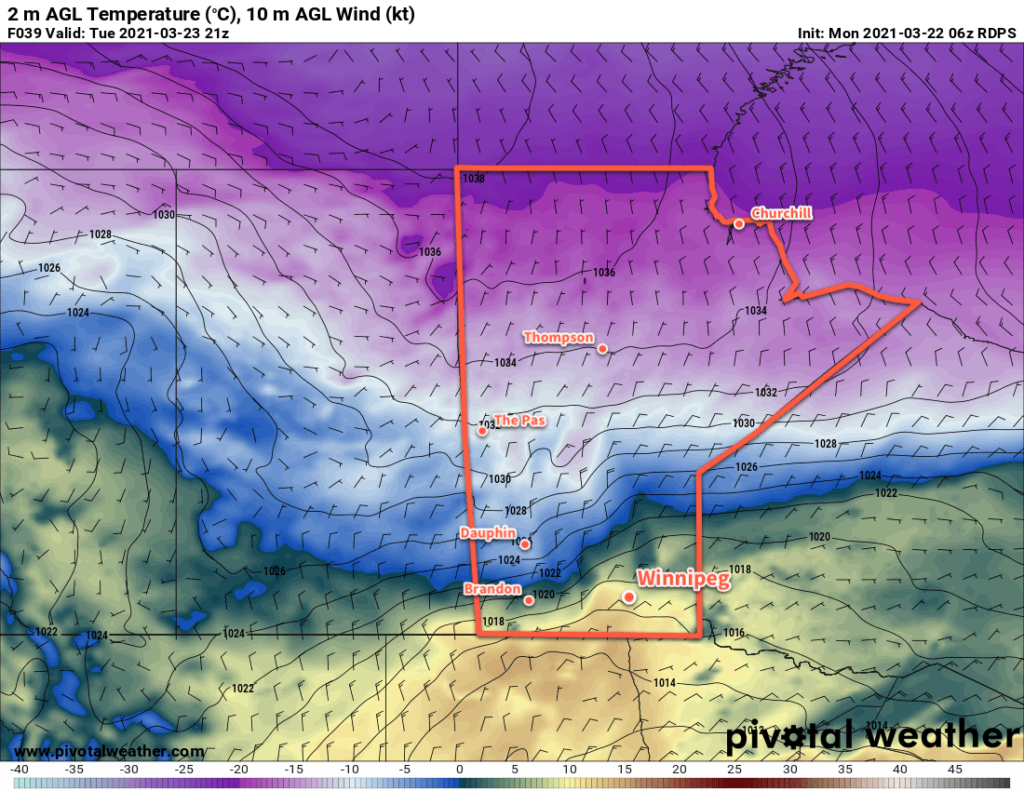 Wednesday will bring gradual clearing to the region as that strong low pushes off into eastern Canada. The northwest winds will persist through the day and keep temperatures cooler. Winnipeg will see a high near +1 °C with some sun showing up later in the day. The region should see a few clouds through Wednesday night as winds ease. Temperatures will head to a low near -6 °C again.
Long Range Outlook
Much of the second half of the week will see variable cloudiness with seasonably mild highs of +4–8 °C. Some precipitation may be possible Friday night into Saturday morning, with near-seasonal conditions on Sunday. A warmer push is forecast for next week, with several days of highs above 10 °C possible.
Today's seasonal daytime high in Winnipeg is 2 °C while the seasonal overnight low is -9 °C.