Winnipeg will shake the shackles of Arctic air and return to spring-like weather! But another cold front will sweep through the region on Thursday night, bringing another blast of cooler temperatures to end the week.
With the Arctic ridge finally to the south, temperatures will return to seasonal values today with a light westerly wind. Some morning cloud will clear out as a warm front slides eastwards across the region, then Winnipeg will see a sunny high near 12 °C. Skies will stay clear tonight with a low near +1 °C.
Temperatures will climb on Thursday as a warm-sector trough moves into the region. With sunny skies, southwest winds will pick up to around 30 km/h and bring a high near 17 °C to Winnipeg. The winds will ease in the evening, followed by increasing cloudiness overnight as a cold front moves through overnight. Skies will be cloudy by Friday morning with northerly winds of 30–40 km/h. The city should see a low near -1 °C.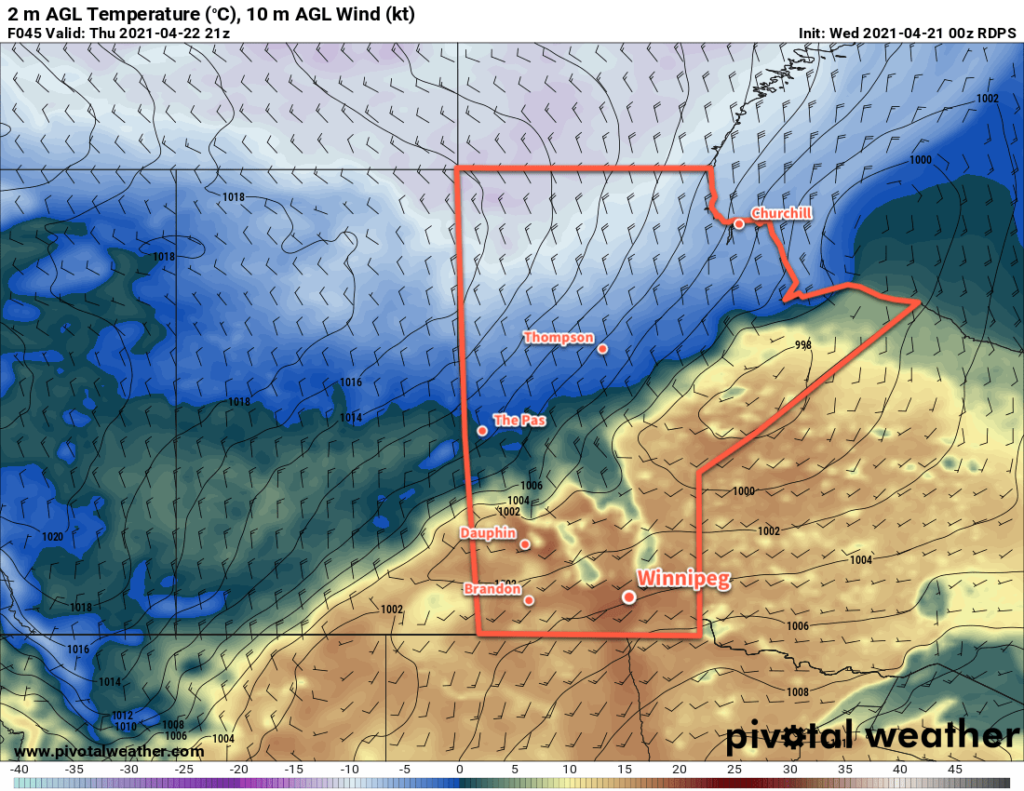 Friday will start with cloudy skies and a good chance for some light snow The northerly winds will persist through much of the day, but the chance of snow will drop off midday. Temperatures will be much cooler than Thursday with a high near +3 °C in Winnipeg. An area of high pressure will settle over the region on Friday night, bringing clearing skies, light winds, and a low near -6 °C.
Long Range Outlook
Winnipeg will see seasonably cool temperatures this weekend with highs in the upper single digits. A sunny Saturday will give way to cloudier conditions on Sunday that will persist through the first few days of the week. A generally unsettled pattern will develop as an upper trough digs over western North America, and Winnipeg will see a few chances for rain through the first half of next week.
Today's seasonal daytime high in Winnipeg is 13 °C while the seasonal overnight low is 0 °C.