Winnipeg will see temperatures climb back towards seasonal values after this week's late-season cold snap.
A low pressure system crossing the northern Prairies will usher warmer conditions back to southern Manitoba. Under sunny skies, southerly winds will increase to 40 gusting 60 km/h this afternoon. Temperatures will climb into the upper teens; Winnipeg should see a high near 19 °C. Tonight, an approaching trough will keep winds around 30 km/h as it spreads clouds into the region. Temperatures will dip to a low near 9 °C in Winnipeg.
On Saturday, Winnipeg will see cloudier skies as the trough moves into the Red River Valley. It will bring a chance of showers to the region, but it will weaken through the day as its main energy source pulls away to the south. Winds will stay out of the south again in the 30–40 km/h range. The winds will finally ease on Saturday night to 15–25 km/h with a low near 10 °C.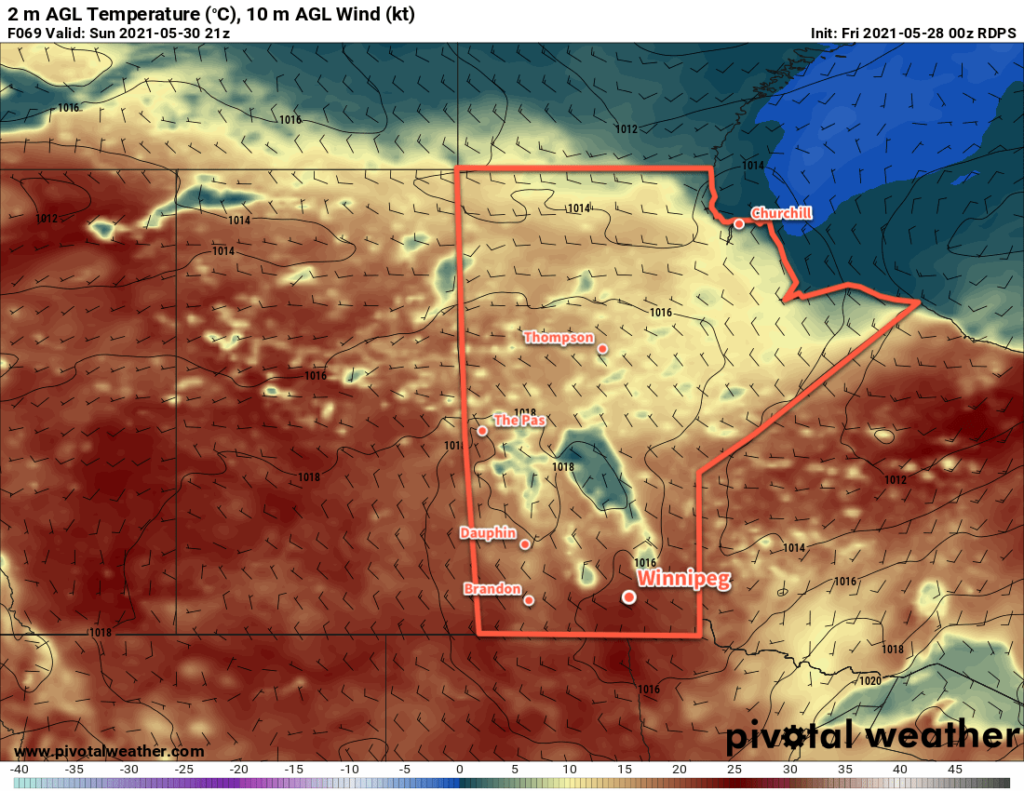 On Sunday, a weak cold front will sweep through the region. It won't bring more than partly cloudy skies with breezy northwest winds for the afternoon. The high in Winnipeg will be around 22 °C. Skies will stay clear on Sunday night with a low near 7 °C.
Long Range Outlook
Next week looks mainly dry across the Red River Valley with highs in the mid-20s. Overnight lows should see a boost and stay in the low to mid-teens through the week.
Today's seasonal daytime high in Winnipeg is 22 °C while the seasonal overnight low is 8 °C.