After a cool and smokey interlude to the week yesterday, fresher air and warmer temperatures will return to the region for the second half of the week.
An upper ridge building across the Prairies will shape the weather this week. As it pushes eastwards, a southerly flow will begin to push warmer air from the south back into the region.
Today, Winnipeg will see light winds and perhaps a bit of lingering smoke from the forest fires east of Lake Winnipeg. Temperatures will return to a near-seasonal high of 25 °C under mainly sunny skies. A light southerly wind will persist tonight at 15–25 km/h with a low 13 °C.
On Thursday, Winnipeg will see a bit more cloud as a weak disturbance pushes towards the province from Saskatcehwan. Southwestern Manitoba will likely see showers through the day, but they will struggle to move into the Red River Valley. A dry southerly wind around 30 km/h will develop in the morning and, combined with a lack of upper support, will weaken the showers as they move east. There's a chance for a few drops here and there, but any accumulating shower activity should stay further to the west. Tmeperatures will reach a near-seasonal high around 26 °C. The city will see partly cloudy skies on Thursday night with diminishing winds and a low near 15 °C.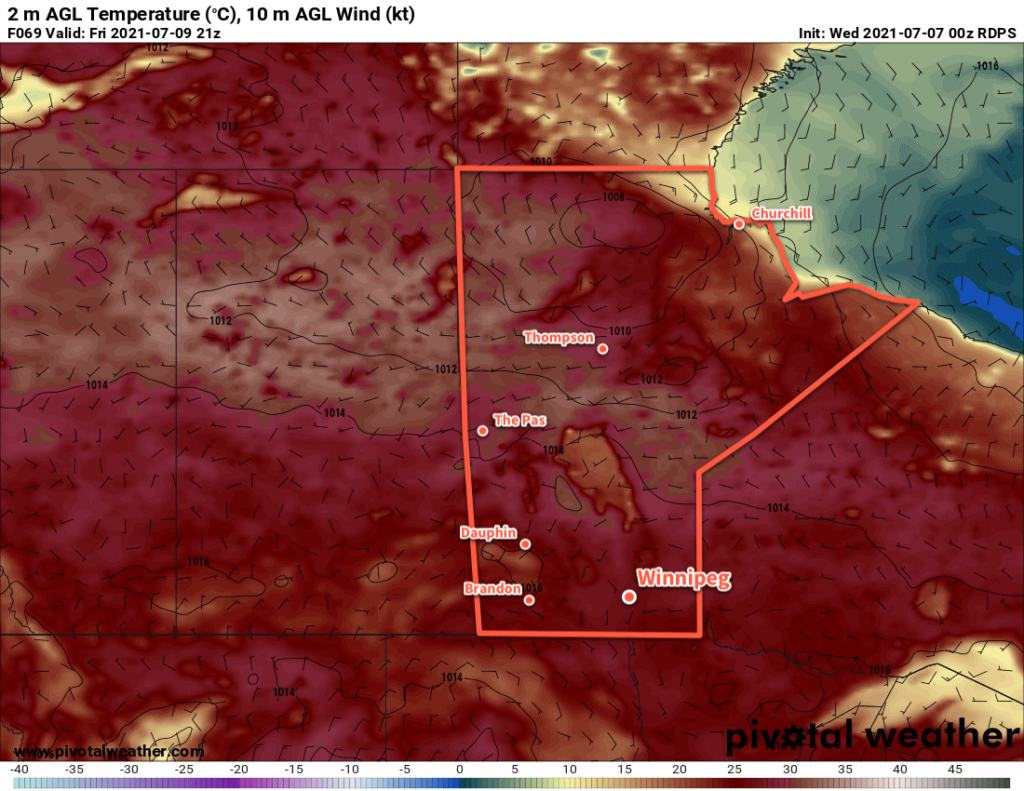 Friday will bring slightly warmer temperatures to Winnipeg with a high near 28 °C and a light southeast wind. The disturbance that will bring the unsettled condtiions on Thursday is forecast to stall out over Saskatchewan. As a result, southwestern Manitoba will likely see some scattered showers, but skies should clear in Winnipeg through the day. Tmeperatures will head to a low near 17 °C on Friday night with clear skies.
Long Range Outlook
It will be a hot weekend in Winnipeg with highs climbing back into the low 30s. The city will see mainly sunny skies throughout and overnight lows around 20 °C. The forecast is absent of any notable precipitation for the Red River Valley. The hot weather will continue into next week, but conditions may become a bit more unsettled. There may be better chances for some showers and/or thunderstorms heading into the week.
Today's seasonal daytime high in Winnipeg is 26 °C while the seasonal overnight low is 13 °C.