Warmer weather will stick around for one more day in Winnipeg before a major pattern change brings seasonal conditions back to the region.
Temperatures will continue to climb well above seasonal averages in Winnipeg today. Under partly cloudy skies, southerly winds up to 30 gusting 50 km/h will push highs up to around 11 °C. A low pressure system tracking across the Prairies will push cloud cover into the region tonight as temperatures dip to a low near 7 °C.
The pattern change begins on Saturday as the aforementioned low crosses the province. Winnipeg will see cloudy skies as winds shift northwesterly through the day. Those winds will strengthen up to 40 gusting 60 km/h in the afternoon. This system will bring a chance of showers to the region, but the bulk of precipitation will fall to the north. Temperatures will hover around the 7 °C mark through the day, then drop quickly in evening as colder air begins filtering southwards into the region. Temperatures will dip to low around the freezing mark with northwest winds of 20–30 km/h.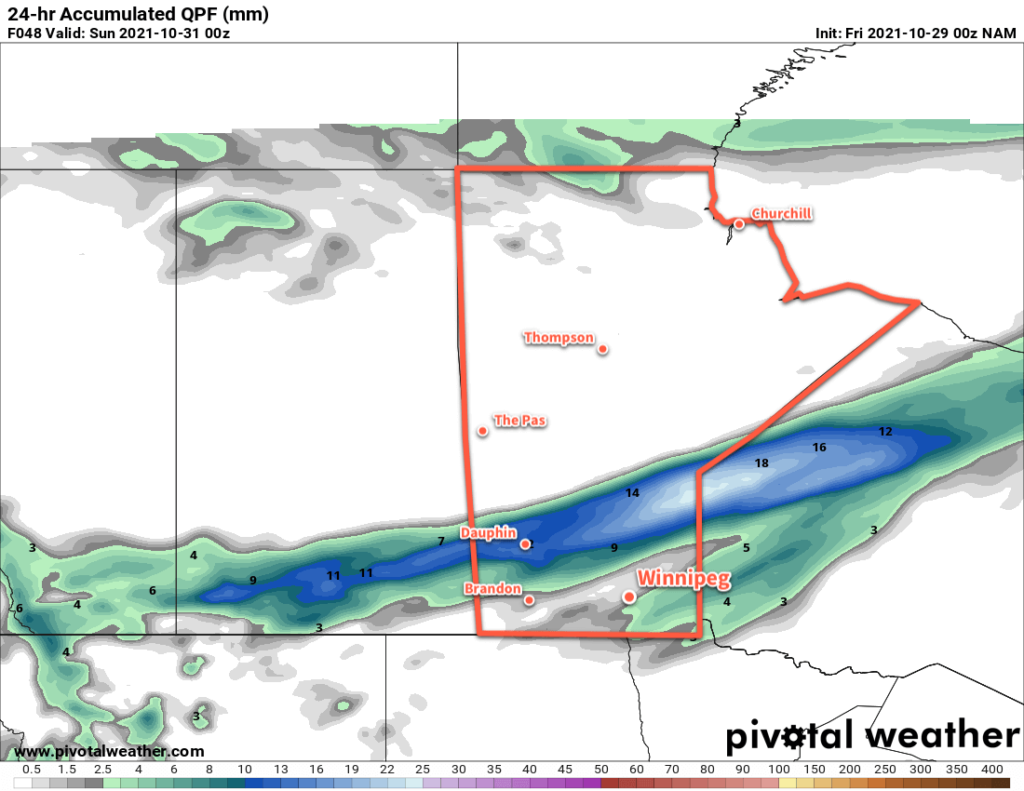 In the wake of the low, the cool air and northwesterly winds will generate quite a bit of low cloud and precipitation that streams off the Manitoba Lakes. This should keep skies mostly cloudy in Winnipeg on Sunday, and depending on the exact wind directions, the city may end up seeing some snow flurries or rain showers through the day. Temperatures will slowly rebound to a high around 4 °C with breezy northwest winds near 30 gusting 50 km/h.
The winds will finally ease on Sunday night as temperatures dip to a low near -1 °C.
Long Range Outlook
Cloudier conditions will continue through the first half of next week as cool temperatures and northwest winds continue to produce cloud off the Manitoba Lakes. With the air mass over the region continuing to gradually cool, the chance for rain showers or snow flurries will likely continue through the first part of the week.
Conditions will settle for the second half of the week as winds shift westerly, but temperatures will stay near or slightly below seasonal values for the rest of the week.
Today's seasonal daytime high in Winnipeg is 6 °C while the seasonal overnight low is -4 °C.