November is off to a seasonably cool start as highs in the low single digits send cloud cover streaming off the Manitoba Lakes.
A brisk northwesterly wind will keep temperatures cool and skies cloudier in Winnipeg. The city will see temperatures climb only to around 3 °C today with mixed skies as low cloud streams southwards off the Manitoba Lakes. The lakes are also producing some rain showers/snow flurries, but the winds should keep that activity out of the city. Breezy northwest winds of 30 gusting 50 km/h will pick up late morning and make for a rather chilly afternoon.
The winds will ease this evening as they shift a bit more westerly. This change in direction may end up bringing a few snow flurries into the city from Lake Manitoba overnight. Temperatures will dip to a low near -3 °C with cloudier skies.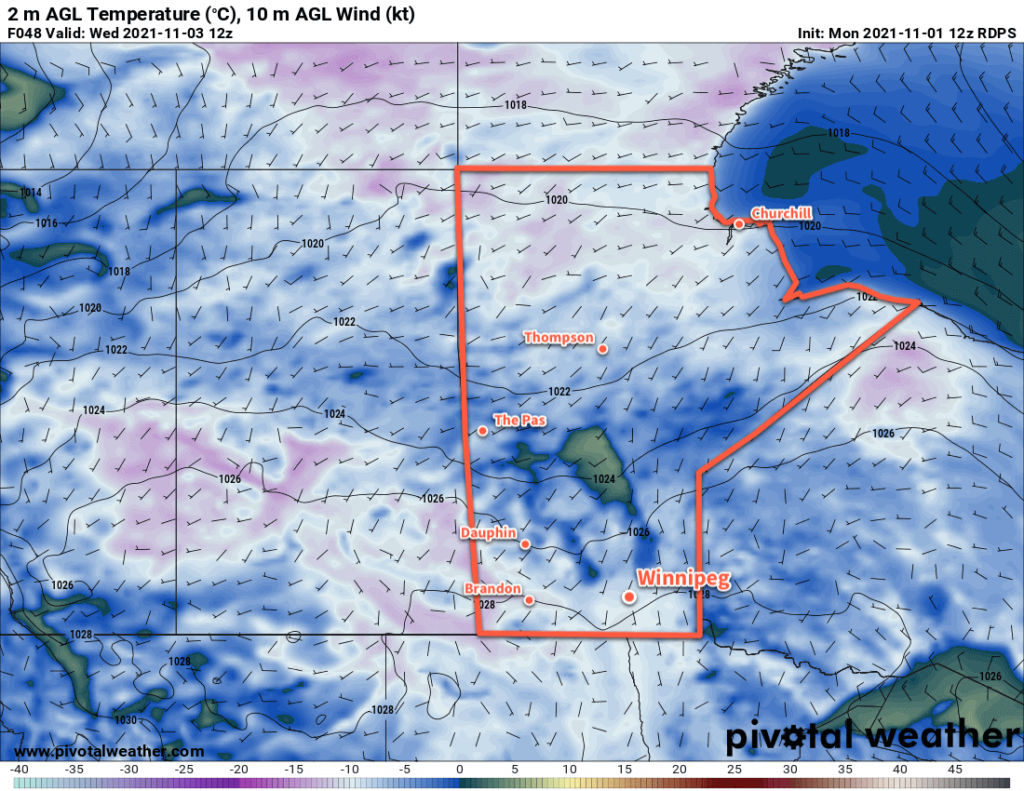 On Tuesday, the wind will continue to shift westerly and ease as an Arctic ridge slumps into the region. This will bring partly cloudy skies to the city with a high around 2 °C. Skies will clear out on Tuesday night, allowing temperatures to plummet to one of the coldest nights of the season. Lows will dip to around -9 °C.
Winnipeg will see sunny skies on Wednesday with temperatures recovering to around +4 °C. It will be a nice day with light winds. Temperatures will dip back down towards -6 °C or so on Wednesday night.
Long Range Outlook
The second half of the week will see a collapse of the upper low sitting over NW Ontario while an upper ridge builds across the Prairies. This will bring a new push of mild Pacific air into the region. Daytime highs will climb back towards the 10 °C mark by the end of the week. Conditions should stay dry until cooler air begins pushing back into the region sometime in the middle of next week.
Today's seasonal daytime high in Winnipeg is 3 °C while the seasonal overnight low is -6 °C.