Winnipeg will see daytime highs climb over 10 °C above seasonal normals this weekend as a surge of Pacific warmth washes over the region.
Winnipeg will see very mild November weather over the next few days. While some of the mild air is in place already, today will be a semi-typical "transition day" for the Red River Valley. Temperatures will climb to around 10 °C in the city today with breezy southerly winds near 30 gusting 50 km/h. Cloud cover should increase today, beginning with partly cloudy skies this morning giving way to mixed to mostly cloudy skies this afternoon.
The southerly winds will ease and shift westerly this evening as a trough moves through the area. Skies should clear out behind it as temperatures dip to a low near +4 °C.
With a westerly flow in place for the weekend, even warmer daytime highs will move into the region. The region will see mainly sunny skies with light west-southwest winds. The high in Winnipeg will reach 13 or 14 °C, making for an absolutely beautiful early November day. Temperatures will fall to a low near +1 °C with partly cloudy skies on Saturday night.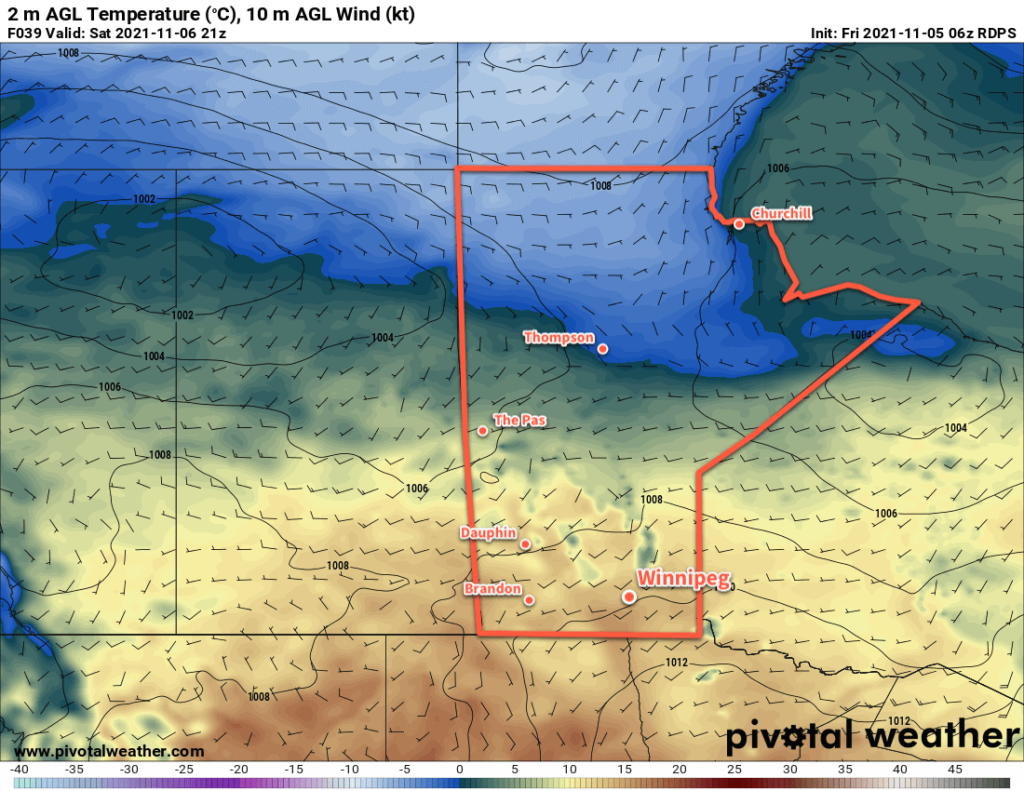 More pleasant weather is on the way Sunday with highs back up into the low teens. Skies should be partly cloudy again with light winds. Lows will dip down again to around +1 °C.
Long Range Outlook
The beautiful weather will continue into the start of next week with highs near 10 °C on Monday and Tuesday. The overall pattern will begin to change mid-week as cooler air starts pushing southwards. Temperatures will slide back towards seasonal values with unsettled conditions through the second half of the week.
Today's seasonal daytime high in Winnipeg is 2 °C while the seasonal overnight low is -6 °C.