The warm weather is on the way out thanks to a slow-moving storm system that will bring a mix of rain and snow to the province.
Winter is on the way for southern Manitoba. Precipitation will spread across the province through the morning hours, beginning as snow over much of western Manitoba and falling predominantly as rain over the Red River Valley. The precipitation will ease in the southwest corner of the province this evening, but will continue overnight through WestMan southeastwards through the Red River Valley and the southeastern corner of the province. Cooler air filtering in overnight will bring an end to all rain across the province as it switches over to snow.
The snow will continue across all of southern Manitoba on Thursday, including the southwest corner as snow returns to that area. Winds will intensify as a potent low pressure centre lifts towards Lake Superior while an area of high pressure builds into northern Manitoba. The Red River Valley will see northerly winds of 40–50 km/h combine with falling snow through the day, making for fairly miserable conditions across the region. Travel conditions will continue to deteriorate through the day.
Light snow will continue into Thursday night, finally tapering off closer to Friday morning. A few flurries will linger into Friday, but conditions should improve through the day.
This will be a major winter storm for many parts of the province. Here in Winnipeg, the city will likely see 5–10 mm of rain today, followed by 5–10 cm of snow tonight. By the time the snow tapers off on Friday morning, there could be quite a bit of snow on the ground. There's some disagreement across models, and the near-freezing temperatures will complicate things, but it's possible Winnipeg will see 15–25 cm of snow by Friday morning.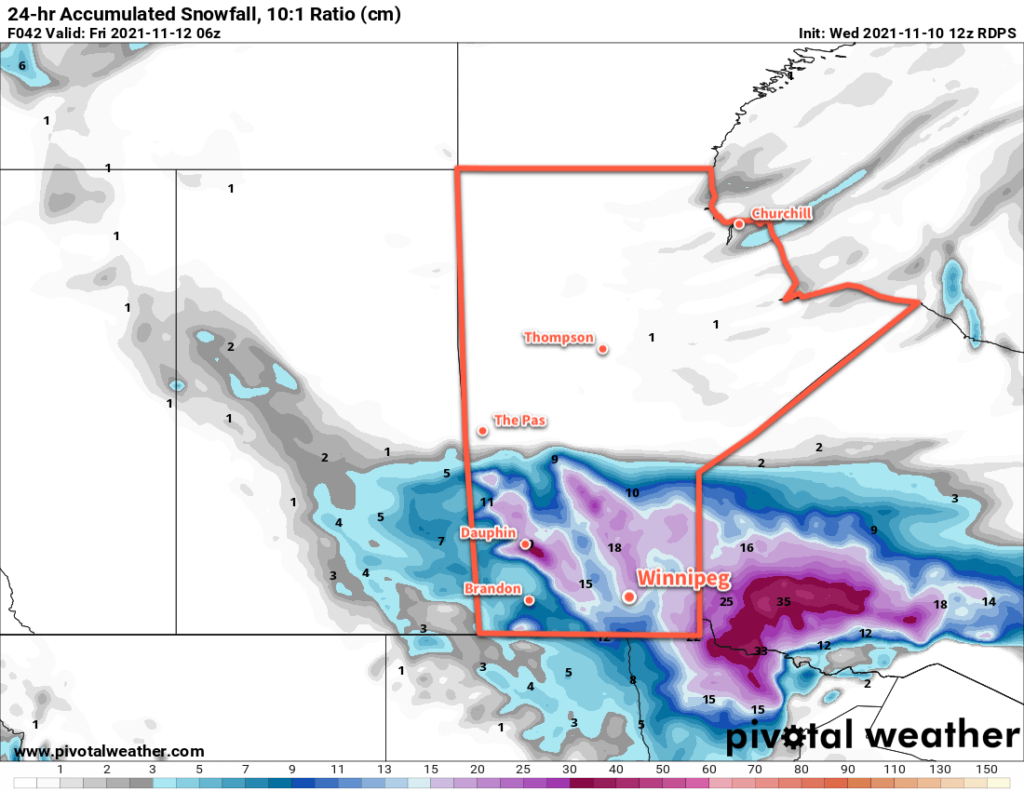 Flurries will taper off on Friday, leaving behind cloudy skies and breezy conditions.
Other parts of the province will be hit even harder, with the potential for 40–50 cm of snow from portions of WestMan east-southeast across the Interlake and towards SE MB.
Temperatures in Winnipeg will hover around +3 °C today, then gradually cool towards the evening. Temperatures will drop to a low near -1 °C tonight, and then more or less hover there right through Thursday. Temperatures will dip to a low near -3 °C on Thursday night, and recover only a degree or two on Friday.
Long Range Outlook
After a brief break, another disturbance moving across the Prairies will bring some light snow to the region on Saturday afternoon. It will exit quickly, leaving cloudy skies for the rest of the weekend. Temperatures will hover just below seasonal values.
Today's seasonal daytime high in Winnipeg is 0 °C while the seasonal overnight low is -8 °C.