Cleanup continues across southern Manitoba as a wintery conditions settle into the region.
Winnipeg will see an unpleasant start to the day with the last bit of snow the region will see being blown about by northerly winds near 40 km/h. The low responsible for this wintery blast will start pushing off to the east today; as a result, snow across the region will come to an end this morning as winds ease to around 20 km/h. Skies will stay mostly cloudy with temperatures reaching a high of only around -2 °C.
Skies will cloud back over overnight as the next low to impact the region approaches. Temperatures will dip to a low near -10 °C with light winds.
Winnipeg will see cloudy skies on Saturday with temperatures rebounding to around -3 °C. More snow will move into the region with a weak low that will clip through the region into the Northern Plains. Snow will begin midday in the city and taper off to flurries in the evening. This system will produce close to 5 cm of snow near the U.S. border, but Winnipeg should only see around 2 cm. Systems like these can often track a bit further south than originally forecast, and if that comes to fruition then most of the snow will miss Winnipeg, lowering amounts down to 0–2 cm.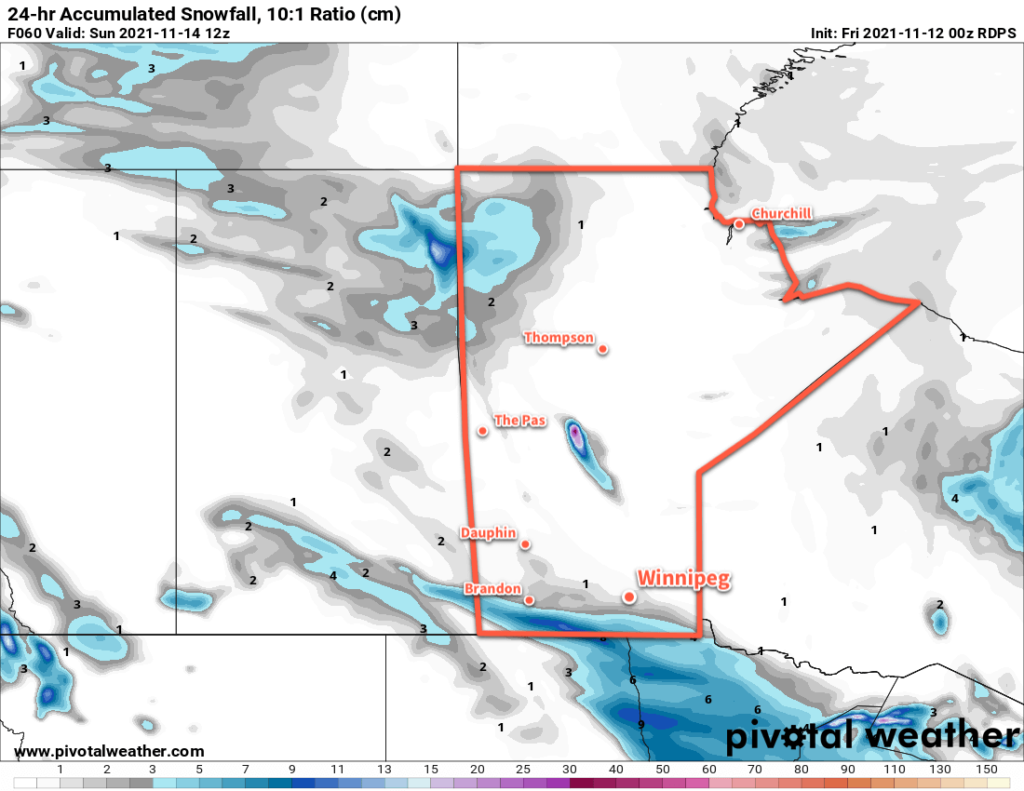 A few flurries will be possible Saturday night with temperatures dipping to a low near -10 °C.
A broad ridge of high pressure over the region on Sunday should finally bring a little bit of sunshine back to the region. Winnipeg should see mixed skies with a cool high near -4 °C and light winds. Skies will cloud back over on Sunday night with temperatures dipping down to a low near -8 °C.
Long Range Outlook
A potent clipper system developing early next week will likely bring some more snow and rain to the region through the first half of next week.
Today's seasonal daytime high in Winnipeg is 0 °C while the seasonal overnight low is -8 °C.