A warmer air mass will gradually push into southern Manitoba this week with highs back in the upper 20s for the second half of the week.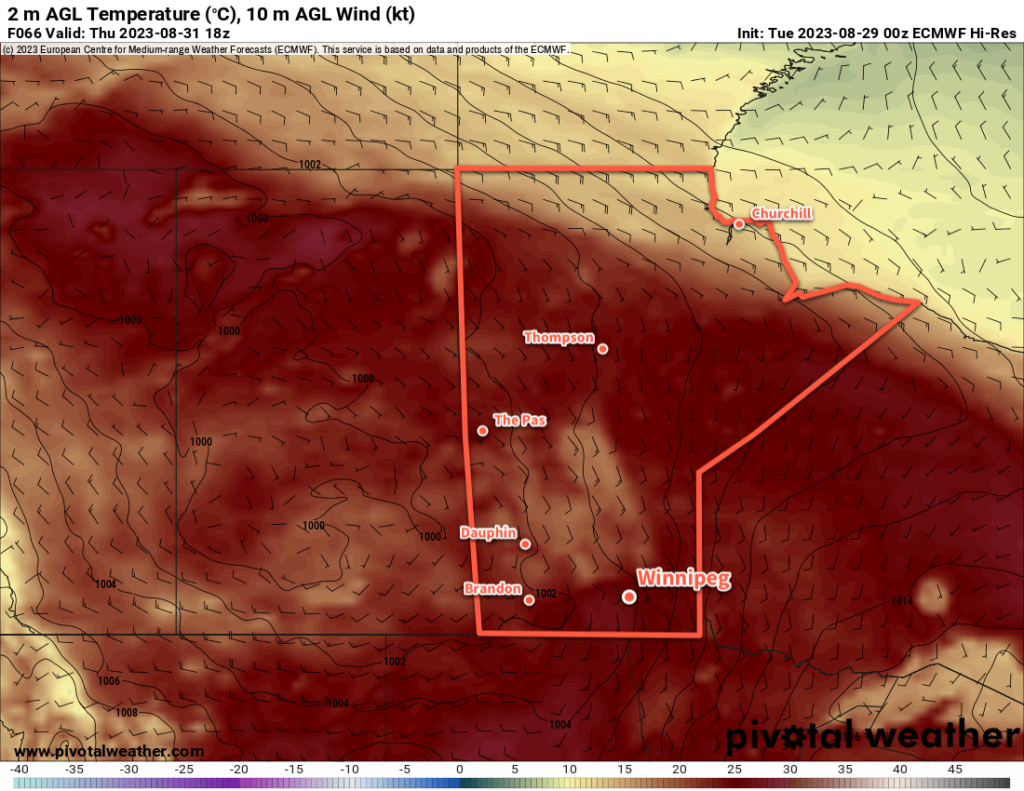 An upper ridge building into the eastern Prairies will bring seasonably warm temperatures back to the region. Before that happens, though, there will be one more day of seasonal warmth in Winnipeg as a disturbance passes by. It will bring mixed skies to the region today with highs climbing into the mid-20s. Winds won't be much of an issue either, climbing into the 20–30 km/h range out of the south.
Smoke will be a bit of an issue this morning, but air quality should improve as the day progresses.
Tonight will be clear and cooler with a low temperature around 10 °C.
On Wednesday, the heat will begin to push into the region as a warm front edges into the region. Winnipeg should see a high in mid- to upper-20s with sunny skies. Winds won't be too much of an issue, again climbing into the 20–30 km/h range out of the south. The region will see clear skies on Wednesday night with a low in the mid-teens.
On Thursday, a low pressure complex will begin lifting through Saskatchewan and the Dakotas towards the province. Highs will likely be a couple degrees warmer than Wednesday with cloud working into the region for the afternoon. The wind will be a lot more noticeable on Thursday, picking up out of the south into the 40 gusting 60 km/h range. This system will bring some showers or thunderstorms to western Manitoba in the morning. Those showers will lift to the north, then instability will build eastwards through the day.
By late-afternoon, a risk of thunderstorms will develop over the Red River Valley and areas east. There is a slight risk of severe thunderstorms; with 500–1000 J/kg of MLCAPE and 40–50 knots of bulk shear, any thunderstorms that develop would likely become fairly well organized with a primary threat of damaging hail and wind gusts. The risk of thunderstorms will continue into the evening, gradually shifting eastwards as the night goes on.
Long Range Outlook
Settled conditions will return to southern Manitoba on Friday with highs again in the upper 20s. On the weekend, even more heat will build into the region with daytime highs climbing into the low 30s. It's a bit unclear how humid it will be, but there is a chance that it could be rather uncomfortable.
A cold front is expected to sweep through the region and bring more seasonal temperatures back to the region to start the new week.
Today's seasonal daytime high in Winnipeg is 22 °C while the seasonal overnight low is 10 °C.