While today will bring cooler highs in the low 20's to the Red River Valley, the break from the heat will be short-lived. High temperatures will quickly rebound back into the upper 20's for both Thursday and Friday alongside plenty of sunshine!
Mostly cloudy skies will persist over the Red River Valley today as an upper-level trough moves through the region. The cloudier skies will temperatures lower than the 29-30°C seen over the last couple days; today will reach a high of just 22°C. Winds will be out of the north to northwest at around 15-25 km/h. Skies will clear out overnight as temperatures head to a low near 13°C.
Thursday will be a beautiful day as high pressure moves into the region and brings partly cloudy skies and much warmer temperatures as highs through the Red River Valley rebound to 27-28°C. Winds will be out of the south at 20-30 km/h and humidity levels will be comfortable.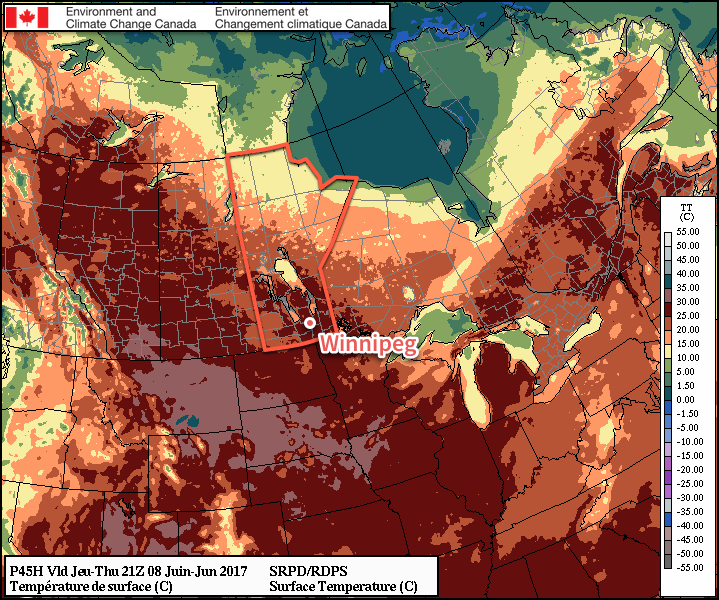 Friday will start off with sunshine, but clouds will move in through the day as a low pressure system approaches from the west. Winnipeg may see a chance of shower in the afternoon. Temperatures will remain warm with highs near 28°C, and winds will strengthen out of the south to around 30-40 km/h. The chance for rain will continue on Friday night as temperatures drop to around 18°C.
Long Range
There's quite a bit of uncertainty for the weekend, but the general idea is that Winnipeg may see a few bouts of showers or thunderstorms as a series of low pressure systems move through. The beginning of next week also looks unsettled, with a slow-moving low pressure system forecast to impact the region, bringing multiple chances for rain across several days.
Winnipeg's seasonal daytime high is currently 23°C while the seasonal overnight low is 10°C.