In what seems like an almost unbelievable stroke of luck this year, hot and dry weather will continue throughout the second half of the work week for Winnipeg and the Red River Valley.
We finally get a bit of a break here at A Weather Moment with not just one, but two (!) short blog posts in a row as a ridge of high pressure dominates the weather over the Red River Valley.
Today and tomorrow will both be pleasant days with daytime highs near 25 and 27°C respectively and overnight lows near 13°C. Winds will be fairly light out of the north both days. Skies will be partly to mainly sunny.
By Friday, a low pressure system pushing eastwards across Saskatchewan will begin spreading cloud across Southern Manitoba. While some shower activity is possible over southwestern Manitoba, nothing is expected here in the Red River Valley. Temperatures will climb to a high near 28°C with winds fairly light out of the south. Lows will be near 16°C on Friday night.
Long Range
The weekend brings back the potential for some wet weather as a slow-moving low pressure system moves across the region. There's still a fair amount of uncertainty associated with this system, however, so this will be more of a generalized outlook.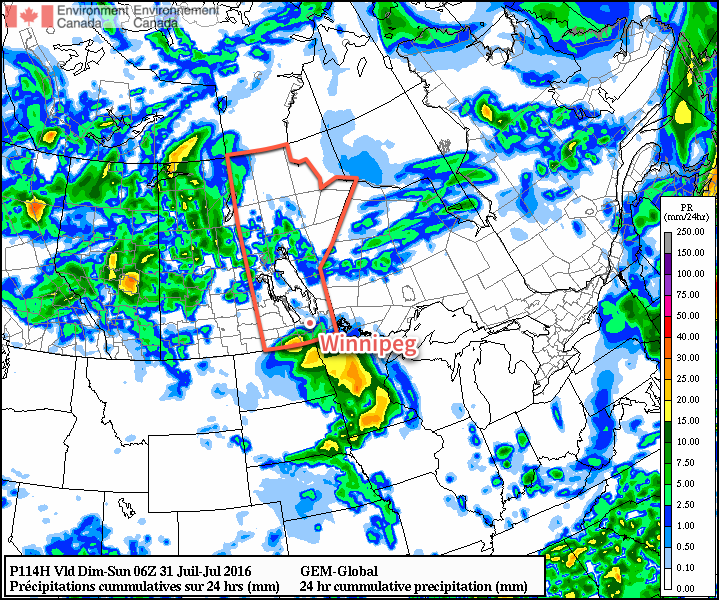 Current guidance suggests the development of a slow-moving area of rain through North Dakota on Friday night which will have the northern edge extending into Southern Manitoba. This system will very slowly move eastwards through Saturday, spreading rain across the Southern Red River Valley. Guidance suggests that the bulk of the rain would leave the region on Saturday night with 10-35mm of rain having fallen in the heaviest hit areas on the Canadian side of the border. Sunday would then bring just a slight chance of showers.
Again, there is a substantial amount of uncertainty associated with this system at this point and a slight shift north or south could dramatically alter the amount of precipitation expected.
Winnipeg's seasonal daytime high is currently 26°C while the seasonal overnight low is 13°C.