Temperatures will cool through the weekend as light snow lingers on the back-side of the departing Colorado Low.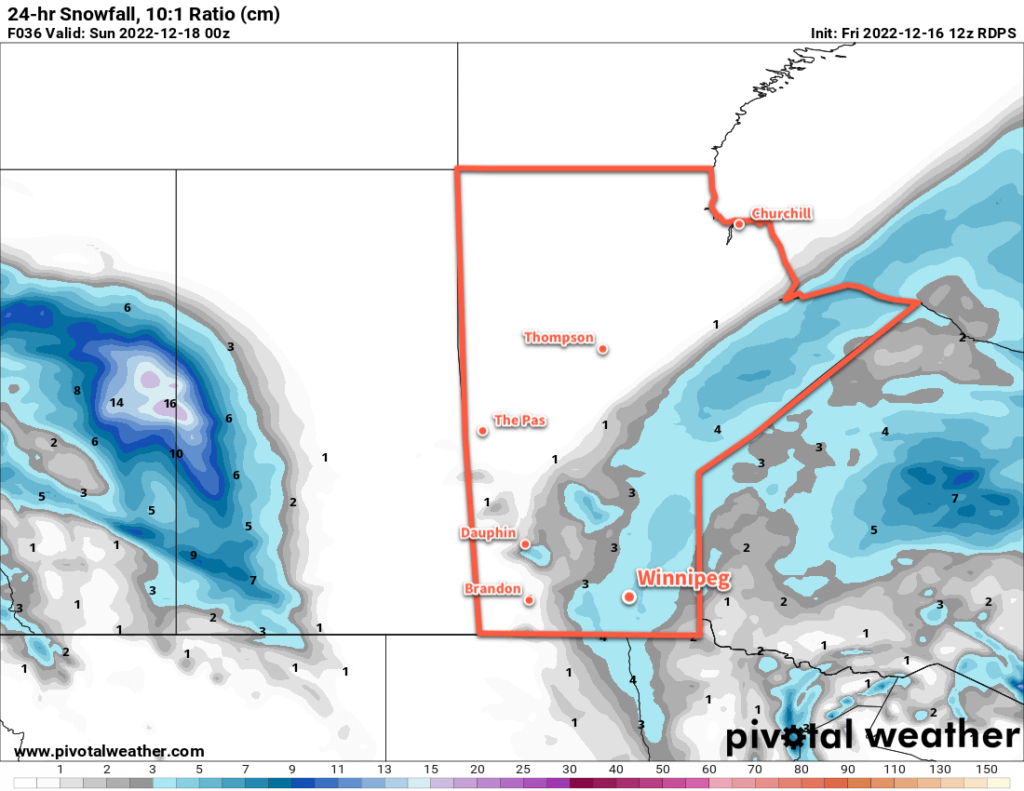 The Colorado Low that brought accumulating snow to the region over the past few days is gradually trundling eastwards, but its slow departure will mean both gradual cooling and lingering snow. In Winnipeg, this means cloudy conditions with periods of light snow over the next few days.
Accumulations will be relatively light over the next few days at just a couple centimetres or so each day. But with cooling temperatures, the persistent north wind and drier snow will result in plenty of blowing and drifting snow.
Temperatures will slide to around -10 °C this afternoon, then continue to drop over the next day. Expect lows around -12 °C tonight, then temperatures continue to slide into the mid-minus teens on Saturday.
Temperatures will stabilize for Sunday into Monday at seasonably cool values, but there will continue to be a chance of light snow.
Long Range Outlook
Heading into next week, a major pattern change is underway across the Prairies. A lobe of the Polar Vortex will detach and slump into the Prairies, bringing with it much colder temperatures. Beginning early next week, temperatures in southern Manitoba will begin to plummet. Daytime highs will fall into the -20s with overnight lows dipping close to -30 °C.
That stretch of colder weather will likely last much of the week, but some moderation back towards seasonal temperatures looks to be in store by the weekend.
At least we should see the sun more next week!
Today's seasonal daytime high in Winnipeg is -10 °C while the seasonal overnight low is -20 °C.