A major winter storm is moving in as you read this article. It will bring the first serious snowfall of the year to the Red River Valley, with heavy blowing snow or even blizzard conditions possible in many areas. You may want to reconsider any travel plans early this week!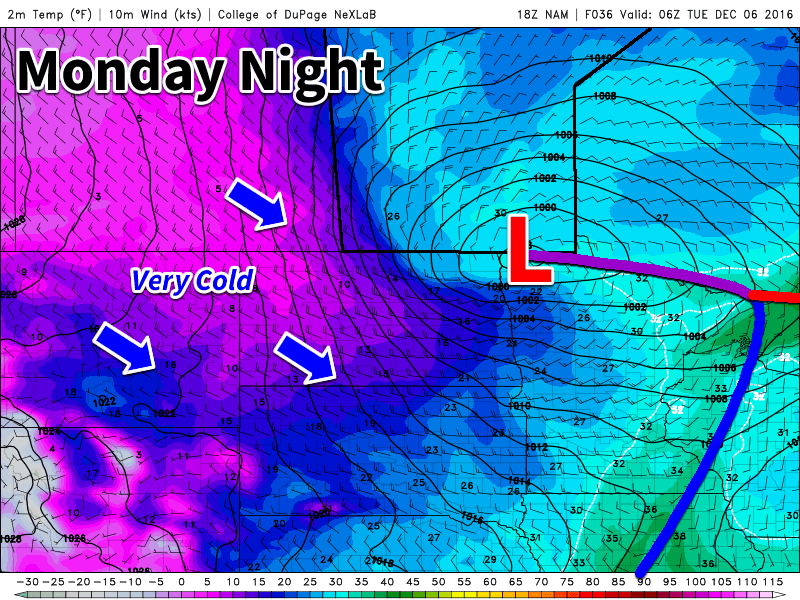 Today
A strong low pressure system will move off the Rocky Mountains and into North Dakota today. It will spread moderate to heavy snowfall into parts of western Manitoba this morning, before snow spreads over the rest of southern Manitoba later in the day. Snowfall will fall for the entire day in most of western Manitoba, with total accumulations of 10-15 cm expected in most areas. Further east, the Red River Valley will see lesser amounts today, with 2-5 cm in the Winnipeg area and more like 5-10 cm near the International border. Local amounts of 15 cm may occur along the International border in south-central Manitoba. Winds will be gusty from the east at 20-30 km/h, producing some blowing and drifting snow.
Tuesday
Tuesday
Blizzard Developing with Heavy Snow
Conditions will really begin to deteriorate early Tuesday as winds shift to the northwest. Snow will continue to fall as well, with an additional 10-20 cm possible in the Red River Valley on Tuesday. Snow will taper off in southwestern Manitoba, but another 2-5 cm will be possible. The northwesterly winds that develop will be strong at 40 km/h gusting to 60 km/h, with higher values of 50 km/h gusting to 70 km/h in some treeless areas. This will likely result in blizzard conditions over large parts of southern Manitoba, especially south and west of Winnipeg. Those areas that don't quite meet blizzard criteria will certainly see heavy blowing and drifting snow, with travel becoming difficult or impossible in some areas. Road closures are likely, especially the Trans-Canada Highway west of Winnipeg and Highway 75 south of Winnipeg. Conditions will not improve significantly until early Wednesday.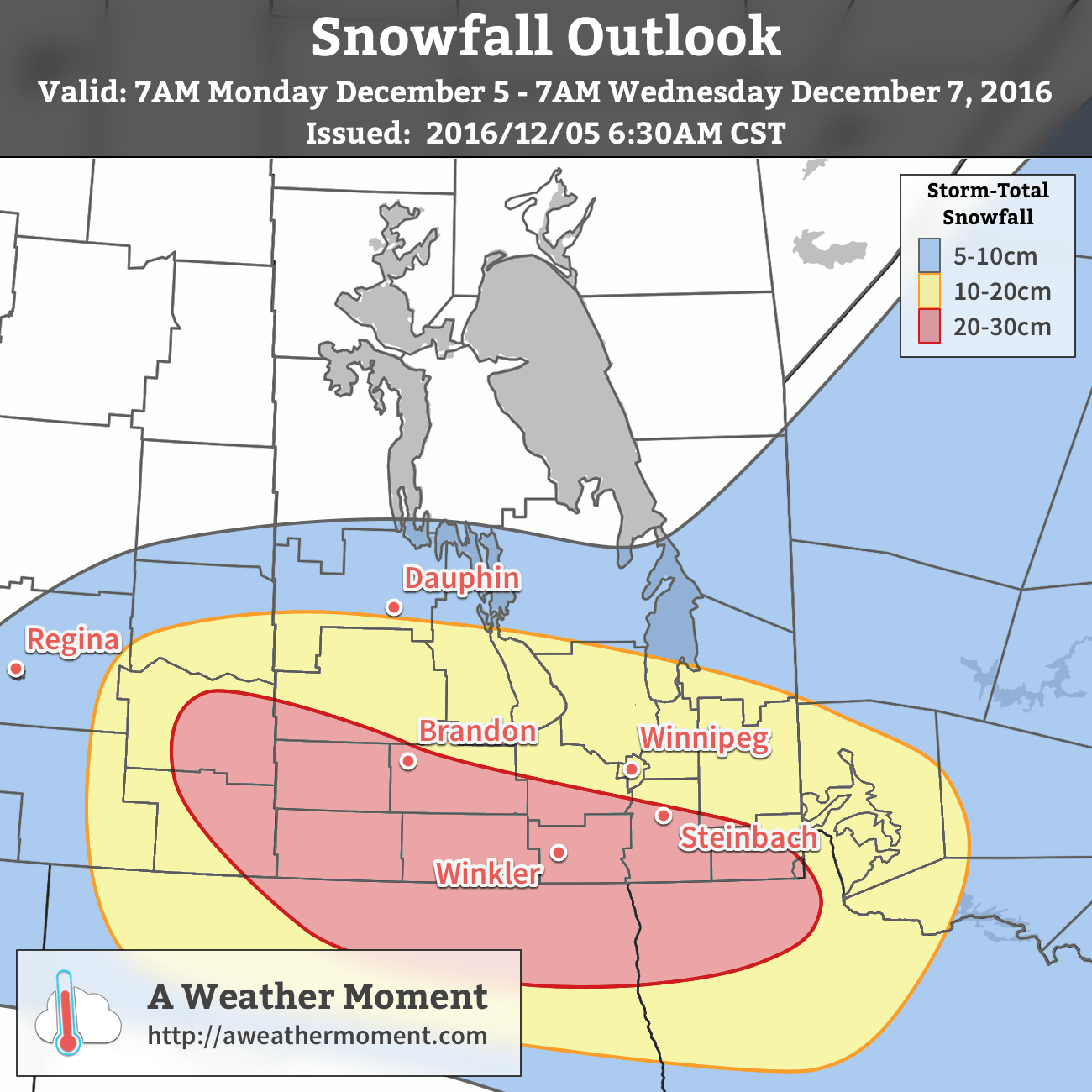 Wednesday
Wednesday
Snow and blizzard ending
Snow should finally taper off on Wednesday morning in all of southern Manitoba, but not until most areas have received significant accumulations of snow. Southwestern Manitoba can expect 15-25 cm, while Winnipeg can expect 10-20 cm. Areas along the International border in south-central Manitoba can expect to receive 20-30 cm. Locally higher amounts may occur where heavier bands of snow persist for a longer period of time. Large snow drifts will be a problem on Wednesday, even once the snow ends. Some rural roads may be impassable due to heavy drifting. Blowing snow will persist on Wednesday, but winds will slowly decrease throughout the day. Temperatures will have dropped noticeably on Wednesday as this system begins to pull down a cold arctic air mass.
Long Range
Conditions will finally calm down on Thursday as winds taper off. However, in the wake of this strong low we'll see a blast of arctic air, with temperatures likely dropping into the minus twenties on Thursday and Friday. This frigid pattern is expected to persist for awhile, so make sure to get out those winter clothes!