Below-normal temperatures will stick around through the Christmas weekend, but a warm-up is on the horizon.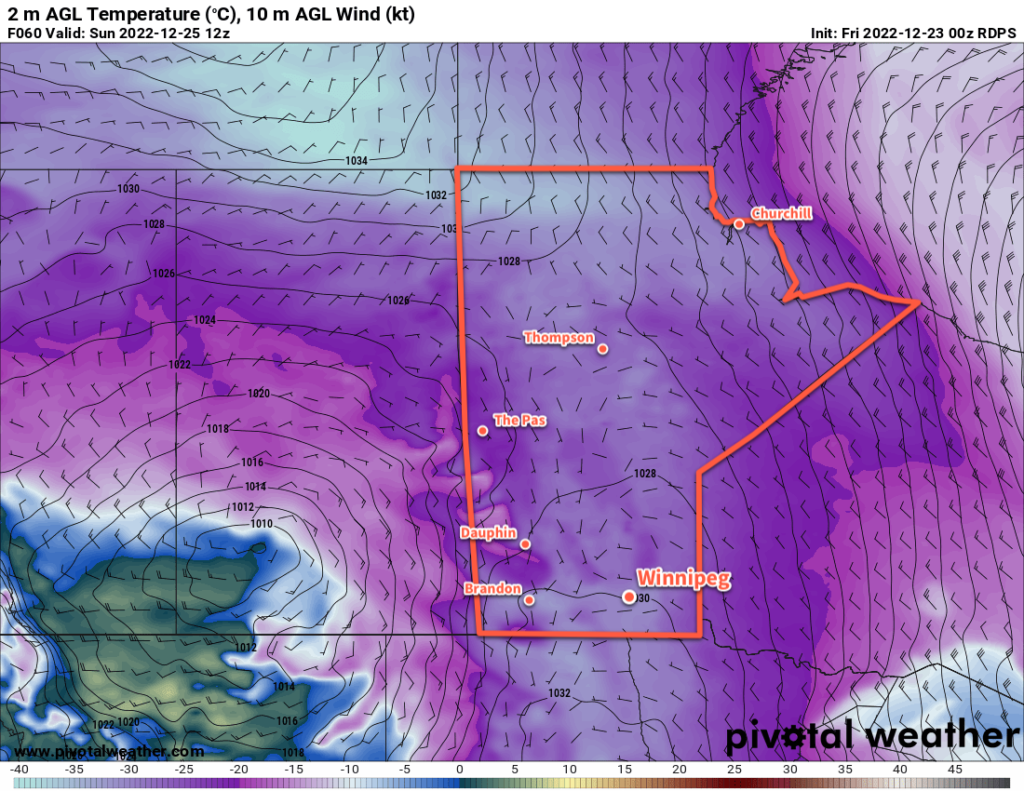 While temperatures in Manitoba haven't quite compared to the extreme cold anchored over Alberta and impacting much of western Canada, the region continues to see seasonably cold conditions. Fortunately for our region, it won't get too much worse than seen so .
The detached lobe of the Polar Vortex that has brought such bitter cold to the western Prairies is now spinning its way into eastern Canada and is set to bring a significant winter storm to the region. As it departs, temperatures will cool slightly here in Manitoba, followed by a gradual warming trend.
Daytime highs will hover around the -20 °C mark for the next few days in Winnipeg with increasing sunshine later today into Saturday. Lows will generally sit in the -25 to -30 °C range, but there's a chance of a sub-minus 30 reading.
Wind chill will be a bit of an issue the next couple days with moderate northwest winds of 30 to 40 km/h. Wind chill values will hover in the -30 to -40 range much of the next couple days.
Those winds will also bring some blowing snow to the region. Today will be the worst for it, with blowing snow possible in most of the open areas in the Red River Valley. Lighter winds into Saturday will make it a more localized issue then.
On Sunday, some cloud will push into the region as a disturbance dives through the region. Snow will push through western portions of the province, likely staying west of the Red River Valley as it struggles against the colder air. Temperatures will climb into the mid-minus teens with light winds, making for a relatively pleasant Christmas Day afternoon across southern Manitoba. Temperatures will dip into the -20 to -25 °C range on Sunday night.
Long Range Outlook
The Arctic air will lose its grip on the region as next week progresses with daytime highs climbing close to -5 °C by mid-week.
Some light snow will accompany the warm-up; on Tuesday night, a band of 5 to 10 cm is likely across WestMan and the Interlake with lesser amounts near 2–4 cm in Winnipeg. If this system ends up a bit further south, the main band of snow could end up falling along the Trans-Canada Highway corridor.
The milder weather will last for the rest of the week, then slid back towards seasonal values to start off the new year. Happy holidays!
Today's seasonal daytime high in Winnipeg is -12 °C while the seasonal overnight low is -22 °C.