A developing winter storm system will bring mild temperatures today followed by snow, blowing snow, and colder temperatures on Saturday.
Winnipeg will see mostly cloudy conditions today as temperatures climb to a seasonably warm -8°C. The warmer weather is moving into the region ahead of a potent low pressure system set to track across the Northern Plains later today. Much of the day will bring winds out of the southeast near 30 gusting 50 km/h, but they will diminish through the afternoon as a trough of low pressure moves into the Red River Valley.
Light snow will move into the region in the afternoon, then intensify through the evening and persist overnight. The wind will pick back up out of the northwest overnight to 30 gusting 50 km/h, combining with the snow to produce areas of reduced visibility in blowing snow. Winnipeg will see close to 10 cm of snow by Saturday morning with higher amounts expected to the southeast.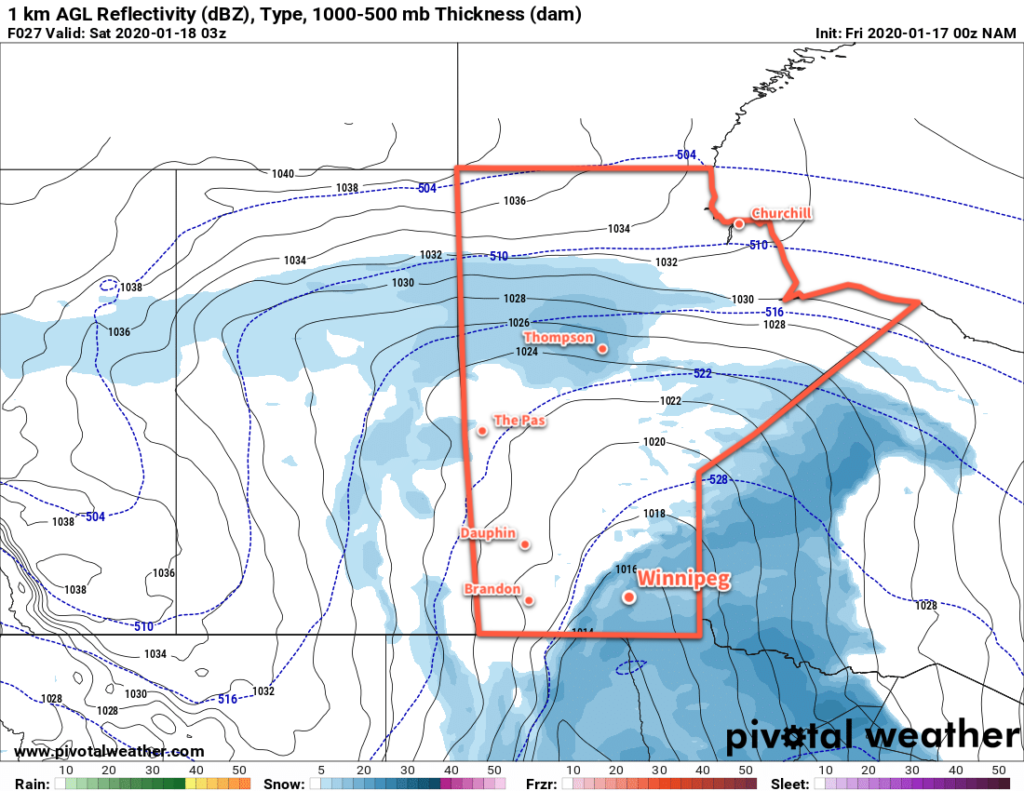 Winnipeg will see temperatures remain steady near -17°C on Saturday with light snow continuing through much of the day. The wind will strengthen even more to 40 gusting 60 km/h, producing widespread blowing snow through the Red River Valley. Localized blizzard conditions may even develop, particularly through the western Red River Valley. The region will see about 2 cm of additional snow through the day. Winds will ease slightly to 30 gusting 50 km/h on Saturday night, bringing some improvement to the blowing snow across the region. Temperatures will dip to a low near -20°C on Saturday night.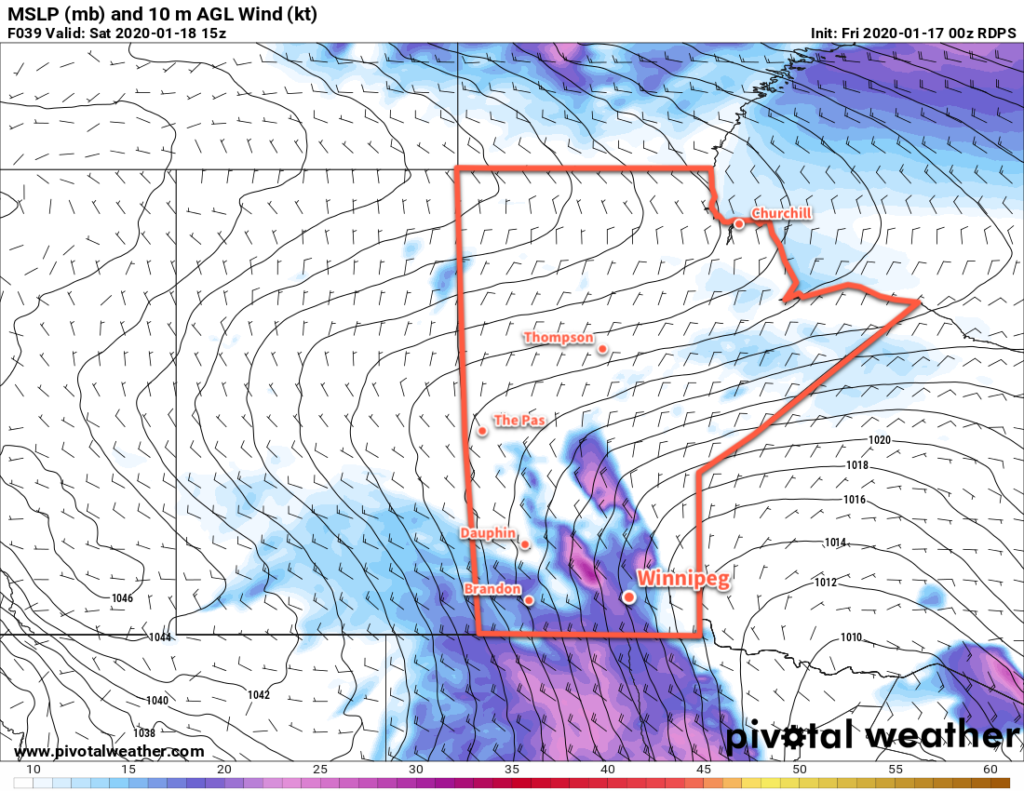 Everything will move out of the region on Sunday with diminishing winds and clearing skies. Temperatures will climb to a high near -16°C. Winds will shift to the west through the day as an Arctic high passes by to the southwest. Skies should be clear on Sunday night with a low near -26°C.
Long Range Outlook
For those tired of the cold, the long-range forecast is looking pretty good. Cooler weather will stick around for Monday, but then a large-scale pattern shift will allow milder Pacific air to spread across the Prairies. Much of next week should see daytime highs in the -5 to -10°C range with overnight lows dipping into the minus teens. No major snow events are in the forecast. So if you're cold adverse, just make it through one more cold snap and you'll have plenty to look forward to!
Today's seasonal daytime high in Winnipeg is -13°C while the seasonal overnight low is -24°C.