A potent fall storm brewing in Alberta will race eastwards across the Prairies today, strengthening substantially as it does. It will move through Southern Manitoba tonight and tomorrow, bringing rain, snow, and strong winds to the region. As it passes, it will also mark a substantial shift in the large-scale weather pattern that will bring much cooler temperatures to Winnipeg over the next week.
Today will be Winnipeg's warmest day for the foreseeable future as seasonably mild air moves into the region ahead of the incoming low pressure system from Alberta. Temperatures will climb to around the 9°C mark with light northerly winds this morning switching out of the south for the afternoon. Skies will start off partly cloudy to mixed, but more and more cloud will move through the day, making for mainly cloudy conditions this afternoon.
The winds will strengthen in the evening to around 30 km/h as the low approaches, keeping temperatures mild at around 8 or 9°C well into the night. As the centre of the low moves through shortly after midnight, rain will begin spreading into the Red River Valley. Winds will back to the north shortly after midnight and intensify, reaching 40 gusting to 60 km/h by Thursday morning. At this point, we expect precipitation to remain as rain overnight with temperatures dropping to a low near +3°C; between 5 to 15 mm of rain is likely to fall overnight throughout the Red River Valley, with lower amounts near the U.S. increasing northwards towards Winnipeg and the southern Interlake.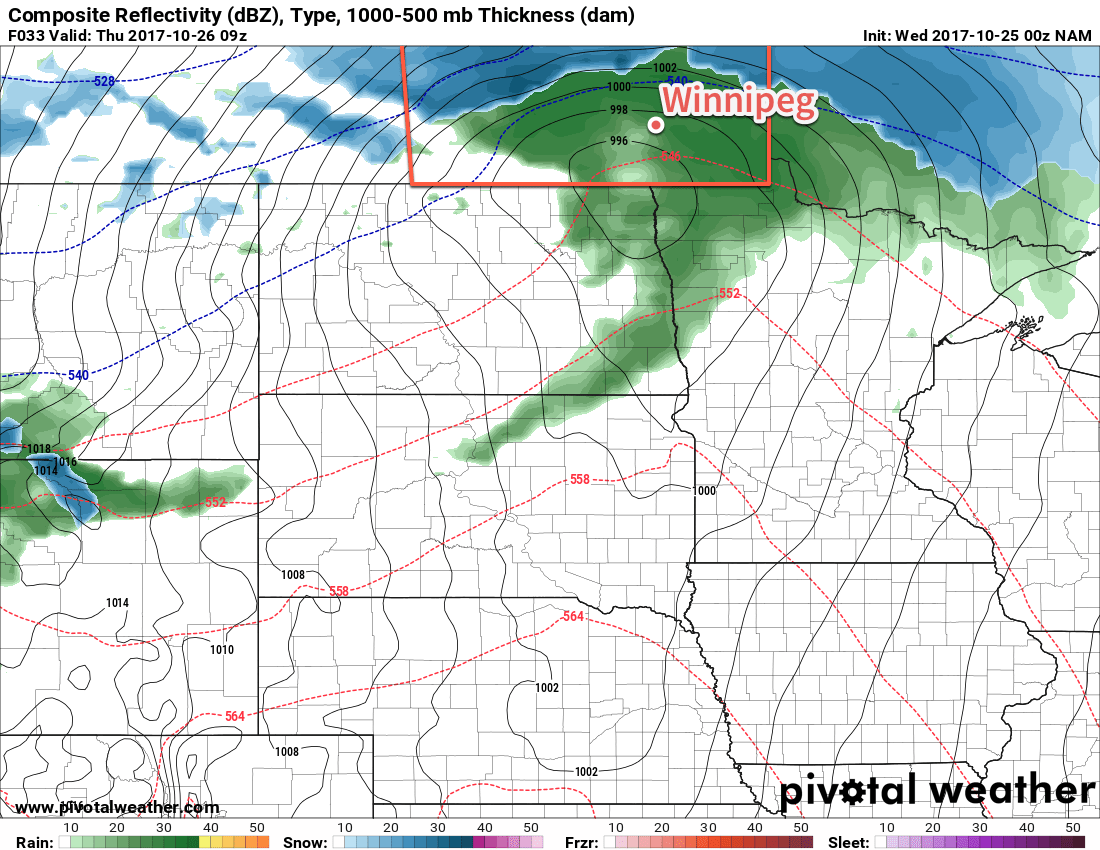 For those further west in the southwest corner of the province or in the Manitoba Parkland, rain will change to snow overnight with lower amounts of 2 to 5 mm of rain and a dusting of snow in the southwest and higher amounts of 5 to 10 mm of rain and 2 to 4 cm of snow. The exception to the snowfall amounts will the along the Riding mountains and western escarpment, where strong northerly winds will enhance snowfall amounts. Localized accumulations of 10 to 20 cm will be possible in these regions.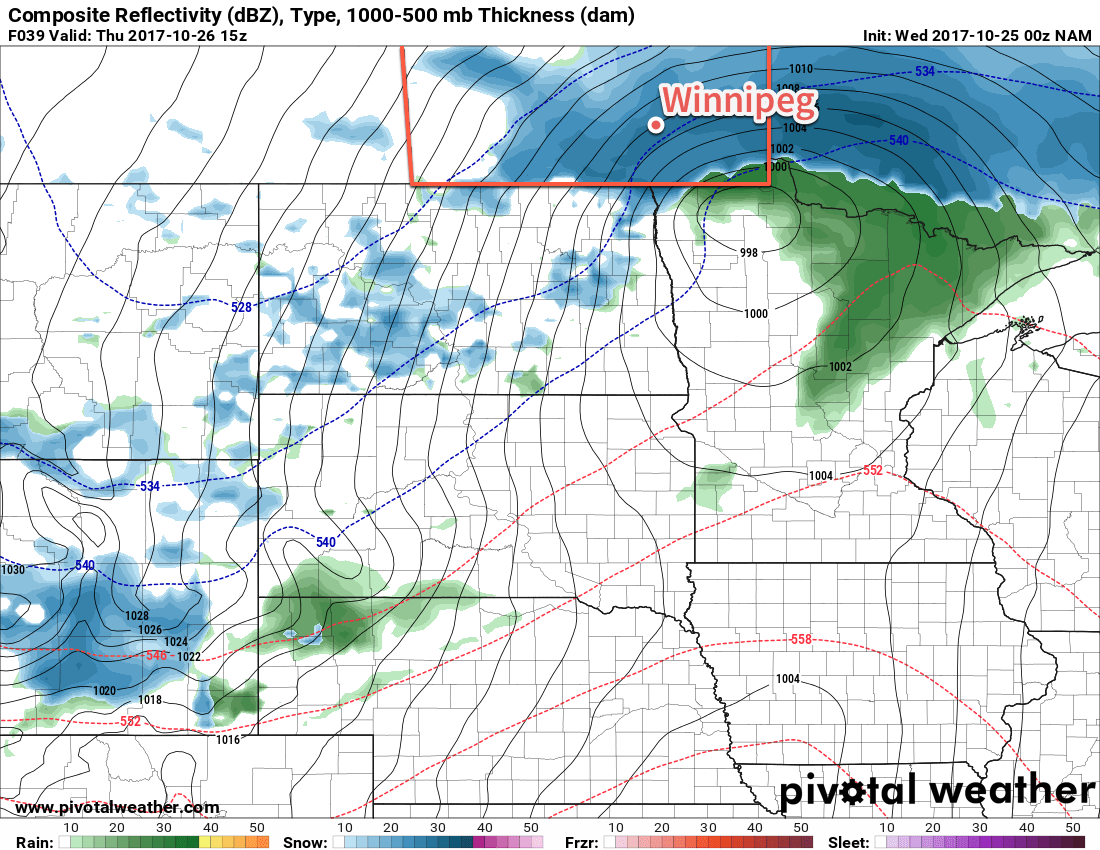 Rain will transition to snow – potentially fairly heavy at times – early on Thursday morning in Winnipeg and spread southeastwards quickly through the remainder of the morning. Temperatures will drop to around 0 to +1°C through the morning as the northerly winds further intensify to 50 gusting to 70 km/h with the chance for gusts as high as 80 to 85 km/h. The strong winds will combine with the heavier bands of falling snow to produce poor visibilities in blowing snow. Additionally, road conditions will likely deteriorate through the day, although will be very sensitive to temperature.1 By the end of the day, Winnipeg will likely see around 3-6 cm of accumulated snow, however it may end up a little more, or a little less, depending on how much manages to melt.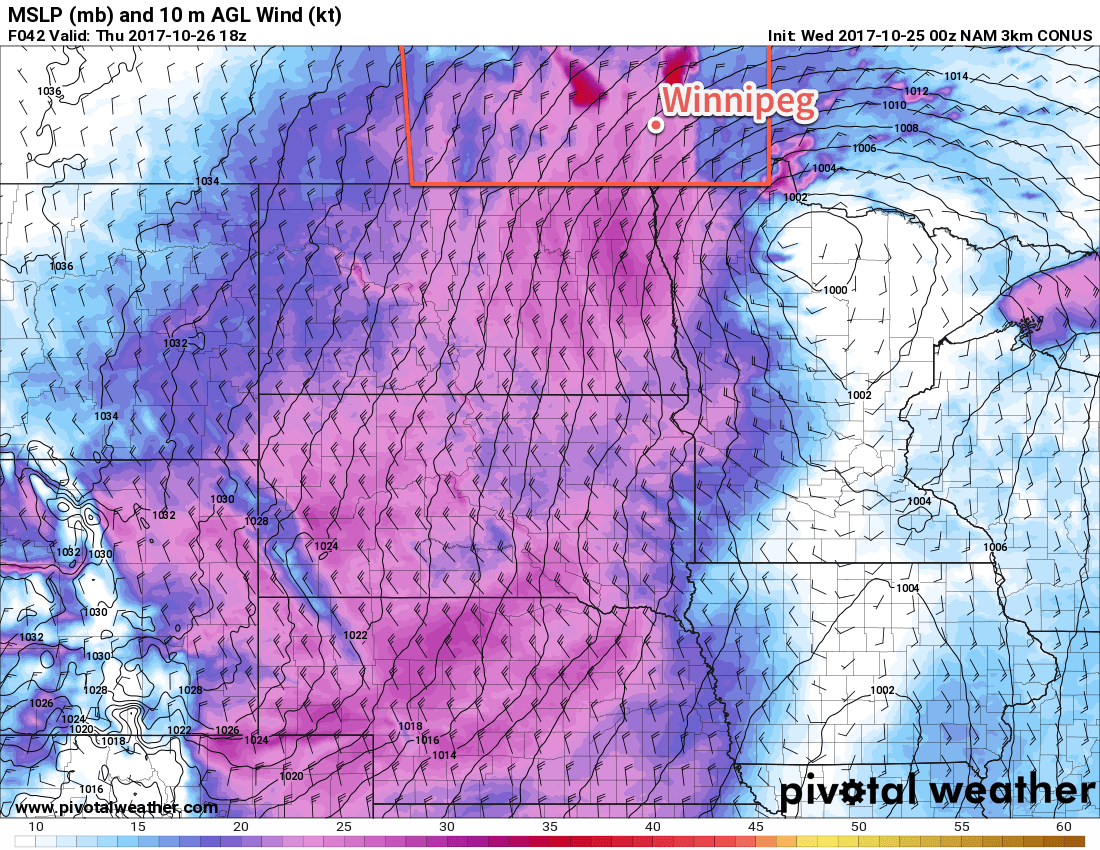 The strong winds will begin to diminish late in the afternoon, and then gradually taper off to around 20 km/h by Friday morning. The snow will ease to a few flurries in the afternoon and taper off by evening. Temperatures will dip to a low near -4°C.
So in summary, for Winnipeg, winds will intensify tonight to 40 gusting 60 km/h as rain moves into the region. Winnipeg can expect anywhere from 5-15 mm of rain tonight, but will switch over to snow early Thursday morning as winds increase further to 50 gusting 70 km/h. The gusty winds will persist through much of Thursday with moderate snow through the morning tapering off to flurries in the afternoon. Snowfall accumulations will be very sensitive to temperature, but it looks like the most likely outcome will be between 3-6 cm of snow, but should more intense bands develop over the city, up to 10 cm could pile up.
Friday will be comparatively pleasant, but cool. Winds will continue to taper off with partly cloudy skies and temperatures climbing to a high near +3°C. The clouds will clear out for Friday night as temperatures drop to a low in the -6 to -8°C range.
Long Range Outlook
The weekend looks like a bit of a mixed bag. Saturday will be cool but pleasant with a high near 5°C, light winds and fairly sunny skies. Things change on Sunday, though, as another low pressure system pushes into the province, bringing more cloud and the chance for more rain or snow.
Winnipeg's seasonal daytime high is currently 7°C while the seasonal overnight low is -3°C.
If temperatures remain closer to +1°C, roads will likely remain in relatively good shape until the freeze occurs on Thursday night, but if it dips closer to the freezing mark, area highways may become a bit slick through the afternoon. ↩