Today is off to a cold start after a cold front passed through the Red River Valley yesterday morning, ushering in winds up to 70km/h and some mixed-phased showers as the cooler air mass moved into the region. The cool-down will be short-lived, fortunately, as seasonal to above-seasonal temperatures will return for today & through the weekend.
Today and tomorrow's dominant weather feature will be a ridge of high pressure that will move through the region over the coming two days. With it in place, daytime highs will be cool at a seasonal or slightly below-seasonal 9–10°C. Winds will be light, and both tonight and tomorrow night will see overnight lows dipping below the freezing mark to around –2°C.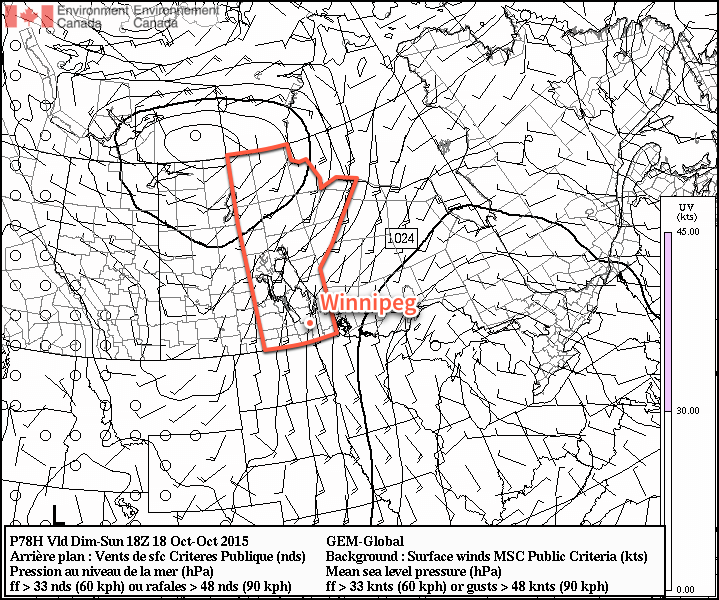 Sunday will see a sunny start to the day, but a bit of cloud push in for the evening and overnight hours. The biggest weather issue of the day will be strong southerly winds that develop as surface winds accelerate out of the ridge of high pressure to our east and are aided by the strong temperature gradient as warmer air moves in aloft.[1] As such, winds will increase–likely midday–to around 40–50km/h out of the south with some gustiness on top of it. It won't be severe-level winds, but it will certainly be a windy fall day. Temperatures will be slightly warmer at around 14°C, kept lower than the air moving in over us would suggest by the cool outflow winds at the surface.
The winds will taper off in the evening and temperatures will head to around 6°C for an overnight low under partly cloudy skies.
The Week Ahead
Next week is looking fairly unremarkable for the most part. There appears to be a slight chance of some rain mid-week, and other than that, it's nothing but sunny to partly cloudy skies and seasonal to slightly above-seasonal temperatures. Lovely weather for the second half of October.
---
Additionally, multiple models indicate the likelihood of enhanced anticyclonic curvature to the pressure gradient over the Red River Valley which, if true, will act to enhance the wind speeds.  ↩