A low pressure system and cold front moving through Manitoba today will bring morning showers or thunderstorms to the Red River Valley and a follow-up chance for rain this afternoon. Once this system clears out, there's good news ahead as the long-range forecast has shifted to a more optimistic outlook!
To start Friday off Winnipeg & the Red River Valley will see cloudy skies with a good chance of showers as a line of precipitation moves into the region from the west. That line should be through by 8 or 9AM, and then Winnipeg will be left with cloudy skies and a breezy southerly wind near 30 gusting to 50 km/h as temperatures climb towards a high near 24°C. Then, around 2-3 PM, the threat for thunderstorms will redevelop — primarily for Winnipeg south to the US border and areas east — as a cold front moves across the region. Strong thunderstorms are likely with this front with the potential for isolated to scattered severe storms. The main threat with this afternoon's thunderstorms will be large hail between the size of nickels and loonies alongside gusty winds. Things will calm down this evening as the wind swings around to the northwest and temperatures head to a low near 13°C.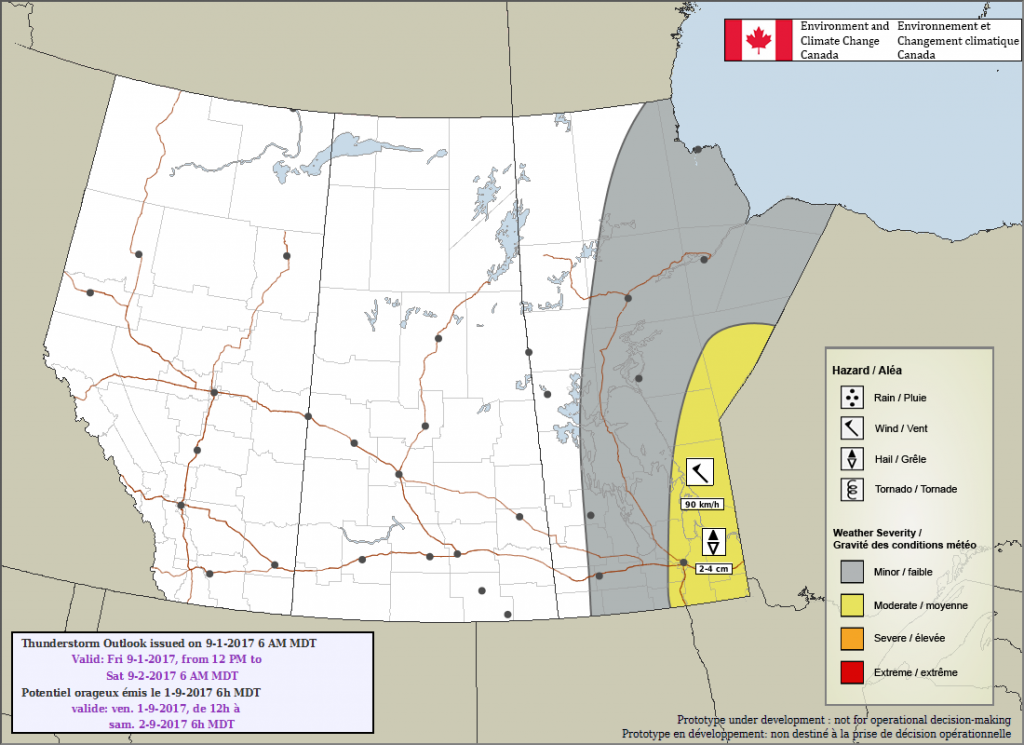 Late Saturday night into early Sunday morning, it appears a weak disturbance will roll through the region. It will mainly bring a bit of cloud to the region but there will be a small chance of some early morning showers on Saturday. Once it moves out, though, Winnipeg will be set for a beautiful day as weak ridging moves into the area, bringing mainly sunny skies, light winds, and temperatures in the mid-20's.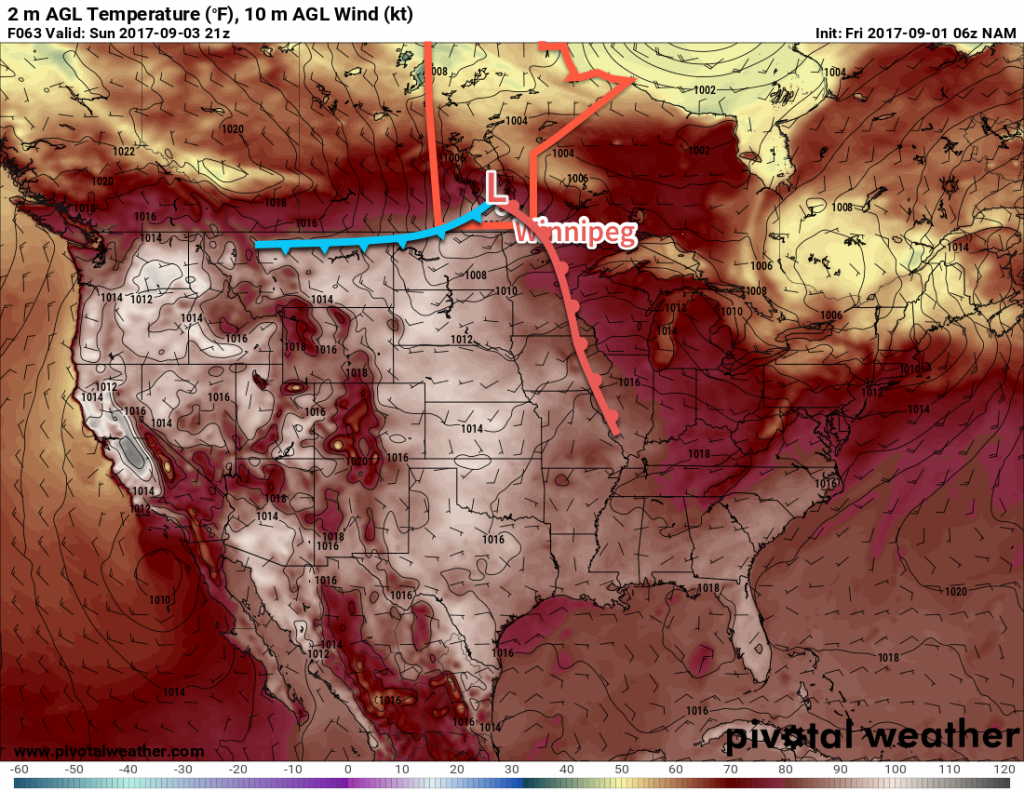 Another low pressure system is then forecast to move across the Interlake on Sunday, drawing very warm air eastwards and pushing daytime highs up in into the low 30's. Winds will be breezy out of the south at 30-40 km/h, and Winnipeg can expect partly cloudy skies. Temperatures will then dip back to around 13°C again on Sunday night with a breezy northwesterly wind.
Long Range
The long-range forecast is looking much better than it appeared it would be earlier this week! While a potent shot of cold air is expected to slide southwards behind Sunday's system, dropping high temperatures on Monday and Tuesday into the upper teens, the cool weather is now expected to be short-lived. Instead of being stuck on the edge of a large upper-level trough as an upper-level ridge sits over BC, models have moved towards a more progressive pattern, allowing the ridge to push eastwards relatively quickly. This means a return to seasonal temperatures by mid-week instead of week's end.
Otherwise, fairly quiet weather on tap for next week.
Winnipeg's seasonal daytime high is currently 21°C while the seasonal overnight low is 9C.