With temperatures into the 20s in the coming days, Winnipeg will see some beautiful late-September conditions. But a change late in the week will usher in a period of unsettled conditions.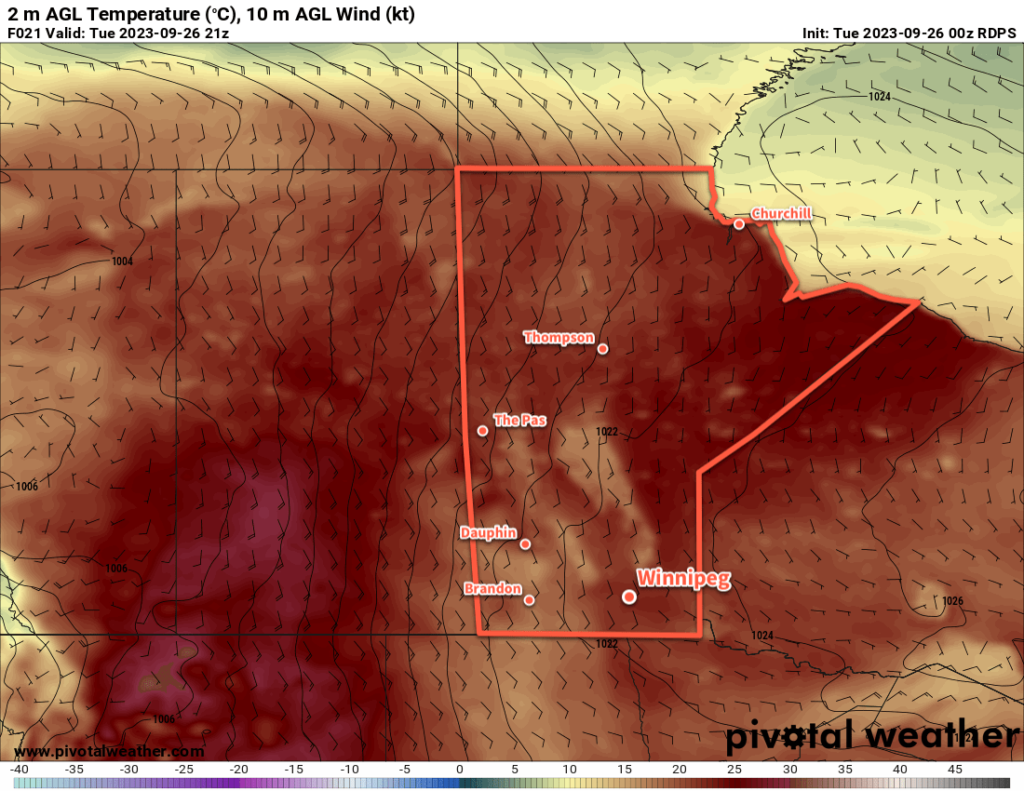 There will be no complaints about the next couple days in Winnipeg as an upper ridge brings sunshine and warmer temperatures back to the region. Highs will climb into the mid-20s today in Winnipeg with light winds as a weak surface ridge lingers over the region. Skies will be sunny through the day and into the night. Temperatures will dip down to around 10 °C tonight.
On Wednesday, temperatures will climb back into the low 20s as a few clouds build into the region along with breezy southerly winds. By mid-afternoon, most of the Red River Valley should see southerlies up into the 30 to 40 km/h range. Those winds will continue overnight in the 20 to 30 km/h range, keeping lows mild in the mid-teens. Along with the wind, skies will likely cloud over as a trough of low pressure moves towards the region.
On Thursday, winds will strengthen to 40 gusting 60 km/h by midday in the Red River Valley. These winds will be strongest just ahead of the warm-sector trough crossing through the Red River Valley. As the day progresses, a mid-level disturbance is forecast to eject northeastwards out of the United States; this could bring showers or non-severe thunderstorms to parts of southwestern Manitoba or the Red River Valley on Thursday afternoon. Temperatures will again climb to around the 20 °C mark.
A weak cold front will push through the region on Thursday night, clearing skies out and allowing the lows to dip back into the single digits.
Long Range Outlook
A series of disturbances will push over southern Manitoba heading towards the weekend thanks to a deepening long-wave trough on the west coast that will continuously eject shortwaves northeastwards. This will likely mean seasonably mild temperatures, mixed to cloudy skies, and chances for areas of showers almost each day.
Current forecasts hold this pattern until early next week, after which cooler air will push back into the region with a return to near-seasonal temperatures.
Today's seasonal daytime high in Winnipeg is 15 °C while the seasonal overnight low is +4 °C.