Winnipeg will see a relatively pleasant weekend after some much-needed rain that fell on Thursday night. Winter isn't done with the region, though, with a winter storm poised to slam the region by Monday.
A digging trough over western Canada will dominate the upper air pattern over Winnipeg through the coming days. This will bring near-seasonal temperatures and variable cloudiness. Today, the city will see mostly cloudy skies as the system that brought the overnight rain drifts eastwards. A few sunny breaks are likely, though, and should help get the daytime high up to around 10 °C. A brisk north wind will pick up today to around 30 km/h and persist until the evening before tapering off. Skies will clear tonight with a low near -2 °C.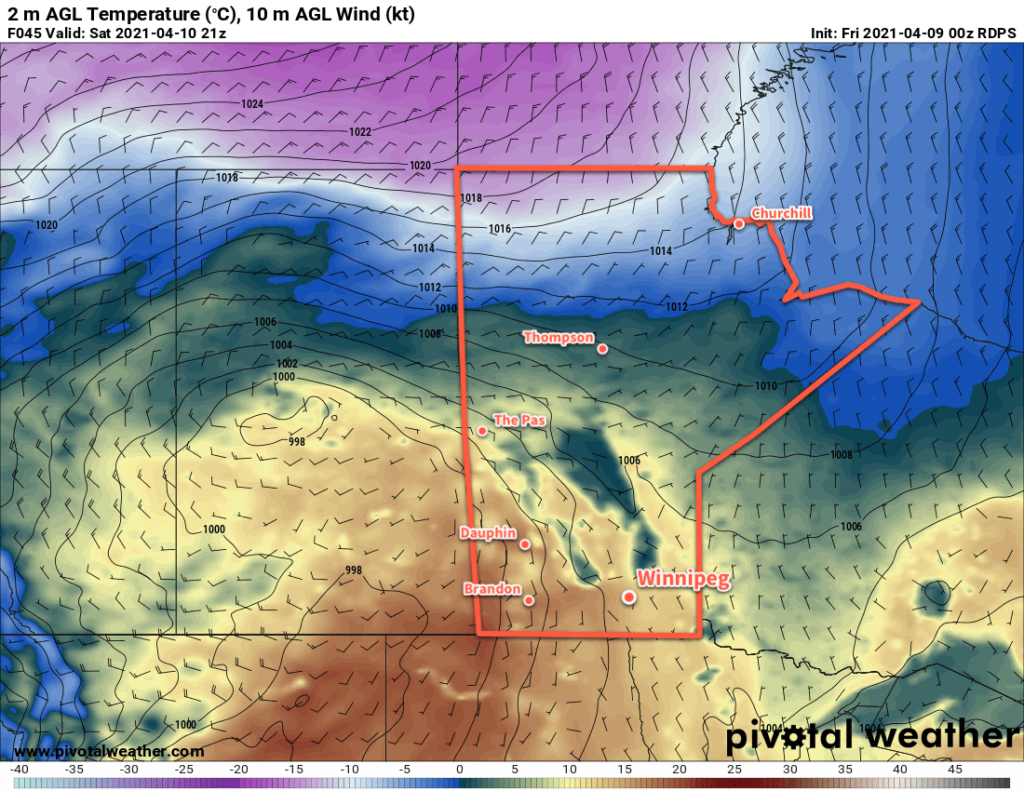 Saturday will be the nicest day of the next few as a weak ridge moves over the province. Winnipeg will see mainly sunny skies, light winds, and a high near 14 °C. There will be a few clouds overnight with a low near the freezing mark.
On Sunday, the region will begin to fall under the influence of a low pressure system moving southeast from Saskatchewan. Winnipeg will see increasing cloud through the day with a northeast wind picking up into the 20–30 km/h range. Temperatures will climb to a high near 10 °C.
Long Range Outlook
A major winter storm will move through Manitoba Sunday night through Tuesday, bringing significant snowfall to the region. Precipitation will spread through the province on Sunday night, and while some areas may see a bit of rain to begin, everything should change to snow by Monday morning. There is still significant disagreement in the forecasts where the heaviest snow will fall, but there is good agreement with some regions seeing up to 15–25 cm of snow. Unfortunately for Winnipeg, the range in forecast solutions is huge right now…from ≤5 cm of snow to over 20 cm. So at this point it's a matter of waiting and seeing how this begins to shape up closer to the event.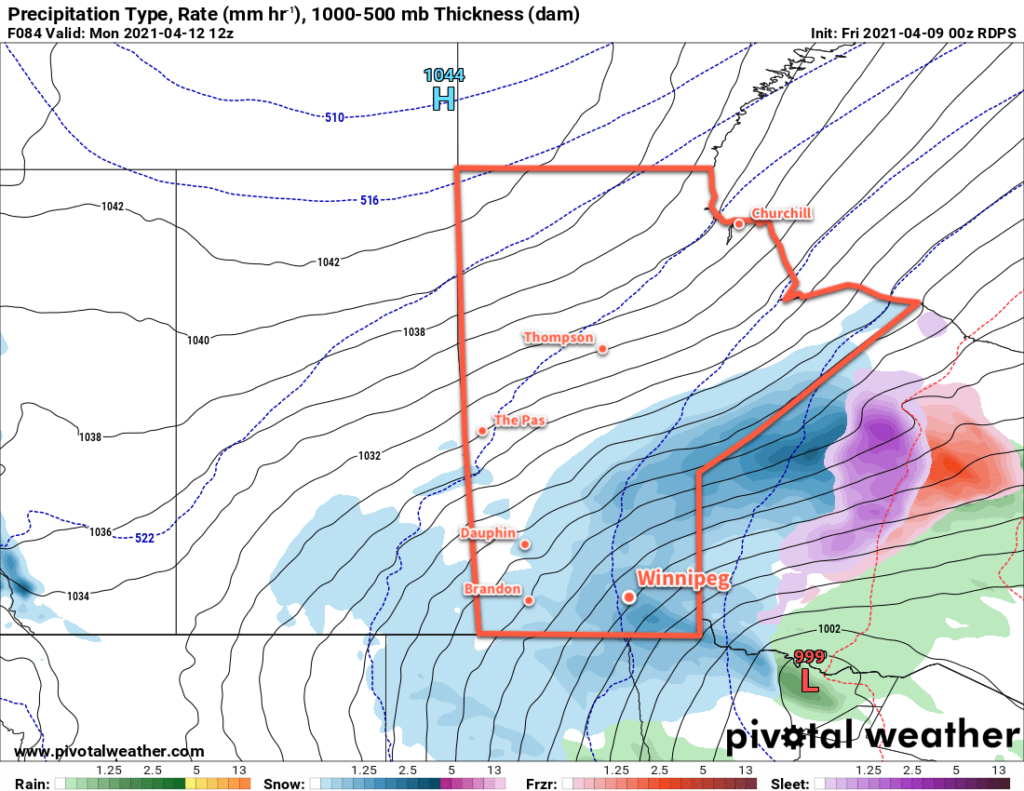 That said, it will likely impact most of southern Manitoba and provide much-needed moisture to alleviate some of the drought conditions. In the wake of this system, a slow return towards highs around 10 °C by the weekend is forecast with plenty of cloud cover, allowing the snow melt to gradually soak into the ground.
Today's seasonal daytime high in Winnipeg is 9 °C while the seasonal overnight low is -3 °C.