The temperatures look to remain above average for the start of this week as the storm track remains well to our north, and the cold Arctic air remains locked up to our north….for now.
Although today will be fairly warm, with a high near -5°C, the wind will be a factor in making it feel cooler than it actually is. Sustained southerly winds could reach 40km/h, with gusts in the 60km/h range tomorrow, in the afternoon and evening. The overnight low will be a fairly mild one, with temperatures only dipping to around -12°C.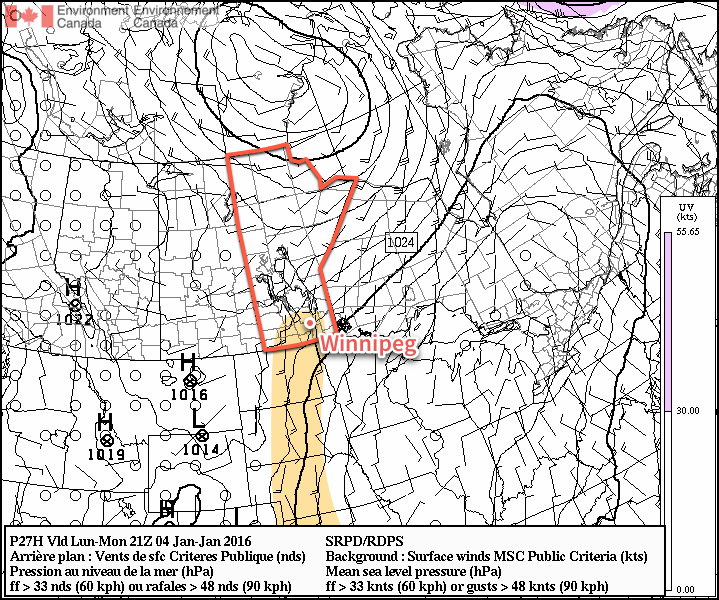 Tomorrow looks to be more of the same temperature-wise, with temperatures reaching -6°C. The strong winds should ease up early in the morning – only reaching 10-15km/h on Tuesday. Skies should remain partly cloudy throughout the day, but overnight cloud cover will increase, associated with a system to our south.
On Wednesday cloud cover is expected to persist and even a few flakes are possible in the morning and early afternoon, but amounts won't be significant. The high looks to be slightly cooler than previous days at around -8°C. North-easterly winds will be in place through the day but they won't be very strong; only around 10km/h or so.
Long Range
Long range models are hinting at a possible snow event at the end of this week. Right now models show the bulk of the snow staying to the southeast of Winnipeg, into northwestern Ontario though. Unfortunately, cold Arctic air will be advected into our region behind this system, resulting in normal to below normal temperatures by the weekend.