This week will start out warm, but a bit unsettled thanks to a series of low pressure systems that will pass through the region, bringing variable weather conditions.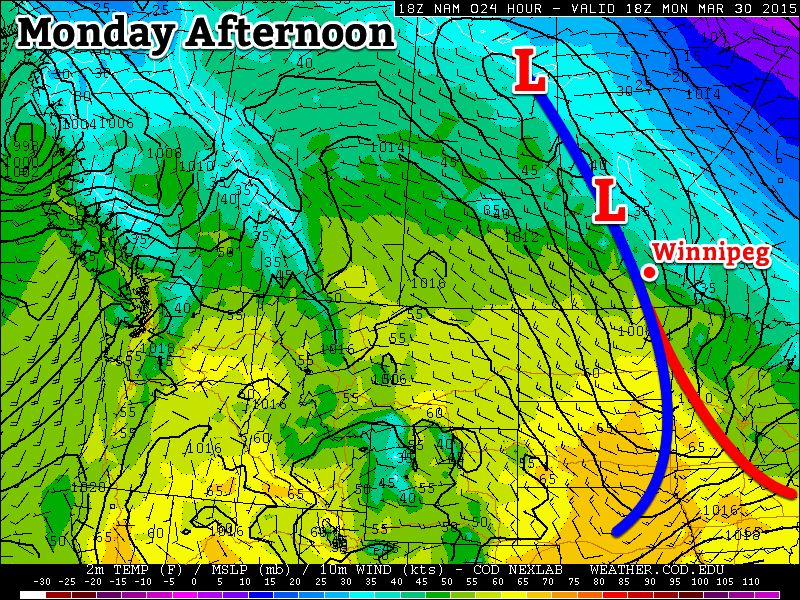 Monday
Monday
Mix of sun and cloud with chance of showers
Today will be a mixture of sun and cloud as a low pressure system passes through the region. This low may generate some shower activity in southern Manitoba, but accumulations will be small. A cold front will pass through in the afternoon, causing winds to pick up from the north-west. Temperatures should climb into the low teens in most areas making for a warm but slightly unsettled day.
Tuesday
Tuesday will be a nice day in southern Manitoba. There will be some cloud cover, but there should be more sun than cloud. Temperatures will climb into the low to mid teens with increasingly strong south winds. Overall, a pleasant spring day!
Wednesday
Wednesday
Mainly cloudy with showers
Wednesday will see the return of unsettled conditions as another low pressure system approaches the region. This system will be quite powerful, but luckily most of the heavy precipitation (and that in solid form) will remain to our north. We will nonetheless see some shower activity and mainly cloudy skies. Winds will shift from southerly in the morning to westerly in the afternoon.
Long Range
The long range forecast continues to look quite variable. After Wednesday's system exits the region we'll see markedly cooler weather as cold air floods down from the north. Following this cool-down it appears that temperatures will hover around seasonal values, give or take a few degrees.