The brief cool-down in the wake of a relatively short-lived, but potent storm will come to an end this weekend thanks to another low pressure system moving across the Prairies that will bring a warm front across the province over the next couple days.
Friday
Mainly cloudy with a chance of flurries
Saturday
Increasingly cloudy & windy
Today will see cloud moving in through the morning as a weak disturbance moves into western Manitoba. While this system will bring 2–4cm of snow west of the Red River Valley, here in Winnipeg we'll see just a slight chance of a light flurry or two. Further west in the Red River Valley – near Portage la Prairie S/SE down towards Morden & Winkler – will likely see a bit of light snow today, but no significant accumulations from it. Winds will be around 20km/h or so out of the south and Winnipeg will see a high temperature near –1°C. Skies will clear this evening as temperatures head to a low near –7°C.
Saturday will be a warm but windy day as a warm front moves into the Red River Valley. Temperatures will climb to an above-normal[1] 7°C under increasingly cloudy skies. Winds will pick up fairly early in the day and strengthen out of the south to 40–50km/h.
Saturday Night
Rain overnight
A low pressure system will track through Manitoba on Saturday night. The biggest impact from this storm will be felt in Central and Northern Manitoba where up to 10cm of snow may fall. Further south, we'll see an area of rain move across the region beginning early Saturday evening and tapering off sometime mid-overnight.
Generally speaking, somewhere between 2–5mm of rain is likely to fall. Winds will taper off in the evening as the Red River Valley moves into the trough of this system, and then pick up again out of the northwest once the low passes. The wind will likely strengthen to around 40km/h by Sunday morning.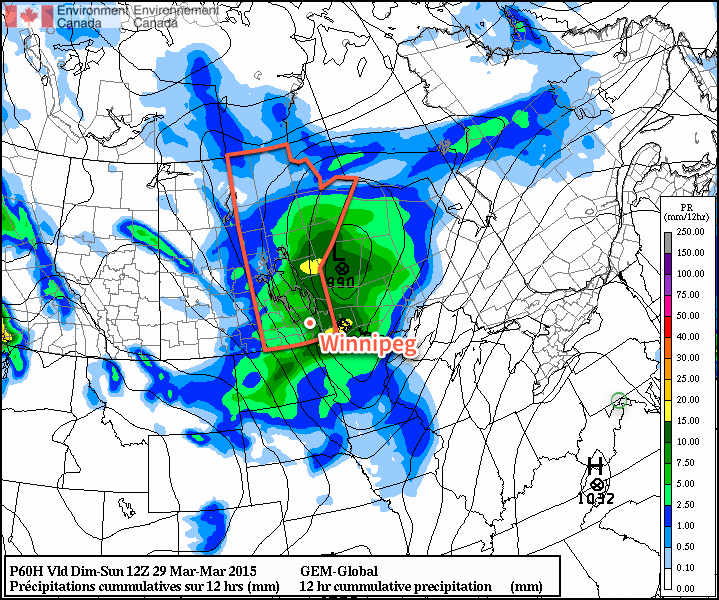 Sunday will see clearing skies and a high once again near 7°C. Winds will remain strong out of the northwest at 40–50km/h into the early afternoon before tapering off.
Long Range
The long-range forecast looks quite nice through the first half of next week. Both Monday & Tuesday look to bring fairly sunny skies and highs somewhere in the 5–10°C range. Things take a bit of a turn mid-week when a low pressure system is forecast to move across the Prairies and potentially bring another snow event to the Red River Valley.
---
Normal daytime highs for this time of year in Winnipeg are near +3°C.  ↩