Winter 2015-2016 brought just what was predicted to southern Manitoba: much warmer than normal conditions, a shorter winter and a lack of major snowstorms overall (except the week before Christmas).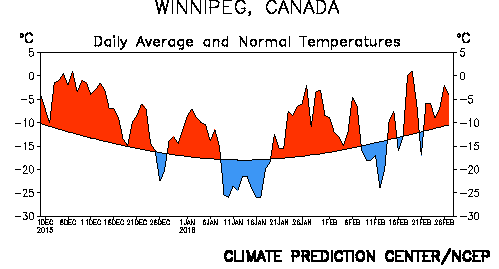 One of the Strongest El Ninos on Record
Whether or not this past winter featured the strongest El Nino on record has not been confirmed yet. There are many indices that measure the strength of El Nino and their values are still preliminary. Nonetheless, the Oceanic Nino Index (ONI) is one of the primary indices. It measures the 3-month average sea surface temperature departure from normal in the Nino 3.4 region (the central Equatorial Pacific Ocean). The ONI peaked at 2.3 in the November to January period, tied with the winter of 1997-1998 for highest on record since records began in 1950. Without a doubt, this past winter joined the winters of 1982-1983 and 1997-1998 for the top three strongest El Ninos since 1950.
| Category | Total/Average | Deviation From Normal | Rank (Since 1872) |
| --- | --- | --- | --- |
| High Temperature | -7.1°C | + 2.4°C | 13th warmest (tie) |
| Mean Temperature | -11.3°C | + 3.2°C | 9th warmest |
| Low Temperature | -15.4°C | +4.0°C | 7th warmest (tie) |
| Rainfall | 0.4 mm (est.) | - 4.2 mm | 69th rainiest (tie) |
| Snowfall | 85.0 cm | + 23.1 cm | 24th snowiest |
| Precipitation | 53.1 mm (est.) | - 1.2 mm | 60th driest |
A Top 10 Warmest Winter With a Lack of Cold Days
With an average mean temperature of -11.3°C in Winnipeg, winter 2015-2016 was the 9th warmest winter on record since 1872.
Top 10 Warmest Meteorological Winters (Dec-Jan-Feb) in Winnipeg Since 1872
| Rank | Mean Temperature | Year(s) |
| --- | --- | --- |
| 1 | -7.2°C | 1877-78 |
| 2 | -8.2°C | 1997-98 |
| 3 | -9.5°C | 1986-87 |
| 4 | -9.7°C | 2011-12 |
| 5 | -10.1°C | 1930-31 |
| 6 | -10.8°C | 1991-92, 2005-06 |
| 8 | -10.9°C | 1982-83 |
| 9 | -11.3°C | 2015-16 |
| 10 | -11.6°C | 1999-00 |
There was a notable lack of cold days from December to February with just 30 days dipping below -20°C. This was well below the 1981-2010 normal of 46 days and tied with the winter of 1918-19 for 8th least -20°C days since 1872. In addition, only 1 day dipped below -30°C, the third least -30°C days on record since 1872. The winters of 1930-1931 and 2011-2012 were the only ones to not see one day below -30°C and this winter was the only one to see just 1 day below -30°C. The 1981-2010 normal is 13 days below -30°C.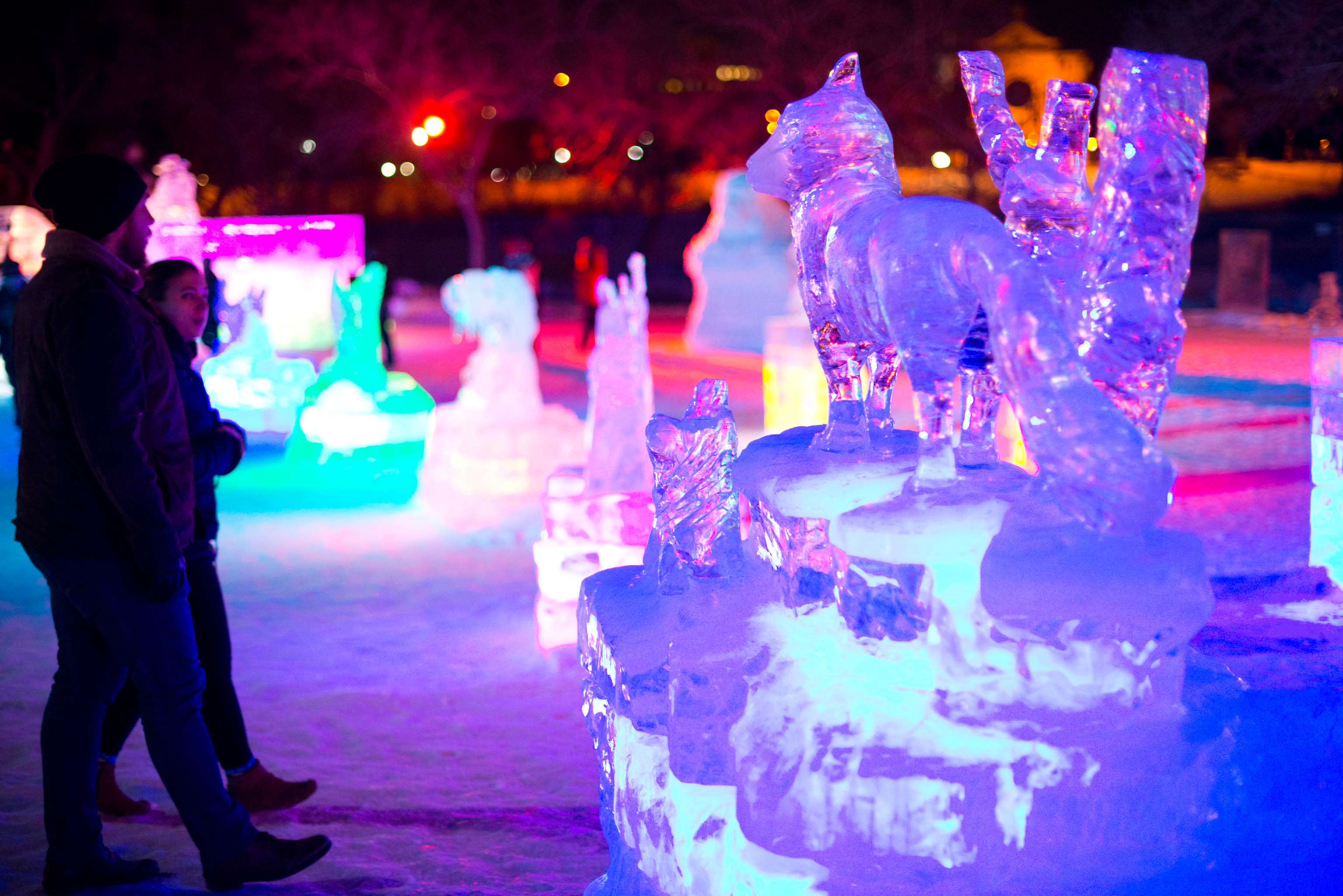 Winter's Late Arrival
A significant warm spell occurred in the first half of December, delaying the arrival of sustained winter conditions until mid December. In fact, it was the second warmest first half of December on record since 1872 in Winnipeg with an average mean temperature of -3.0°C. 14-consecutive days from the 3rd to 16th never dropped below -9°C and 8-10 days exceeded freezing. The only record broken during the warm spell was on December 9 when a high of 5.6°C at the airport broke the old record of 5.1°C in 1990. No snow was on the ground in parts of southwestern Manitoba and in the Morden-Winkler area allowing temperatures to reach double digits. In Morden, four days exceeded 10°C, three of which were record highs. The high of 14.2°C on December 4 was the third warmest on record in December since 1904. Some thermometers reportedly reached 15°C, more typical of late September or early October. A similar milestone was reached in Brandon with a high of 11.1°C on the 4th, the third warmest temperature in December since 1890.
In the end, it was the 9th warmest December since 1872 in Winnipeg with an average mean temperature of -8.1°C.
Stormiest Part of Winter
Winter, once it finally arrived, came in with a bang on December 16 thanks to a major Colorado Low. About 20 cm fell in Winnipeg, 18 cm of which fell on December 16 alone breaking the old record of 8.4 cm in 1942 for the day. Two additional snowstorms before Christmas dumped another 20 cm. Thanks to the snowfall, snow depth in Winnipeg sat at 30 cm on Christmas morning, the deepest snow pack on Christmas Day in 15 years (since a 30 cm depth in 2000). In total, 44.0 cm of snow fell in Winnipeg in December, 83% above normal and the 12th snowiest December on record since 1872.
January and February – Mild With Just Two Brief Cold Spells
The worst cold spell of the winter was in early to mid January from the 9th to the 19th. 5 days never rose above -20°C. The coldest night of the winter was on the 17th with a low of -32.3°C, the only -30°C day of the winter. Another brief cold spell occurred from February 8th to 13th, but was not very significant. The coldest temperature was only -27.9°C. Other than that, conditions were near to above normal, making for an easy mid-winter. It was warmest in late January and late February with a combined 8 days above freezing in Winnipeg. The late January warm spell in particular was sufficient to erode much of the snowpack in southwestern Manitoba thanks to warm temperatures and rainfall. Fields were nearly bare from Morden to Melita. Without much snow in February, these areas maintained a very thin to non-existent snowpack up until March. This allowed for warmer temperatures with highs reaching 9°C in Melita in early and late February.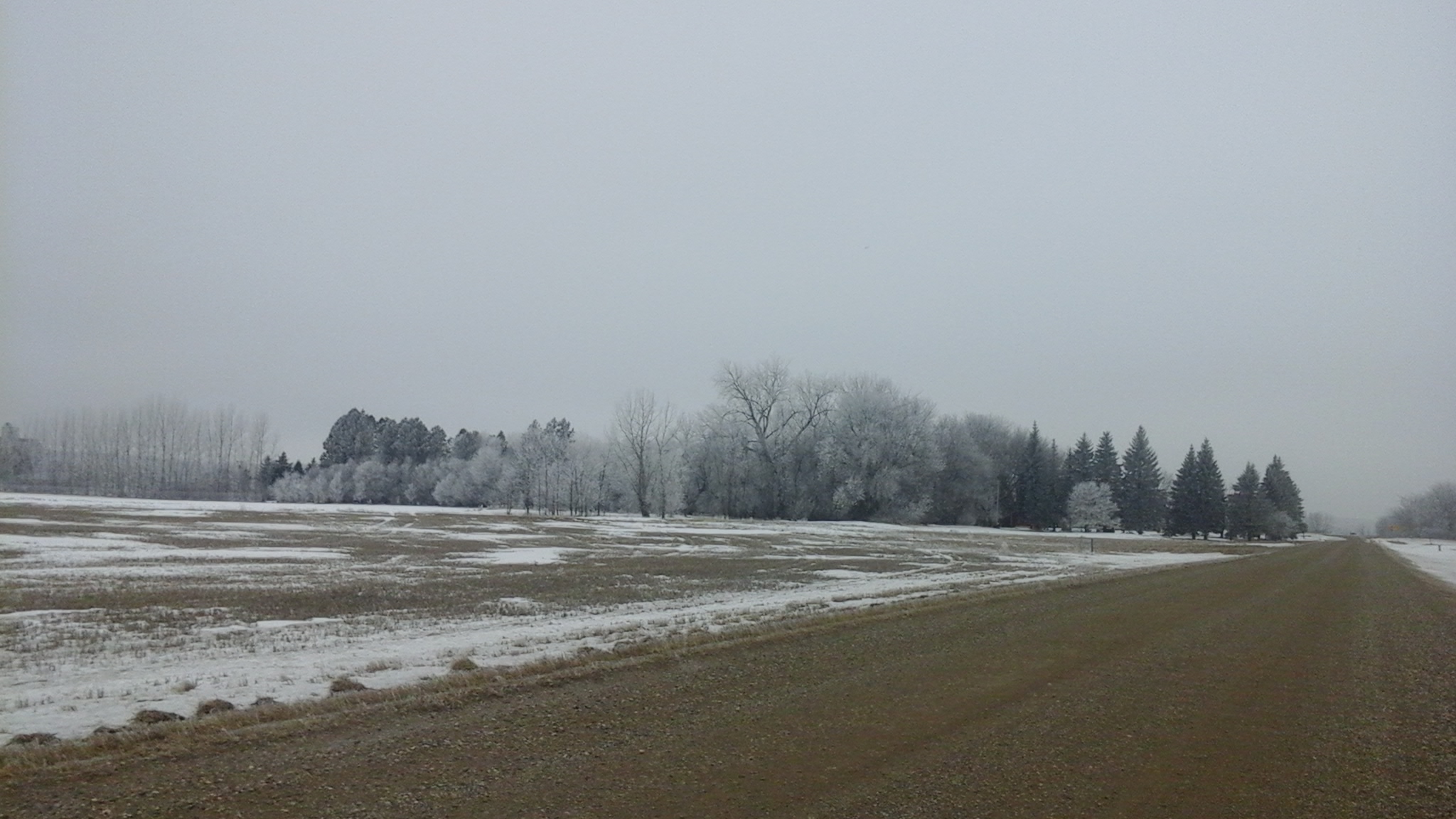 In the end, January averaged -14.6°C in Winnipeg, 1.8°C above normal and tied 29th warmest since 1872. February averaged -11.1°C, 2.4°C above normal and tied 22nd warmest since 1873. This was only the second warmer than normal February since 2005.
February Thundersnow
Even some thundersnow occurred not far from the US border in late February, an extremely rare event in this area. One lightning strike was recorded northeast of Altona just after midnight on February 23. Even stronger thundersnow occurred just south of the border near Langdon, ND in the evening on February 28.
Remarkably Warm February Out West
The further west you went in the Prairies, the warmer it was in February. Cold snaps generally remained to the northeast and there was little to no snow on the ground from Melita, MB westward to Calgary, AB. Persistent warmth was the story in this area, especially in southern Alberta. After February 3rd, every single day exceeded the freezing mark in Calgary and this streak has continued into March. In addition, 7 days in February reached double digits with a monthly high of 16.9°C on February 26. There was also a lack of snow with not a single snowfall from February 2nd to 27th. With just 1.8 cm, it was the 5th least snowy February since 1885 in Calgary. Lethbridge, AB was even warmer in February with 15 days reaching double digits. Saskatchewan also received this extreme warmth. Only 11 days failed to exceed the freezing mark in Regina. The monthly high was 13.2°C on February 26, the second warmest temperature on record in February since 1884.
From east to west, here's how February averaged and ranked across the southern Prairies:
| City | Average | Deviation From Normal | Rank |
| --- | --- | --- | --- |
| Winnipeg, MB | -11.1°C | + 2.4°C | 22nd warmest (tied) |
| Brandon, MB | -9.3°C | + 4.3°C | 7th warmest |
| Regina, SK | -4.5°C | + 7.6°C | 4th warmest |
| Calgary, AB | 1.4°C | + 6.8°C | 2nd warmest |
North Dakota Record February Warmth
The warmth was also extreme to our south in North Dakota. Bismarck, located in southwestern North Dakota, reached a record 23°C on February 27. This was the warmest temperature ever recorded in North Dakota in February, breaking the old record of 22°C in 1992.