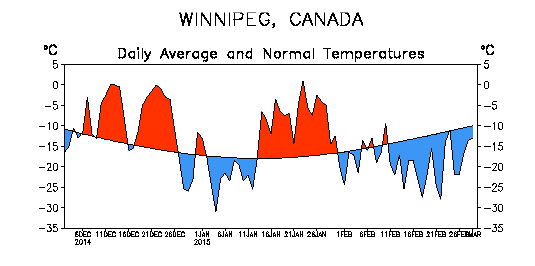 This winter has been much easier to handle compared to last year. Despite frigid conditions returning in February, meteorological winter 2014-2015 still averaged close to normal thanks to warm conditions in December and January. The 3-month period averaged -14.3°C, just 0.2°C above normal. This is 6.0°C warmer than last winter!
Meteorological winter rankings for Winnipeg

| Category | Winter 2014-15 Total/Avg. | Rank (Since 1872–73) |
| --- | --- | --- |
| High Temp. | –9.5°C | Tied 42nd Warmest |
| Mean Temp. | –14.3°C | Tied 33rd Warmest |
| Low Temp. | –19.0°C | Tied 35th Warmest |
| Rainfall | 1.2 mm (est.) | 48th Rainiest |
| Snowfall | ~ 43 cm | 28th Least |
| Precipitation | ~ 31 mm | 9th Driest |
Mild & Lack of Snow in December and January
December was the warmest month of the winter, averaging -10.0°C. This was 3.5°C above normal and a whopping 10.9°C warmer than in 2013. Many people would probably remember December for its gloominess however. Several consecutive days of cloud, fog and freezing drizzle occurred. In fact, freezing drizzle fell on 7 days. The cloud kept our daytime highs cooler than they could have been, but helped keep us warm at night. In fact, 3 daily high minimum records were broken. Most notable was a low of -0.5°C on December 12 which broke the old record of -3.9°C back in 1877, Winnipeg's warmest December on record. Sunshine made more of an appearance in southwestern Manitoba where highs well above zero occurred. Even a few double digit highs were recorded close to the US border. For instance, Deloraine reached 10.3°C on December 11.
There was also a lack of snow in December. Just 7.2 cm fell in Winnipeg, the 16th least snowiest December since 1872. In addition, snow depth never rose above 10 cm. Some areas close the US border even experienced a brown Christmas. The photo below is from Emerson on Christmas Eve morning.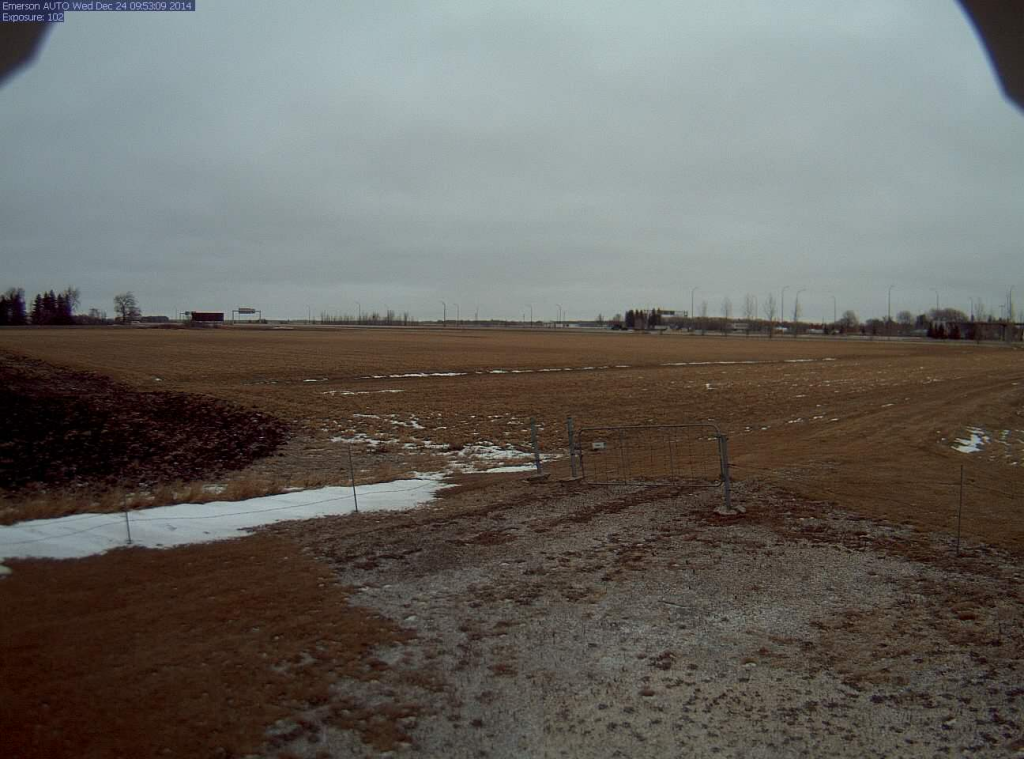 After a cold snap to start 2015, the warmth returned mid January. Temperatures exceeded the freezing mark, nights were unusually mild and what little snow there was on the ground was melting. In the end, January finished 2.7°C above normal, tying with 2010 for 19th warmest. Thanks to melting, snow depth was just 12 cm at the end of the month, the 12th thinnest snow pack at the end of January since 1941.
In total, 11 days in December and January exceeded the freezing mark in Winnipeg, above the normal of 7 days.
February Cold Snap
Winter made its presence well known in February. The month was awfully reminiscent of last year with seemingly endless colder than normal conditions. The month averaged -19.2°C, 5.7°C below normal and the 27th coldest February since 1873. 21 days dipped below -20°C, above the normal of 14 days. The monthly high was a measly -3.1°C. In fact, only 6 days rose above -10°C, tied 10th least since 1873. This February was the 10th colder than normal February in the last 11 years. Since 2005, only 2012 had a warmer than normal February.
Lack of Snow This Winter
Approximately 43 cm of snow fell from December to February (exact amount to be confirmed), about 19 cm below normal. Even more unusual, only approximately 31 mm of precipitation fell making it the 9th driest meteorological winter since the winter of 1872/1873. Now in March, snow depth only sits around 20 cm in Winnipeg.
A Look Back at 2014
I will end this post with a quick look back at the cold year that was 2014. The year averaged 1.2°C, 1.7°C below normal. In fact, it was the coldest year since 1996. Although it was only tied 28th coldest since 1873, it was the 9th coldest in the last century. This was in large part thanks to the very cold winter and spring we experienced.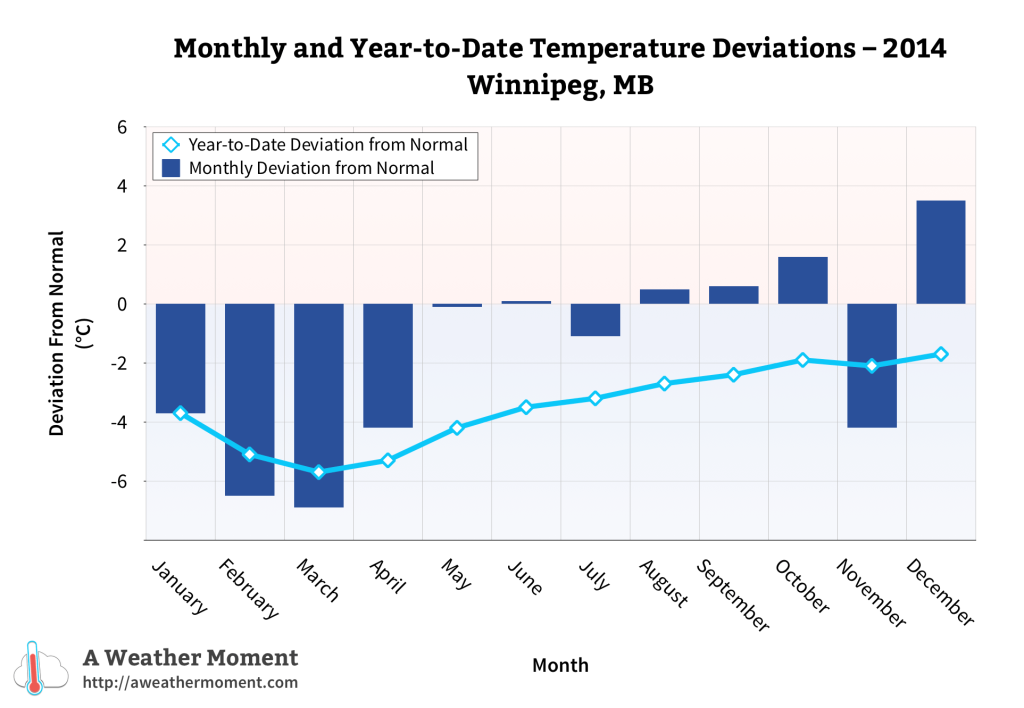 As for precipitation, 2014 was slightly drier than normal in some parts of the city and wetter than normal in others. Approximately just less than 500 mm of rain fell officially at the airport, slightly below the normal of 527 mm. It was wetter in southern and southwestern parts of the city where heavy thunderstorms dumped locally flooding rains in the summer. Well over 400 mm of rain fell in these locations. At my place in South St. Vital I recorded 450.0 mm of rain and 550.6 mm of precipitation.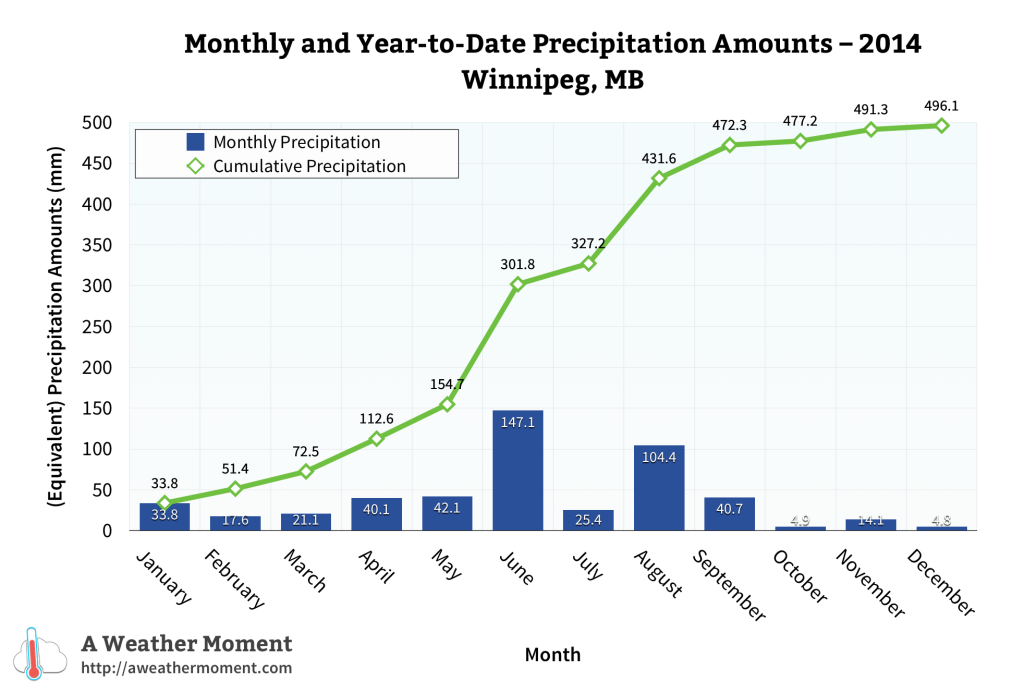 Overall, snowfall was close to normal with 118.4 cm (normal is 117.3 cm). Nearly 80% of this fell from January to April. As mentioned already, there was a notable lack of snow in December.
---
Note: Unless otherwise noted, all normals stated in this post are the 1981-2010 normals. I use the normals that I have calculated which you can see anytime by following this link.