A Colorado Low is bringing a major early-season winter storm to southern Manitoba that ranges from rain to a crippling blizzard.
Because the storm is ongoing and long-lasting, we are not issuing a standard forecast today. This is a complex and dynamic system that requires constant monitoring as the snow/rain line wiggles around the region. We strongly encourage you check your local weather forecast from ECCC and the weather warnings in your area.
As a general overview, a Colorado Low will gradually move into southeastern Manitoba today. Waves of rain will spread westwards, transitioning into moderate to heavy snow over the Red River Valley and areas west. Storm total snowfall will range from a trace all the way up to in excess of 50 cm. The most snow will fall in upslope areas of the Turtle Mountains, Riding Mountains, and the western escarpment of the Red River Valley. The snow that is falling will be wet, heavy snow, resulting in significant snow loading on trees and infrastructure.
Complicating matters will be strong north-northwest winds with widespread gusts in the 70 to 90 km/h range. These strong winds, combined with the heavy snow, will produce poor visibilities and an elevated risk of damage to trees an infrastructure. Over 23,000 people were without power on Thursday evening and the widespread power outages will likely continue today as well.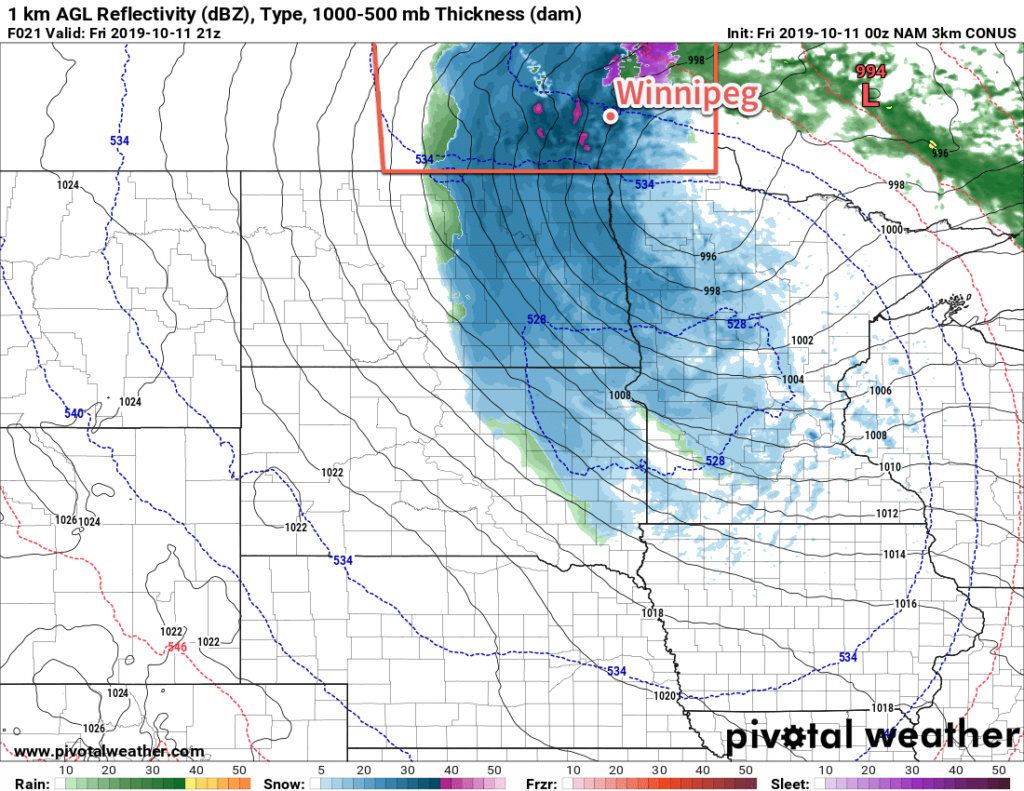 The storm will gradually ease across the region on Saturday, leaving just a few flurries or showers for Sunday.
Today's seasonal daytime high in Winnipeg is 12°C while the seasonal overnight low is +1°C.