The consensus is in: it seems overwhelmingly likely that Winnipeg will see a major winter storm bringing significant snow and blizzard conditions beginning midday on Christmas Day and persisting through Boxing Day.
The Lead-Up
Today and tomorrow will both be fairly benign days. Today will bring above-normal temperatures with a high near -4°C and light winds. A bit of cloud will be around but it should be a fairly sunny day overall. A weak cold front will swing through late this afternoon, bringing in northwesterly winds to around 20 km/h and cooler temperatures. The low tonight will drop to about -15°C with increasing cloud.
Tomorrow will be a mainly cloudy day with a much cooler high temperature near -12°C behind that cold front. Winds will continue out of the north to northeast at around 20 km/h. Temperatures will drop to a low near -15°C once agin on Saturday night with a good chance of light snow spreading into the Red River Valley from the southwest through the second half of the night.
Major Winter Storm For Christmas
The major story here is the significant winter storm set to impact Southern Manitoba on Christmas Day.
The system is currently develop off the western coast of North America. This satellite animation, taken from midnight last night, shows the long-wave trough that will evolve into a major winter storm beginning to dig southwards as it approaches the western United States. At this point, it looks like snow will intensify through the day on Sunday, with the most potent part of the storm impacting the Red River Valley roughly from 12PM Christmas Day through 12PM Boxing Day.
If you have travel plans for Christmas Day or Boxing Day, this storm will almost certainly disrupt them.
Christmas Day will start with some light snow over the Red River Valley that will intensify rapidly midday as a very potent low pressure system lifts northwards into North Dakota & Minnesota. The heaviest snow will move in by Sunday evening and persist until late Monday morning. By all indications, the snow will be relentless on Sunday night with rapid accumulations. Through this period, the wind will also be increasing out of the northeast to 40-50 km/h. The heavy snow overnight combined with strong winds will produce blizzard conditions through the Red River Valley with zero or near-zero visibilities. There is a high likelihood that most highways will be closed through the night.
The wind and snow will taper off on Monday. Fortunately, without a potent high pressure system building in from the northwest, a weak trough line hanging back across the province from the low will break up the strong winds. This should limit the period of worst travel conditions, with it seeming likely that by Monday afternoon highway travel will be possible again, although likely still slow.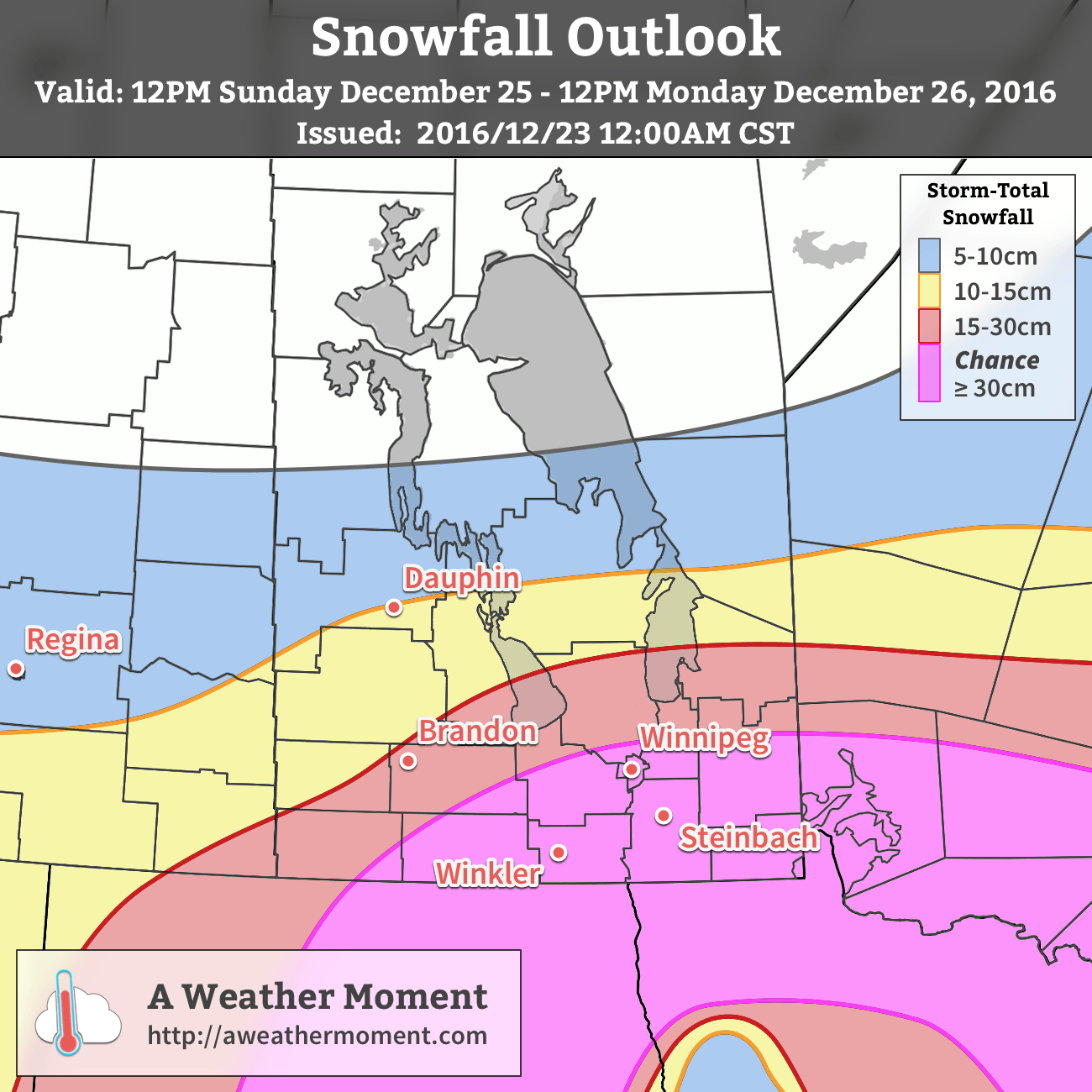 When all is said and done, the snowfall from this system should be quite impressive. Widespread amounts of 15-30 cm will be seen across the region, with areas south of a line running roughly from Pilot Mound through Winnipeg and Pinawa having the chance of seeing snowfall totals creep above 30 cm. At this point it looks like 30-35 cm would be the upper end of the potential snowfall totals, but there is high confidence in amounts of 20-30 cm.
Light snow and flurries may linger through the remainder of boxing day before gradually tapering off overnight or early on the 27th.
Winnipeg's seasonal daytime high is currently -12°C while the seasonal overnight low is -22°C.