The effects from the low pressure system responsible for yesterday's dump of snow over southeastern Manitoba will linger for one more day before moving off and returning us to sunnier skies.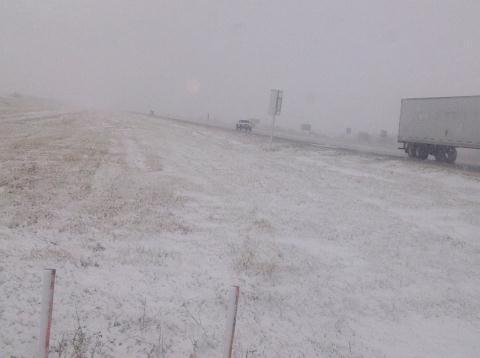 We'll see widespread flurries over the Red River Valley today, however the potential exists for significant accumulation in the lee of Lake Manitoba and Lake Winnipeg. Brisk northerly winds, combined with strong instability over the still-warm lakes, will advect fairly strong lake-effect snow bands southwards off the lakes. These will be long, narrow features that will depend significantly on the wind direction. Currently, it appears that the heaviest flurry activity will be along a N-S line near Portage la Prairie, and another N-S line just east of Winnipeg. Should the winds back to a little more NE than northerly, Winnipeg could certainly see some of the action. Most locations that see just general flurry activity will likely receive 2-4cm of snow; how much actually stays on the ground will be highly dependent on what the pre-existing ground cover is like. Areas that have mostly bare ground right now should have enough heat coming off it to melt most of the new snow that falls. Areas in the eastern half of the Red River Valley, which already have had 10-20cm of snow fall, will definitely see the snow slowly pile up on top of the existing stuff. For those that get caught for any significant period of time under the lake-effect bands of snow, 5-10cm is certainly possible, if not even a bit more than that.
Winds will remain fairly strong today out of the north at around 40km/h with gusts to about 60km/h. Temperatures will struggle through the day, with plenty of cloud and cold advection occurring; we'll probably only see 2°C or so..perhaps up to 3°C.
Things begin to improve tonight; winds will die down this evening and the cloud cover will start to clear as a ridge pushes into southern Manitoba from the northwest. Temperatures will hover around 0°C until the clouds break up, then temperatures will drop to about -5°C for the remainder of the night.
For Saturday, we'll see sunny skies over southern Manitoba as we sit under the influence of an arctic ridge. Temperatures will only climb to about 7°C, so it will remain fairly chilly despite the sunshine.
On Sunday we'll see increasing cloud throughout the day and a high of about 8°C. The cloud is coming ahead of a low pressure system dropping southwards from the Arctic along a reinforcing blast of cooler air. Showers will push into portions of the northern Red River Valley overnight, with the more organized precipitation looking to fall over the northern and eastern Red River Valley into the Whiteshell on Monday. Currently, it looks as though this precipitation will fall as rain.