A line of severe thunderstorms tore across southeastern Saskatchewan and southwestern Manitoba yesterday producing widespread damage due to rain, hail, and what is increasingly likely a tornado.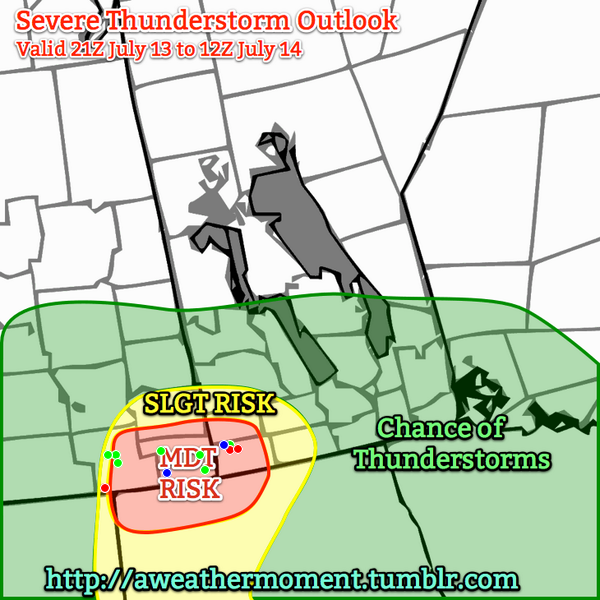 A potent severe weather setup was in place yesterday as a trough of low pressure began to move it's way from Alberta into the hot, humid air that was pushing into SE Saskatchewan. Ample moisture, heat, instability and wind shear was in place for the development of severe thunderstorms and – given the strongly veering wind profile – the likely development of tornadic supercells. With this in mind, we issued our morning severe weather outlook with a moderate risk for severe thunderstorms in the Estevan, Carlyle, Moosomin, Virden & Melita forecast regions, with a slight risk extending further eastwards into the Pilot Mound & Brandon regions.
Saskatchewan Pounded By Large Hail
Storms developed earlier than expected; by 1900Z there was a supercell taking shape not too far SW of Weyburn, SK. This supercell ended up being the storm of the day, lasting over 8.5 hours before finally dying near the U.S. border near Gretna, MB. A line of storms quickly developed extending from the main supercell SW into Montana. It rapidly developed into a line of 5 or 6 supercells that all began rotating quickly and producing torrential rain and extremely large hail. Environment Canada had issued a tornado watch for the region around 9:30AM local time which mentioned the threat for supercell thunderstorms capable of producing torrential rain and large hail in addition to the threat for tornadoes.
The reports began flooding in on #SKstorm as the severe storms began impacting larger communities. Environment Canada issued a timeline of reports it received that went like this:
| Location | Time (Local) | Report |
| --- | --- | --- |
| Weyburn | 1:49 PM | Quarter size hail |
| Hume | 2:00 PM | Loonie hail |
| Weyburn (8 km W) | 2:21 PM | Golf ball hail |
| Arcola | 2:43 PM | Funnel cloud |
| Kisbey | 2:45 PM | Quarter size hail |
| Weyburn (5 km W) | 2:55 PM | Golf ball hail |
| 13 km SE Weyburn | 3:00 PM | Grapefruit size hail |
| 16 km SE Weyburn | 3:00 PM | Golf ball hail |
| Minton (13 km S) | 3:15 PM | Possible brief tornado |
| Forget | 3:20 PM | Golf ball hail |
| Lampman | 4:19 PM | 50 mm rain, 80 km/h gust |
| Redvers | 4:29 PM | Toonie size hail |
| Oxbow (8 km N) | 4:45 PM | 50 mm rain in 15 minutes |
Photos that began coming in on Twitter were pretty incredible. Tight lowerings on storms were showing that they were spinning quite intensely and numerous funnel clouds were spotted. But int the end, the big story in SE Saskatchewan was the rain and hail.
There were numerous reports of tennis ball sized hail upwards to one report of grapefruit sized hail (a grapefruit is around 9cm wide). The hail produced by these storms produced significant damage to crops in the region as well as to personal property, with many reports of car windshields being broken by the hail and images showing up on Twitter of house windows being smashed.
Flooding was also a problem in numerous places as the storms dumped unbelievable amounts of rain. At some points, rainfall rates exceeded 200–225mm/h as torrential rain brought zero-visibility conditions. @NickTheBody caught the snap above of the flash flooding that occurred in Bienfait, SK after a thunderstorm rolled through.
As the storms pushed further east, however, they began to take on some very ominous characteristics. As the storms pushed deeper into the moist, warm air the winds at the surface began to back a little bit more; further west surface winds were mostly out of the south, but as they moved towards the Manitoba border the surface winds became more and more southeasterly. Very quickly strong rotation began to show up on RADAR, with the main supercell we've been tracking showing a very intense velocity couplet as it moved towards Carlyle, SK. The storms had always shown rotation since nearly the beginning of their lifespan and had the capability to produce tornadoes at any time, but it was at this point these storms began to look like they could produce a large, long-lived tornado. The storm about to hit Carlyle, in particular, was becoming the storm to watch.
Supercell Tears Across Southwest Manitoba
And watching it we were! Matt, A Weather Moment contributor and @lovestormsMB was out chasing and had been on the storm for hours at this point. While hopes of seeing anything rapidly diminished as the storm became what is known as a HP supercell[1], he was able to feed important information via his Twitter account.
This storm – for lack of any better terminology – looked vicious as it moved into Manitoba. It was tracking along Highway 13 and moved straight towards Reston – a town that has already had to deal with multiple severe storms this year already – and Pipestone, a town somewhat famous for the Pipestone tornado.
Unfortunately, it didn't take long for word to come that there was certainly significant damage occurring under that storm. Environment Canada also issued a timeline for reports it received on the Manitoba side:
| Location | Time (Local) | Report |
| --- | --- | --- |
| Sinclair (7 km N) | 6:00 PM | Ping pong size hail, severe winds with trees down |
| Reston | 6:49 PM | Nickel hail, 42 mm rain |
| Pipestone | 7:00 PM | Tornado, significant damage |
| Pipestone (20 km E) | 7:30 PM | Tornado, golf ball hail |
| Hartney | 8:00 PM | Possible tornado |
Dramatic photos began coming in from the Pipestone region as well:
The clean-up continues today in Pipestone and Hartney while damage continues to be assessed in southeastern Saskatchewan. Unfortunately for those in Saskatchewan there will be little time to recover as another potent setup for a severe storm outbreak will be in place Monday afternoon bringing, once again, a tornado, torrential rain and large hail risk. Regions in SW Manitoba should be a little safer this time. We'll have the full details of that in tomorrow's blog post.
---
The "HP" in "HP supercell stands for "high precipitation." HP supercells often have obvious, dramatic structure form afar, but little of the internal workings are visible due to the copious amounts of precipitation falling out from them. HP supercells are extremely dangerous storms as any tornadoes they produce are often hidden from sight behind all the rain.  ↩