A significant large-scale shift in the upper-level weather patterns will result in a rather abrupt end to the cold snap that has plagued Manitoba through much of February and allow seasonal to above-seasonal temperatures to spread eastwards through the Prairies. Unlike the brief warm-ups that occurred through February that lasted perhaps a day or two, since this warming trend will be supported by a shift in the upper-level pattern, the warmer weather is looking like it will remain in place for at least 1-2 weeks.
Thursday
Increasing cloud; chance of flurries
Today will be the last straggling cold day of the bunch with daytime highs struggling into the minus teens. Unfortunately, a breezy northwesterly wind to 20-30km/h will be making things feel quite cool. A few clouds may be seen through the day, however an approaching Arctic ridge of high pressure should keep things fairly sunny. Temperatures will drop to around -26°C tonight with light southerly winds as the ridge slides by to our south.
Thursday will mark the transition towards significantly warmer weather. After a cold start to the day, southerly winds will gradually strengthen to nearly 40km/h as a warm front pushes into the province. We'll see increasing cloud through the day which may result in some flurry activity at some point through the afternoon/evening. Temperatures will climb to around -9°C. Heading into the evening, winds will shift to the west and diminish; temperatures look like they'll remain fairly steady around -10°C through the night with a slight chance of flurries continuing under mainly cloudy skies.
The warm weather will keep on pushing eastwards for Friday. Winnipeg should see high temperatures climbing to around the -2°C mark under mixed skies and fairly light winds. Temperatures will drop to around -10°C on Friday night.
Warm Weather Keeps on Coming
For winter-weary Winnipeggers, it's nothing but good news in the long-range. Warmer weather – either near-seasonal to above-seasonal – is expected to persist for quite a while for the region. A broad upper-level ridge is forecast to shift from being centred over the west coast further eastwards into the Prairies.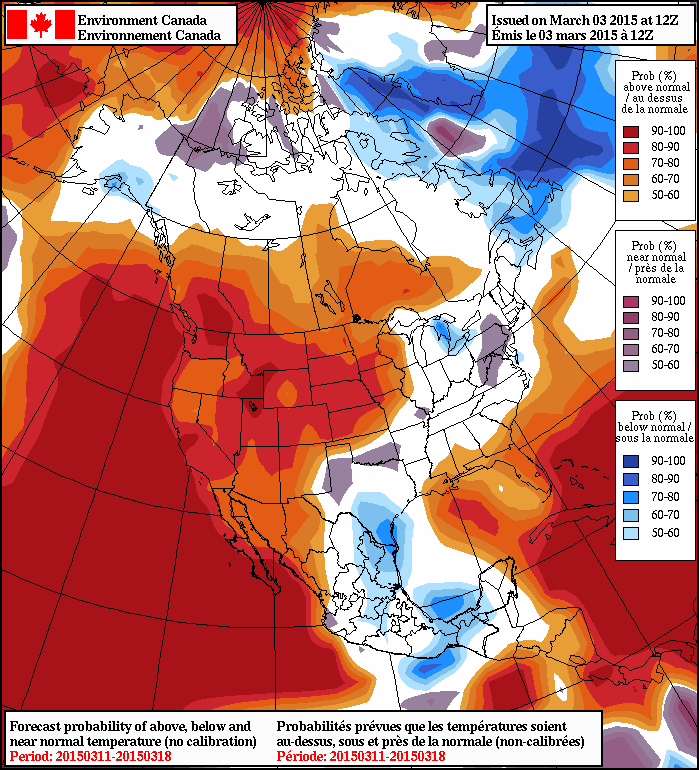 The result will be a flow of milder Pacific air spreading eastwards through the Prairies, resulting in daytime highs near the freezing mark. Given the lower-than-normal snowpack, we may potentially see a fair amount of snow melt thanks to the stronger sun & milder temperatures over the coming weeks.