Although the second half of the week will see cooler temperatures than have been in place over the past 5 days, daytime highs will nonetheless still remain above the seasonal values near -2°C. Perhaps one of the biggest differences over the next few days will be that it will be significantly cloudier than seen over the past several days which will likely slow down the melting a little bit. Highs near or above 0°C will continue to keep the City of Winnipeg a slushy, sloppy mess, so don't put away that spare bottle of windshield washer fluid yet!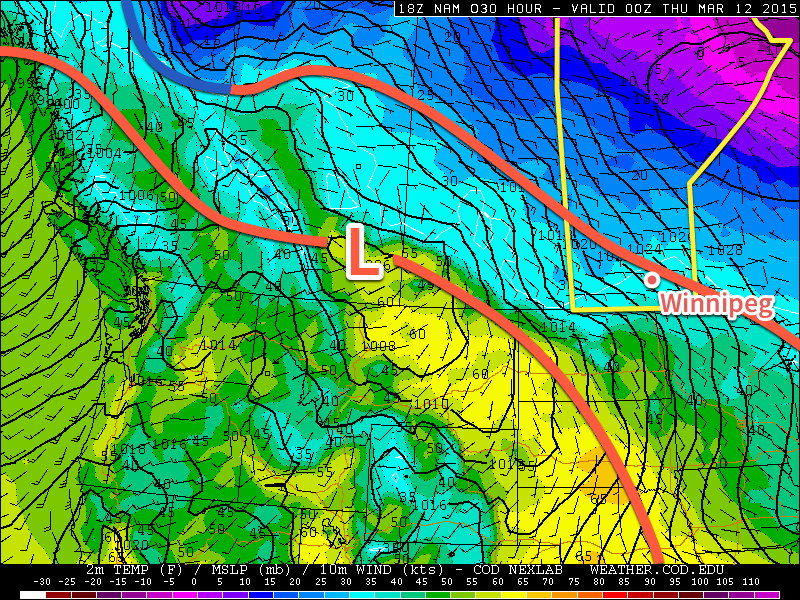 Today will be a mostly cloudy day in Winnipeg with a chance for some non-accumulating light flurries as a weak warm front(fn) slides northeastwards through the region. After the passage of the front, there may be a rogue sunny break, but overall skies should remain mostly cloudy as temperatures climb to near +1°C with an easterly breeze. Cloud cover will thicken up tonight as the main support for the advancing low from Alberta begins pushing towards our region. Skies will be overcast tonight with temperatures remaining steady near 0°C.
Wednesday
Mainly cloudy with a chance of morning flurries
Thursday
Cloudy; chance of evening showers or flurries
Thursday will be an overcast day through the Red River Valley with light winds as a low pressure system tracks right across the region. Temperatures will be warmer – highs should be near 5°C – and no precipitation is expected through much of the day. Heading into the evening, a chance for some showers or flurries will spread into the Red River Valley alongside northwesterly winds to 20-30km/h behind the passage of a trough. The chance for some flurries will persist through the overnight period as temperatures drop to around -2°C.
Friday will be another mainly cloudy day. A few light flurries may linger into the morning hours, but in general most of the day will see no precipitation. Highs will climb to near +3°C with a chance for some sunny breaks in the afternoon. Skies will clear through the evening as we head to a low near -2 or -3°C.
Near-Seasonal In The Long-Range
This weekend looks to bring another surge of warmth to Southern Manitoba on Sunday that will push daytime highs into the upper single-digits, but looking further than that, near-seasonal temperatures are expected. This translates to daytime highs around the 0°C mark or so. The odd day here or there of slightly warmer-than-normal is possible, but all in all it appears that Winnipeg will be transitioning into a fairly dry, seasonal March pattern next week.
Fortunately, with daytime highs above 0°C many days and little snow expected, the erosion of the snowpack in the Red River Valley will continue over the coming week. With little snow expected, many regions in the valley could see snow-free conditions by the end of the weekend. This is particularly significant as areas of snow-free ground will warm up significantly more than snow-covered ground. As we head into the coming weeks and warmer and warmer air begins moving in, it won't be uncommon to see 10°C temperature differences over short distances based solely on snow-cover.
After the bone-chilling February experienced in Winnipeg, there are no complaints to be had with how March has unfolded so far and looks to continue!