Temperatures will be stuck well below-normal for late April through the remainder of the week as a stationary long-wave trough locks Manitoba into a pool of cold Arctic air. To make lemonade of it, skies will at least be quite sunny and winds light making things comparatively pleasant to how the week started.
The next two days will be very similar and very quiet weather-wise. Both today and tomorrow will bring mainly sunny skies, light winds and high temperatures near +5°C. Tonight will be another brisk evening with a low near –7°C while tomorrow night will bring slightly warmer temperatures with a low near –3°C. All of these temperatures are well below normal, though. Daytime highs will be about 8°C below normal[1], a far cry from the 10–15°C above normal we saw last week, and overnight lows will be 4–8°C below normal.[2]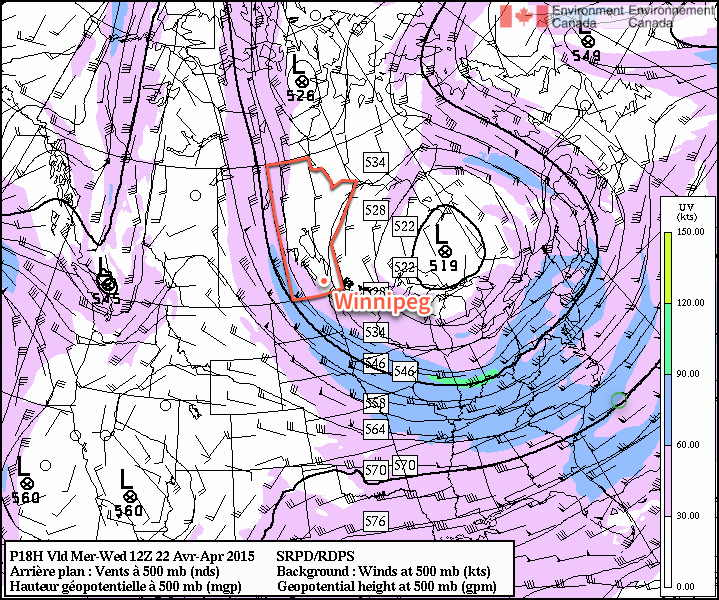 By Friday, the stagnant ridge-trough pattern that has set up over North America will begin to break down. Throughout the day, Southern Manitoba will increasingly come under the influence of a trough of low pressure stretching from a low tracking through South Dakota to a low lifting through Alberta. Out ahead of the South Dakota low, it's likely that some flurries will develop along the US border in southwestern Manitoba and spread east along border regions through the day. At this point, it looks highly probable that any flurry activity will remain south of Winnipeg. That being said, Winnipeg will see increasing cloud cover and a fairly cool high of just 4°C. Clouds should clear out Friday night with a low near –4°C.
Long Range: A Shift To a Wetter Pattern?
The long range forecast is a little tricky at this point, however we can break it down into two categories of uncertainty: timing and weather pattern. The second there's a fair amount of confidence in; the timing, however, is a lot more difficult. The current long-wave weather pattern over North America is known as a blocking pattern. These weather patterns are very stable configurations of the jet stream and other upper-level features that result in stagnant weather patterns; these can be stretches of hot, dry weather in the summer[3] or long periods of well below-seasonal temperatures.[4]
Weather models are quite good at forecast what sort of weather pattern may develop when the blocking pattern breaks down, however they are generally quite poor at the actual timing of the break-down. This is because to shift these very stable features, significant changes in the long-wave pattern have to develop across huge distances, and those changes can be very difficult to forecast accurately.
That being said, we should start to see our current weather pattern break down this weekend, driven by an approaching low that will drive a wedge into the elongated upper ridge over the west coast as well as the retrogression of an upper-level low[5] from Ontario. As this happens, cool weather will blanket much of the Prairies – although it won't likely be any cooler than we're seeing now – and it looks like there will be an increased chance of precipitation through the Southern Prairies, perhaps even multiple low pressure systems coming through.
All to say it's going to go from cool and dry to cool and, quite likely, unsettled through the coming weekend. Looking even further ahead, it does look like next week we'll see a return to seasonal temperatures.