Plenty of sunshine is on tap for the coming weekend throughout the Red River Valley thanks to a developing southwesterly flow of mild, dry air developing through the coming days. As warmer air pushes into the region, temperatures will climb to summer-like values by Sunday with highs reaching the mid-20's.
Today's post will be quite short thanks to a distinct shortage of weather to talk about. Today's weather will be dominated by a ridge of high pressure moving across Southern Manitoba, bringing mainly sunny skies and seasonal daytime highs near the 17 or 18°C mark. There will be a little bit of high cloud skirting the U.S. border as a disturbance moves through, but otherwise, mainly sunny skies will be seen through the Red River Valley. Tonight, expect temperatures to drop to the mid-single digits under clear skies.
Heading into the weekend, a southwesterly flow of warmer air will develop over the region. Daytime highs will climb into the low 20's with a light southwesterly wind through the valley. A bit of cloud will show up in the afternoon, but overall it will be quite a nice day. Overnight lows on Saturday night will be quite a bit warmer than Friday night, dropping only to around the 10-12°C with the cloud clearing out overnight. Sunday will be a gorgeous day with daytime highs climbing into the mid-20's under mainly sunny skies. Winds will be a little bit breezy out of the south. Expect overnight lows in the low teens once again on Sunday night.
Mild & Dry Weather Continues Into Next Week
Relatively mild weather is expected to continue into next week and beyond with seasonal or warmer temperatures expected and little precipitation on the horizon.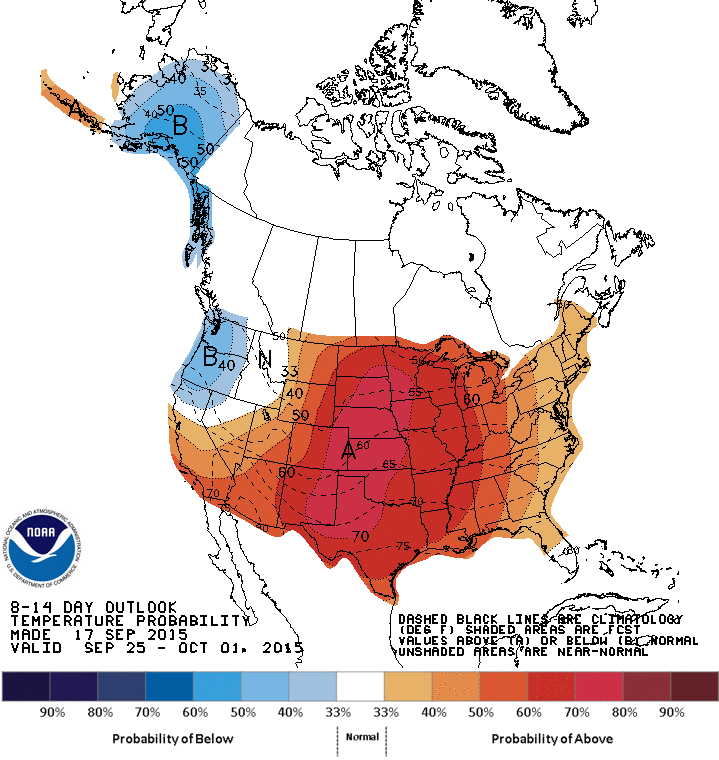 Persistent troughing off west coast of North America is forecast to develop over the coming week, which is often favourable for us here in Southern Manitoba thanks to the southwesterly flow that develops in response. As the large trough develops, the result will be a milder flow of drier air, bringing above-seasonal temperatures to the region. All in all, it means we'll have a "second summer" of sorts throughout the last half of September, so get out and enjoy!